Tornado rips through West Carleton
By Jake Davies - West Carleton Online
DUNROBIN – The last day of summer (Sept. 21) was marked by a devastating tornado that ripped through West Carleton levelling homes and businesses in rural Ottawa west.
Sixty homes have been verified damaged, many completely destroyed, as well as a strip mall in Dunrobin which housed Dunrobin Meat and Grocery, Sammi's Pizza and a few other businesses. Almost kitty-corner from the mall, the Heart and Soul Gift Shop, next to the Heart and Soul Café, was also levelled. More damage may be reported when sunlight returns to Ward 5.
"In my 30 years of living in West Carleton I have never seen anything like this," Coun. Eli El-Chantiry told West Carleton Online just before midnight from the makeshift Red Cross emergency relief centre set up at West Carleton Secondary School.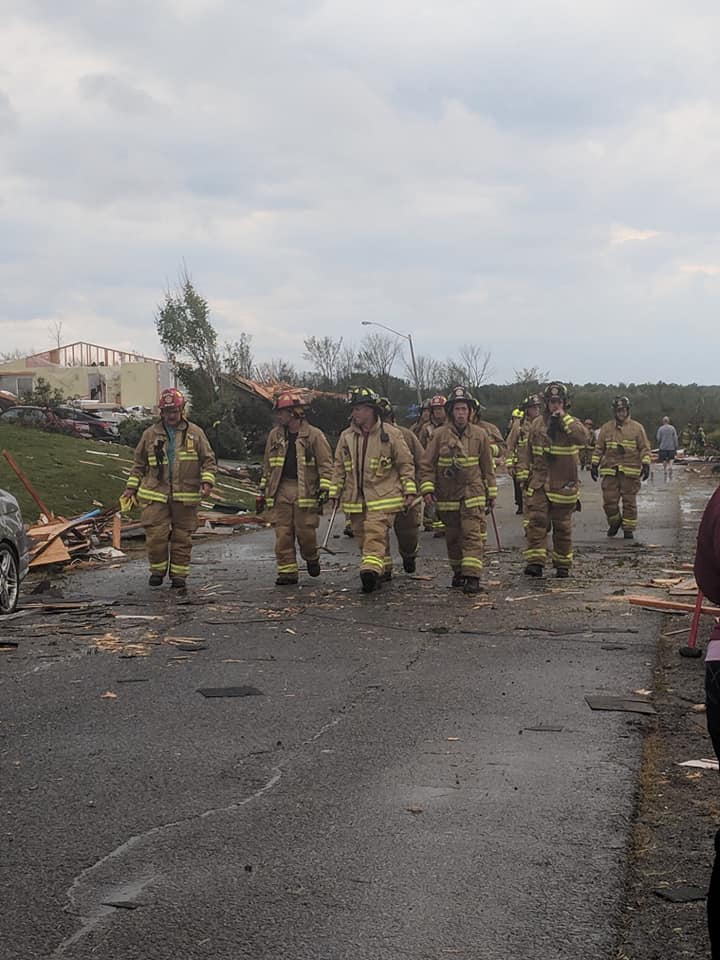 Environment Canada says the tornado touched down in-between Kinburn and Dunrobin.
"Where it actually started is hard to say, but certainly it was one storm that tracked for quite a significant distance," Environment Canada warning preparedness meteorologist Peter Kimbell said.
"We know for sure that there was a tornado in Gatineau because we have colleagues of mine who actually saw it."
Environment Canada said they think the tornado touched down near Dunrobin then tracked east across the Ottawa River to Gatineau. He said, based on damage reports, it is likely the tornado will be classified as an EF-2, which have sustained winds from 179 to 218 km/h.
This weekend is generally a time for celebration as residents from around West Carleton enjoy the Carp Fair. That is where Coun. El-Chantiry started his day.
"I was judging the 4-H competition this morning and was supposed to be doing the Huntley Burger Hut shift this evening when the Carp Fair sent everyone home as storm clouds threatened West Carleton," he said. "It was around 4 p.m. Then I got the call a tornado touched down. As I was making my way to Dunrobin, I started seeing the devastation around Woodkilton and Thomas A. Dolan."
El-Chantiry said when he arrived in Dunrobin and saw grocery owners Cindy and Julie Delahunt outside their shop it was more than he could take.
"we worked together at the fair last night helping out with Homecoming Night," El-Chantiry said. "Then today, to see Cindy and Julie in tears. Today was one of my weakest moments."
He doesn't expect things to get easier.
"Tonight is shock," El-Chantiry said. "But tomorrow is going to be the toughest day. We're thankful no one was killed. But tomorrow people will get out and assess the damage. That's when the shelter will be needed. People will have questions and need help."
El-Chantiry said there were three serious injuries in West Carleton with one resident being sent to the Civic Hospital's trauma unit. He says seven other residents reported minor injuries.
Kinburn Community Association President Alex Lesnick told West Carleton Online she received reports of damage in the Kinburn area as well.
"I'm hearing we have damaged houses and farms in Kinburn," Lesnick said. "A house is flattened on Mohrs Side Road and Kinburn Farms on Donald B Munro has significant damage. I'm also told Carrys Side Road has a lot of damage."
The Red Cross emergency relief centre will be open all night tonight (Sept. 21) with a skeleton crew. At the time West Carleton Online was at the shelter, around 11:30 p.m., Red Cross volunteers said they did have a few visitors, but no one who was planning to spend the evening.
That's what the Red Cross is hoping for volunteer Deborah James said.
"Were hoping not," she told West Carleton Online. "We hope people can find space with family or friends. People need that comfort at a time like this. So far it seems like everyone has found a space."
James said there would be six volunteers working at the shelter overnight.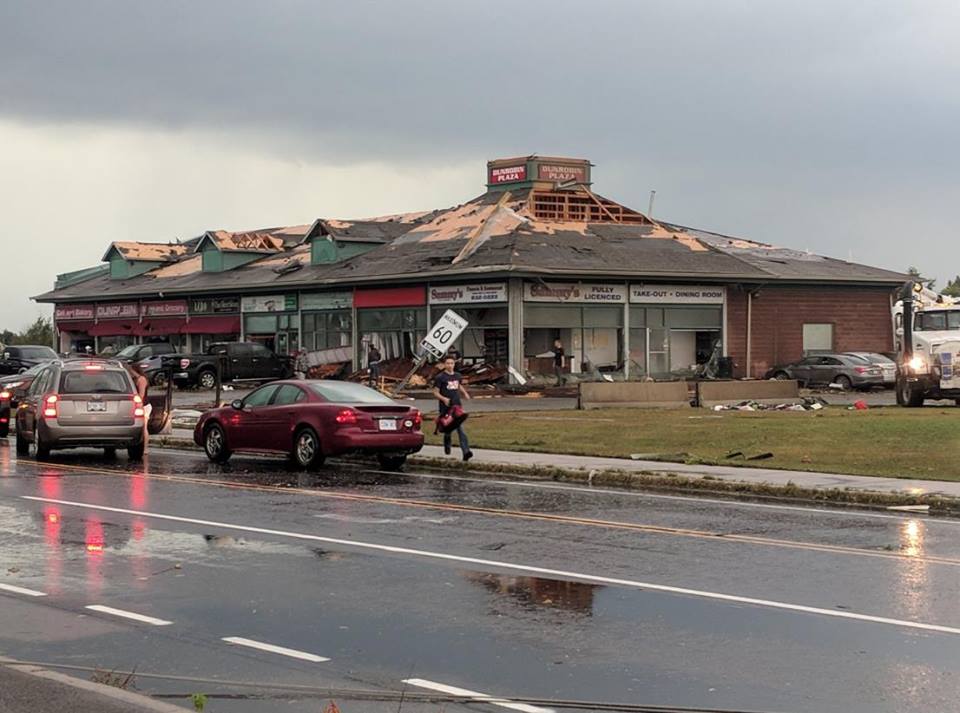 "It's been a pretty busy night for us," James said.
El-Chantiry said he was impressed with the first responders.
"I spoke with a firefighter from Station 66 (Dunrobin) who came in for the call," El-Chantiry said. "He told me he lived on Porcupine Trail. That was one of the hardest areas hit. He said he has no idea how his house is. He was out with friends when the call came in and he went straight to work. This kind of commitment from our first responders is unbelievable."
But the work is just beginning for emergency crews and residents.
"It's going to be devastating when they see they've lost their homes and their memories," El-Chantiry said. "We still don't know how bad it is."
Ottawa Fire Services' Nathan Adams told West Carleton Online the Red Cross emergency relief centre will remain open for now.
"We'll stay open tomorrow and then we'll reassess after that," he said.
Meanwhile first responders will be spending the night going door-to-door making sure people are safe and out of their damaged homes. Police blockades will also remain up overnight surrounding Dunrobin to ensure only necessary people are allowed in to the area.
City wide there were 30 reported injuries due to the severe weather.
Residents respond on social media
Social media was a huge communication tool for those who experienced the tornado first hand and for those looking to deal with their emotions following the devastation.
West Carleton Online spoke with Nicole Novotny on Facebook. Not only did Novotny take stunning photos of the aftermath, she also helped re-unite a mother and daughter during the catastrophe.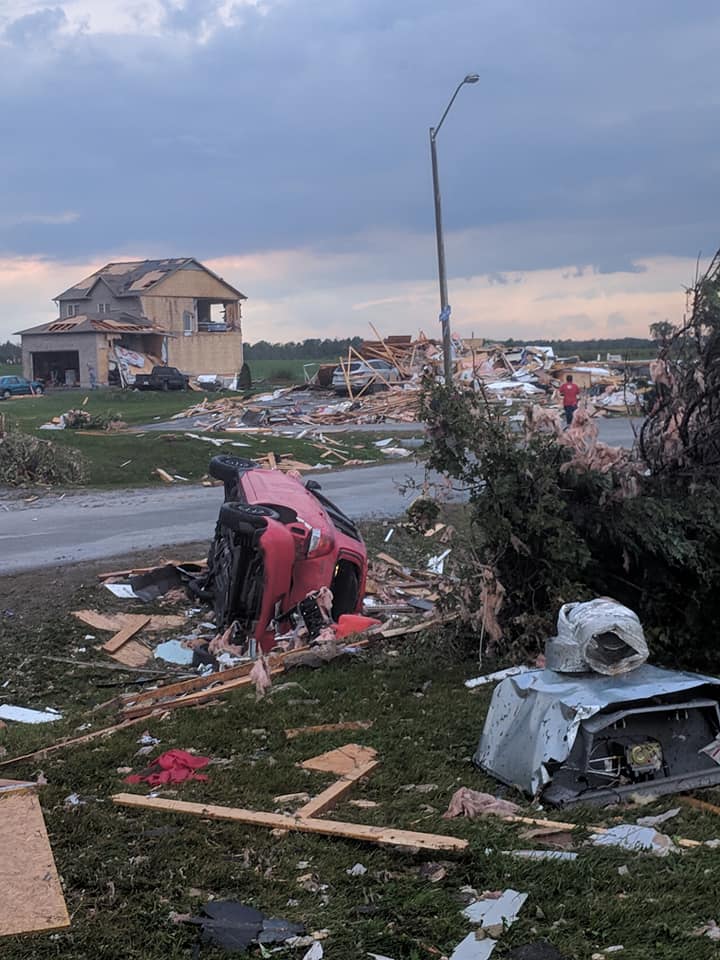 "A mother had just dropped her daughter off at her dad's house 20 minutes before the tornado hit," Novotny said. "Then she got a call from her daughter that she was in the basement and water was coming in. The mom was running up Dunrobin Road and I offered her a ride. She jumped in and I drove as close as we could and she ran to the house. I followed as well a few minutes later when she didn't return right away. They were on the street and very shaken up. We walked back over debris and shared in a grateful hug and parted ways."
Heart and Soul owner Jim Bowen discussed the loss he was feeling after the destruction of his gift shop on the Heart and Soul's Facebook Page.
"it is with a very heavy heart filled with devastation that we share this with you right now. While we are still in warnings for tornadoes and severe weather watches. We have just learned that we have lost our beloved 28-year-old family owned and operated gift shop in Dunrobin next to our family owned and operated Cafe. Right now there are no words. We do not know where we're going to go from here we have family and friends on the scene and we're waiting to hear reports."
Paralympian and West Carleton native Todd Nicholson, his wife Emily Glossop-Nicholson and their family lost their home to the tornado.
Nicholson wrote on his Facebook page "we are all safe. House is gone but we will let people know what we need when we know more."
His wife Glossop-Nicholson later added "I want to thank all those who have reached out by text, phone, email and Facebook. I am sorry if I haven't responded to your message and that is why I am creating this post as I am having a hard time keeping up. It's quite hard to put into words what has happened tonight and it will take some time to figure out our plan but we have amazing support and I have nothing but thanks to send out to all of you! We are safe and together and that is all that matters!"
Many, many others on Facebook offered their support and their help, even if they too were affected by the tornado such as one post that read "I have no power, but I have a generator. A bbq. Beds. A dry place to sleep. Pets welcome. It's not much but don't be out in the night."
"To everyone dealing with the aftermath of the tornado in Dunrobin, ON & the Ottawa-Gatineau area – stay safe, follow the instructions of first responders and check in with people who might need extra help," Prime Minister Justin Trudeau said on Twitter.
West Carleton Online will provide continuing coverage as this story continues to develop.