Storm recovery a WC community effort
By Jake Davies - West Carleton Online
WEST CARLETON – Hydro Ottawa says the damage of the long weekend storm, far outweighs the damaged caused in the 2018 tornado or in the 1998 ice storm.
While West Carleton homeowners may disagree with that statement, many still await the return of electricity as Hydro Ottawa, Hydro One and some of their neighbours work around the clock to restore power to eastern Ontario.
"Crews continued to work through the night and have restored power to 106,000 customers," Hydro Ottawa released in a statement this morning (May 24). "Crews continue their efforts to repair damage caused by Saturday's (May 21) storm and restore service for all customers."
On Monday (May 23), Hydro Ottawa reported they still had approximately 110,000 customers without electricity.
"In many cases, the restoration efforts will be lengthy as crews deal with downed trees, damaged hydro poles and other obstacles on a house-by-house basis across the city," Hydro Ottawa said.
Work to clear trees and open roads and driveways has been a community effort for residents across the heavily wooded west end of the city.
Those who can't operate a chainsaw, are helping out in other ways.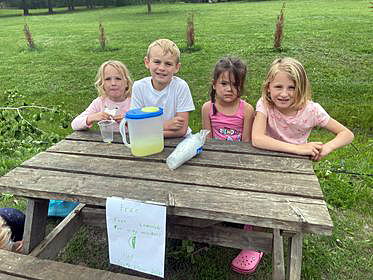 Nine-year-old Corkery resident Pearson Lockhart provided lemonade yesterday (May 23) to those who needed a refreshing drink while taking a break from storm clean-up work.
"He saw all the people (working) and wanted to offer them a lemonade," Pamela Aldis told West Carleton Online yesterday. "He was going to ask for 10 cents a cup but then said the people were working so hard all day it should be free. Throughout the day all the neighbourhood children joined, and they started to deliver lemonade by foot."
Aldis estimates Pearson and his team delivered roughly 30 to 50 cups of the sweet stuff. Pearson saw firsthand the destructive nature of the storm.
"He said the storm was scary and his play structure was ruined," Aldis said. "But he thought the neighbours all worked together and they must have been thirsty from all the hard work."
Stories of farmers helping farmers, delivering water to livestock run rampant across West Carleton.
"I have a 150-gallon (681 litres) tank I use for bringing water to the sheep in my more remote fields, as long as I can get to wherever you need it with a four-wheel-drive truck, I can help out too," Woodlawn sheep farmer and National Farmers Union President Katie Ward posted on social media. "Don't hesitate to send me a message."
For those without electricity, water, showers and washrooms, the W. Erskine Johnston Arena (3832 Carp Rd.) will be open until 10 p.m. and will be offering all four.
Coun. Eli El-Chantiry said the weekend has been very, very busy for everyone in the Ottawa Valley, and will remain so for the foreseeable future.
"Spotty," El-Chantiry told West Carleton Online Monday (May 23) about the ward's electricity coverage at that time. "Some has been restored, some hasn't, some will get some (last night). Hydro crews tell me they are creating a new passage to restore power, not through the traditional passages. I hear Hydro One is getting lots of help."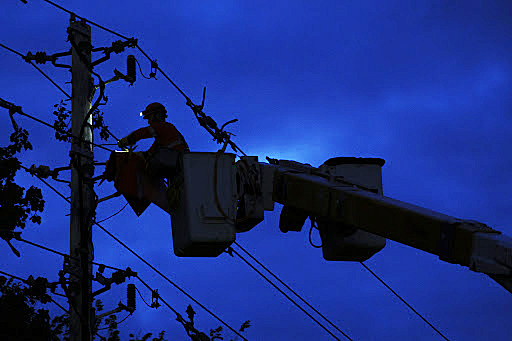 Hydro crews from New Brunswick, Quebec and New York are assisting eastern Ontario to get its power back.
El-Chantiry says, while the storm was much more widespread than the 2018 tornado, it's hard to compare which was worse.
"We lost 56 homes," El-Chantiry said of 2018. "Thousands of trees. But this storm is a massive, massive area, but thank God, we didn't hear of anyone losing their homes. But it has brought back some bad memories. Thank God there are no casualties in our area. The weather is cooperating for those without power. Not too hot, not too cold."
El-Chantiry says farmers of livestock who have no way of providing water for their herd, should call the City of Ottawa at 311 for assistance.
"It's a different need out here," El-Chantiry said. "It's a very challenging time."
What's new? It's been a challenging time for West Carleton residents, in one way or another, since 2017 when the riverside communities were hit by a record-breaking, at the time, flood. The following year a tornado cut a path from Antrim to Dunrobin leaving a wake of destruction that took years for many to recover from. In 2019 a bigger flood arrived swamping homes under several feet of water for nearly a month. We've spent that last two years under various forms of lockdowns and restrictions due to the ongoing COVID-19 pandemic. And of course, now last Saturday's derecho.
El-Chantiry says the memories of 2018 subconsciously guided him Saturday following the storm.
"Saturday evening, I drove to Constance Bay," he said. "I don't know why, I started with Thomas A. Dolan Parkway to Dunrobin. I didn't see a lot of damage there, but as I go closer to Constance Bay (via Dunrobin Road), I saw a lot of damage. Hydro lines down. I saw a couple of people helping Hydro One. It's great to see, neighbour helping neighbour. That's what this community is about."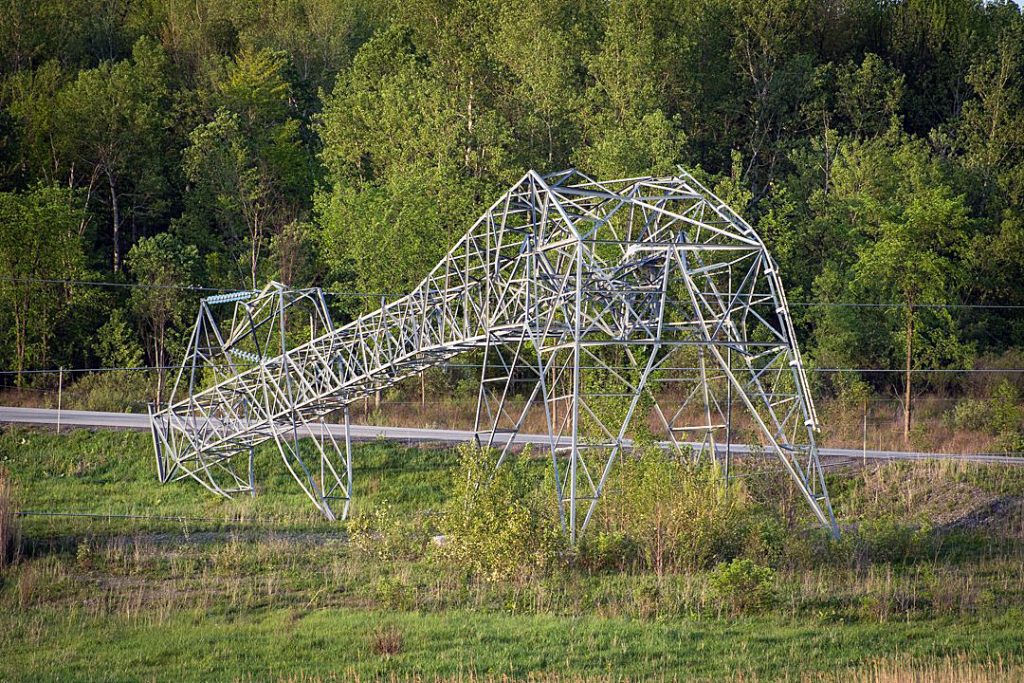 West Carleton's volunteer firefighters were some of the first on scene with chainsaws in hand.
"Immediately the fire departments were mobilized helping the community," El-Chantiry said. "Which is no surprise as they live in the community."
El-Chantiry says the biggest tree he saw down was on Carp Road near the Waste Management facility. He said luckily it was just its branches leaning against hydro lines.
"We always say, it could be worse," El-Chantiry said. "It could have been. When you see the umber of trees on cars and roads, it's amazing it wasn't worse."
El-Chantiry says his role is now about clean up and he promises the city will help.
"Absolutely we will," he said. "Put your branches out, your wood, any debris, by the roadside. We are organizing a pick-up, but please be patient."
El-Chantiry says thanks to the team effort, almost all roads were accessible in West Carleton that same evening (May 21).
"Even Saturday, by 7:30 p.m. pretty much," he said. "Within the first couple of hours, with the help of the community and the fire department. Where there were no wires."
El-Chantiry says the majority of people who have reached out to his office have been patient.
"People understand it's city-wide," he said. "But in the rural area, you might not have water either. Our community is served by both Hydro Ottawa (South March) and Hydro One. There is lots of work to do and we need to be patient. Clean-up is going to take a long time. We are working together to make sure we bring hydro back to the community. We're going neighbourhood by neighbourhood. I understand the frustrations, but we've been through this before. When you don't have power, it's a big challenge."
The city will carry out a green bin blitz over the next few days in the neighbourhoods most affected by the storm to ensure organic waste is collected as soon as possible. Many who lost power will need to dispose of food that has spoiled.
"Every area of Ottawa has been affected; however, the city will focus on the hardest hit areas this week," city staff released in a statement yesterday (May 23). "City crews will provide enhanced collection of organics and residents with storm-related materials."
Priority for food waste will be given to most of Stittsville in Ward 6, all communities in Ward 9 that have lost power, the Riverside Park and Mooney's Bay area in Ward 16 and the villages of Navan, Cumberland and Sarsfield in Ward 19.
"Collection will take time, so if your green bin is not collected by day's end, it is recommended to take it in and put it back out at the curb the following morning," staff said. "Only organic materials are permitted and any non-organic materials, such as food packaging, should be disposed of separately."
Despite many in the city complaining of the noise coming from generators, they are permitted to be running at this time.
"We are receiving many noise complaints about generators," City of Ottawa bylaw staff released in a statement. "Please be advised that usual noise bylaw restrictions are waived for generators supporting properties in areas without power. This means they are allowed to run 24/7."
All Ottawa public and Catholic schools are closed today (May 24) due to the storm but expected to re-open tomorrow (May 25).
West Carleton's volunteer disaster relief group, West Carleton Disaster Relief (WCDR), is looking to provide specific help for those recovering from Saturday's storm. The WCDR, instrumental in provind support during all three of West Carleton's recent natural disasters, ask you fill out this form providing details of your needs. All requests will remain confidential.
The Western Ottawa Community Resource Centre (WOCRC) is also providing help for rural residents who need it.
"Western Ottawa is open to support you," WOCRC rural capacity coordinator Angela Lorusso released in a statement today (May 24). O"ur rural community matters to us. We have Internet and power. WOCRC recognizes that support may be needed closer to home and can support within the community if needed. In addition, our walk in crisis support regular hours are open. Community residents can call us or come in for support.
Monday: 8:30 a.m. to 12:00 p.m.
Tuesday: 1 p.m. to 4:30 p.m.
Wednesday: 12 p.m. to 7 p.m.
Thursday: 1 p.m. to 4:30 p.m.
Friday: 1 p.m. to 4:30 p.m.
City services impacted by Saturday's storm
The following City services are currently impacted due to the severe thunderstorm in Ottawa.
"Residents are reminded to stay off the roads as much as possible," staff said. "By minimizing travel, you help keep the roads clear for emergency vehicles."
Visit ottawa.ca for the latest updates on the severe thunderstorm.
Child care centres
All municipal child care centres will be closed on Tuesday, May 24. Centre supervisors will be contacting all parents this evening.
Elections Office
The Elections Office, located at 1221 Cyrville Road, will be open for nominations and registrations by appointment only. Email elections@ottawa.ca or call 613-580-2660 (TTY: 613-580-2401).
Employment and Social Services
The Employment and Social Services office, located at 100 Constellation Drive, will be closed on Tuesday, May 24. The following Employment and Social Services centres remain open:

370 Catherine Street
2020 Walkley Road
2339 Ogilvie Road
Client Service Centres
The following Client Service Centres will be closed on Tuesday, May 24:

Ben Franklin Place, 101 Centrepointe Drive
Kanata Client Service Centre, 580 Terry Fox Drive
Marry Pitt Centre, 100 Constellation Drive
Orleans Client Service Centre, 255 Centrum Boulevard
City Hall, 110 Laurier Drive West
All Building Code Service counters are closed, however email and mail permit services remain viable options. Visit ottawa.ca for more information.
Ottawa Archives
Ottawa Public Health
All Ottawa Public Health dental clinics will be closed on Tuesday, May 24.
The Ottawa Public Health information line will be closed on Tuesday, May 24.
Ottawa Public Library
All Ottawa Public Library bookmobile stops and homebound deliveries will be cancelled on Tuesday, May 24. In addition, all Ottawa Public Library branches are closed, except the following locations that will be open on Tuesday, May 24 from 1 to 8 pm:

Beaverbrook
Cumberland
Greenboro
Main
Nepean Centrepointe
Ruth E. Dickinson
Parks and recreation programming
All recreation and cultural programming, drop-in activities, bookings and virtual programming have been cancelled for Tuesday, May 24.

Note: facilities hosting Provincial Election advanced polls and respite centres will continue to offer these services.
Provincial Offenses Courthouse
The Provincial Offences Courthouse, located at 100 Constellation Drive, is closed. Proceedings to be adjourned on Tuesday, May 24 and will be rescheduled.
Support for residents in need
The City has opened several Emergency Reception Centres where residents can access power and services, such as showers, washrooms and charging mobility devices. The centres are open from 10 am to 10 pm daily. Visit ottawa.ca for more information and locations.
To support residents on home oxygen therapy and who are not able to be serviced in time by their current provider, VitalAire will support residents with Medical Oxygen needs and device recharging at the following reception centres. Please bring equipment (oxygen concentrator or portable oxygen concentrator) and a copy of your prescription to ensure you know your oxygen delivery litre flow:

Howard Darwin Centennial Arena, at 1765 Merivale Road
François Dupuis Recreation Centre, at 2263 Portobello Boulevard

For mental health services and supports, please visit ottawapublichealth.ca.
Residents in need can call 211 for information on government and local community-based health and social services.
For more information on city programs and services, visit ottawa.ca, call 3-1-1 (TTY: 613-580-2401) or 613-580-2400 to contact the City using Canada Video Relay Service.