Storm aftermath: Death toll rises to nine, City reception centres
Special to WC Online
OTTAWA VALLEY – As emergency responders are able to access more properties following Saturday's (May 21) severe storm, the death toll now sits at five.
Yesterday (May 20), the Lanark County Ontario Provincial Police (OPP) reported the death of an 80-year-old women near Ferguson Falls, ON.
"The Lanark County Detachment of the OPP is investigating the death of an 80 year old woman," OPP media relations officer Cons. Greg Streng released in a statement yesterday. "She had been struck by a falling branch while in her yard in Ferguson Falls near the Village of Lanark."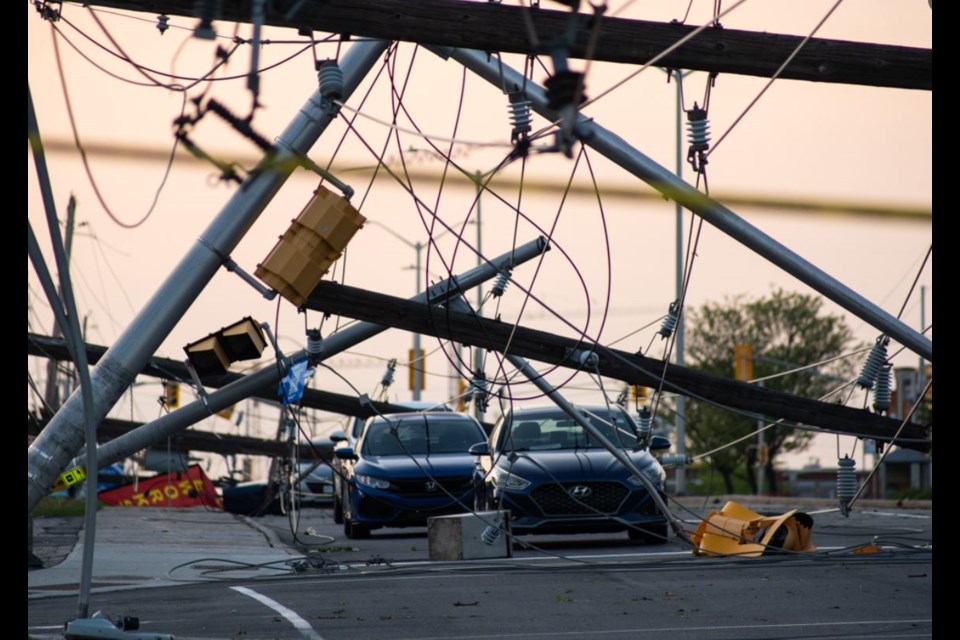 Lanark OPP Officers received a call in regards to the woman's death at 3 p.m. (May 22).
"She had been transported to hospital by ambulance but succumbed to her injuries," Streng said. "The victim is identified as Gail Greene, age 80 of Ferguson's Falls. The death was not suspicious. The investigation is continuing."
The storm, like all area police forces, has kept the Lanark OPP hopping.
"The Lanark County Detachment of the OPP are extremely busy responding to calls for service as a result of the intense storm that moved through the area (Saturday)," Streng said. "Since the storm came through, Lanark OPP officers have responded to approximately 175 calls for service from down trees and power lines, traffic light outages and motor vehicle collisions. Lanark OPP is working diligently to ensure public safety in partnership with local municipalities, Hydro One, Ministry of Transportation, road crews and municipal services."
Many traffic lights are not functioning at this time. The Highway Traffic Act advises these intersections are to be treated like an all-way stop.
"Please be patient at these intersections," Streng said. "Volumes of traffic will grow over the Long Weekend and motorists are encouraged to work together to navigate these hazardous areas safely. Officers have already responded to collisions that have occurred when drivers became impatient and made critical errors."
There are many power lines down all over the county.
"People are strongly advised to stay away from these areas," Streng said. "Even though they may look like they are not live, a mistake will be dangerous. Please allow Hydro crews to do the work safely. Drivers are also advised to respect road closures and to not move pylons from the roadway. The Lanark OPP is working hard to ensure public safety and assist those getting infrastructure repaired quickly. The public is encouraged to be diligent in regards to their safety and those around them so the work can be done safely."
Gatineau police report a 51-year-old woman died when the boat she was in capsized in the Ottawa River near Masson-Angers, Que. during Saturday's storm.
Yesterday (May 22) West Carleton Online reported on two local deaths as well as two in the Greater Toronto Area.
The death toll attributed to the storm is now at nine.
City opens emergency reception centres for residents affected by the storm
OTTAWA – The city opened several emergency reception centres where residents can access power and services.
The centres are open today (May 23) from 10 a.m. until 10 pm.
The following facilities offer power for charging devices, showers and washrooms:
The following facility offers power for charging devices and washrooms:
"Food services will be offered at additional centres in the coming hours and days," city staff released in a statement yesterday (May 22)..
Please visit the Severe Thunderstorm webpage on ottawa.ca for the most up-to-date information.
"Ottawa residents are asked to avoid damaged areas and stay off roads unless absolutely necessary," ciy taff said. "Road closures and traffic impacts are expected due to fallen trees and debris on roadways. Please follow Ottawa Traffic on Twitter for latest updates."
For hydro information, consult the Hydro Ottawa website or its Twitter account.
For updates on the city's response, follow the city on Twitter and check ottawa.ca for updates.
Ottawa police say they responded to nearly 700 calls for service from 4 p.m. to midnight the day of the storm (May 21).
Ottawa Fire Services spokesperson Nick Defazio said fire crews received more than 2,000 calls between 4 p.m. and 7 p.m. on Saturday, as well as an additional 1,000 calls from 7 p.m. until midnight.
Crews then responded to 460 calls in order of priority from 4 p.m. to 7 p.m., and another 217 calls from 7 p.m. until midnight.