Two dead in 417 multi-vehicle collision
By Jake Davies - West Carleton Online
KINBURN – Two people are dead and two injured following a multi-vehicle collision near Panmure Road this afternoon (July 7) sparked by suspects fleeing from police.
The motor vehicle collision occurred shortly after 1 p.m. when two police constables, one from Ottawa Police Services and one from the Ontario Provincial Police, were following a vehicle headed easbound on Highway 417 in connection with an investigation.
"The Ottawa Police Service Service and the Ontario Provincial Police were conducting an investigation when they observed a vehicle of interest being operated by a 36-year-old male on Highway 17," the Special Investigation Unit (SIU), which is investigating the incident, released in a statment this evening.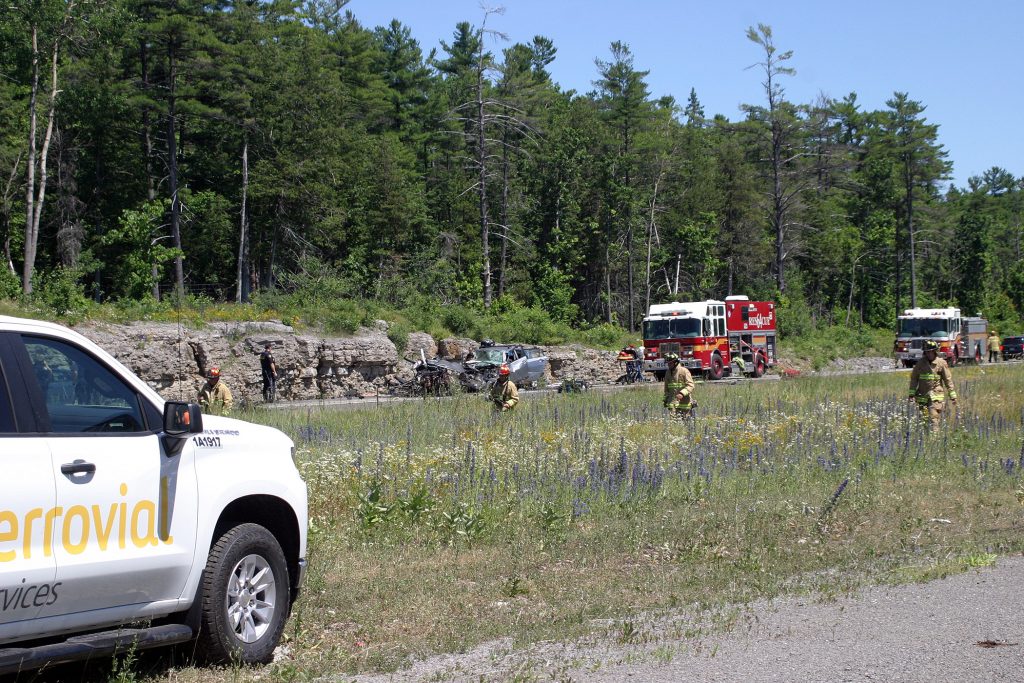 The police called off the pursuit for safety reasons after being ordered to do so by superiors. The driver of the car they were following then veered across the median and began driving eastbound on the westbound lanes of the highway leading to the collision that involved five other vehicles.
The fleeing vehicle stuck another vehicle head on, killing both drivers. Four other vehicles could not avoid the carnage and were caught up in the collision. The driver of the vehicle hit was a 62-year-old woman. Names of the victims have not been released at this time.
West Carleton Online arrived on the scene just before 3 p.m. and witnessed five vehicles that had sustained heavy damage – some were no more than twisted hunks of metal. Debris was strewn all over the road and Ottawa firefighters were combing the grass median between the lanes. Approximately 40 first responders including Ottawa Fire Services, the Ottawa Paramedic Service and Ottawa Police Services were on scene at this time.
The Ornge air ambulance was also dispatched and transferred two injured motorists to hospital. One motorist was reported trapped in their vehicle and firefighters performed an extrication.
One vehicle was covered with a blue tarp.
At one point both directions of the highway were closed to traffic, but the eastbound lane was open when West Carleton Online arrived, although the traffic was backed up as motorists slowed through the accident scene.
"Three investigators, two forensic investigators and one collision reconstrctionist have been assigned to this incident," the SIU said.
The SIU investigates when someone is killed, seriously injured or makes an allegation of sexual assault involving an Ontario police officer.
Westbound continues to be closed as Ottawa Provincial Police investigate the collision.
The SIU is asking anyone who may have information regarding the incident to contact the lead investigator at 1-800-787-8529. If you have video evidence related to the incident to upload the video through the SIU website.