Kingsbury's Kinburn comedy return
By Jake Davies - West Carleton Online
KINBURN – On Saturday, May 28 stand-up comedy returned to Kinburn.
It had been a three-year wait for what was supposed to be a follow-up to a very successful stand-up comedy event, Comedy Night in Kinburn on Jan. 25, 2020.
That first event was a hit with more than 150 people filling the Kinburn Community Centre for a night of comedy featuring three up-and-coming comedians including Kinburn's Kris Kingsbury – who also promoted the show under his production company Brewing Up Laughs.
The show was also a fundraiser for the Kinburn Community Association (KCA).
The event was so popular, Kingsbury quickly put together a second show featuring three new acts. It was scheduled for March 21, 2020. The COVID-19 pandemic arrived in Canada just a couple of days earlier, and the pandemic was officially declared, putting an end to group events for almost two years.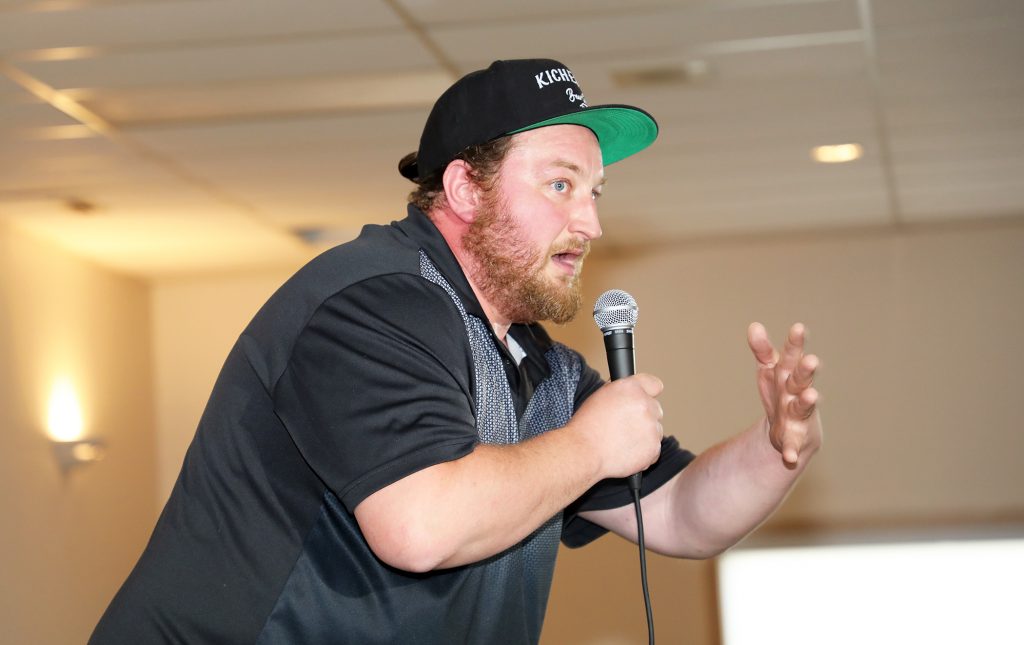 "We were just starting to get going," Kinsbury said. "Our draw was in the West Carleton area, Arnprior, so it was limited."
The show was cancelled, and stand-up comedy was flipped on its ear. Live entertainment of any sort was crippled by the pandemic, and those who made their living in the industry were forced to find a new way to perform, or a new job all together.
While, not drawing the large crowd of the first Kingsbury-produced show, comedy returned to Kinburn May 28, and Kingsbury is happy to be back doing what he loves.
With roughly 52 in attendance it was the type of crowd that had been waiting a long time for comedy's return – they laughed loudly, they were happy to interact with the comedians, and tried to match wits with them when they could.
"They were a really great crowd," Kingsbury told West Carleton Online last week (June 1). "These people were paying attention and they wanted comedy, so it was great."
Kingsbury started taking his craft seriously in 2007. Shortly after moving to Kinburn in 2014, he began pursuing shows and getting booked. Kingsbury's wife Amanda, is a long time Kinburn resident, calling the village home since 1991. The pair have two kids under 10 ("They come with a significant price tag, but I'm proud of them").
Kingsbury has been slowly working himself back in to the game since most COVID restrictions lifted last month.
"It was very challenging," Kingsbury said of the last two-and-a-bit years. "Some found it okay when they found their niche on Zoom. Others just left and found day jobs. To lose our passion was pretty shocking. When you lose something, you love doing, not by choice, it's pretty heartbreaking. A mentor told me 'when something happens you don't like, write a joke about it.' Writers write, always."
He remembers the comedy coming to a complete stop.
"Our last show was on Friday, March 13, 2020," Kingsbury said.
Before that, Kingsbury had shows running once or twice a week.
There were sporadic opportunities to perform during the last year, depending on the day's COVID-19 restrictions. But they were weird.
"There was plexiglass on the stage, everyone had masks, there was limited capacity," Kingsbury said. "Places that held 150 were down to 50. It was weird, very different. The clubs were focused on safety."
His first real show back from COVID was supposed to be last August (2021) at Absolute Comedy. But then life got in the way.
"My wife (Amanda) got stung by a wasp in the temple," Kingsbury said. "She went in to anaphylactic shock. We went to the hospital. She told me to go ahead to the show. I had to sit in the parking lot and cancel."
As comedy made its return last summer and fall (before the winter lockdown), something was still a little different – the audience to be precise. Kingsbury was doing a show monthly between August and November.
"We weren't seeing any of the boomers," Kingsbury said. "It was a much younger demographic. Mostly Generation Y, some Gen X'ers. Very much in increments."
Kingsbury says those younger crowds are sometimes harder to play to.
"They're almost looking for permission to laugh," Kingsbury said with a laugh of his own. "Older people know it's a joke."
With last January's provincial lockdown expected to be the last one related to COVID-19, Kingsbury is back at it, booking and hosting shows across the city.
"We've got a couple of productions going," he said. "I've produced three shows since the January lockdown. I'm on stage roughly once a week. Club shows and booked live shows."
And it seems like audiences are ready to return to the comedy clubs.
"They want to know we're all in it together," Kingsbury said. "There's a boom. People are coming out in droves. Clubs are full six days a week. It's coming back and the audiences are very happy to come back."
The audiences are almost experiencing comedy for the first time again.
"There's a lot of table talk," Kingsbury said. "You'd tell a joke that would land and that would spark a table conversation. They've almost forgot how to act."
And this summer is heating up to be good for comedy and Kingsbury.
Last weekend he performed at the Calabogie Brewing Co. in North Kanata to a sold-out show. This weekend (June 11) he's in Barrhaven at the Royal Oak and Sunday (June 12) in Smiths Falls at Bowies. Following that, a whole week of hosting at Ottawa's premier comedy club Absolute Comedy.
"Every comic loves to be there," Kingsbury said.
And Kingsbury is happy to back on stage, doing what he loves, while also getting to see his peers again in the green rooms of clubs across the Ottawa Valley.
"That's the biggest prize ever," Kingsbury said. "So great. Half the job is writing and performing. A quarter of it is your colleagues and a quarter of it is friends and family. It's good to see the world coming back. It's safe to come back to comedy and laugh. It's going to be a great time."
If you would like to see Kingsbury perform, the next show he is doing that still has tickets left will be at Conspiracy Theory in Bells Corners on June 23. He will be working with headliner Just For Laughs alum Franco Taddaeo and host Michael Friedman.
Kingsbury says his production company plans on returning to Kinburn next fall with an all-new show.
"I can't say much now, but it's going to be a good one," Kingsbury said.