1,000s of volunteers rebuilding Dunrobin
By Jake Davies - West Carleton Online
DUNROBIN, KINBURN – Three days after tornado touch down and, although no one is allowed to see it, hundreds of skilled volunteers are hard at work, sealing buildings and putting Dunrobin back together.
Across West Carleton and across west Ottawa, thousands of volunteers are providing their time, service and products to help those affected put their lives back together.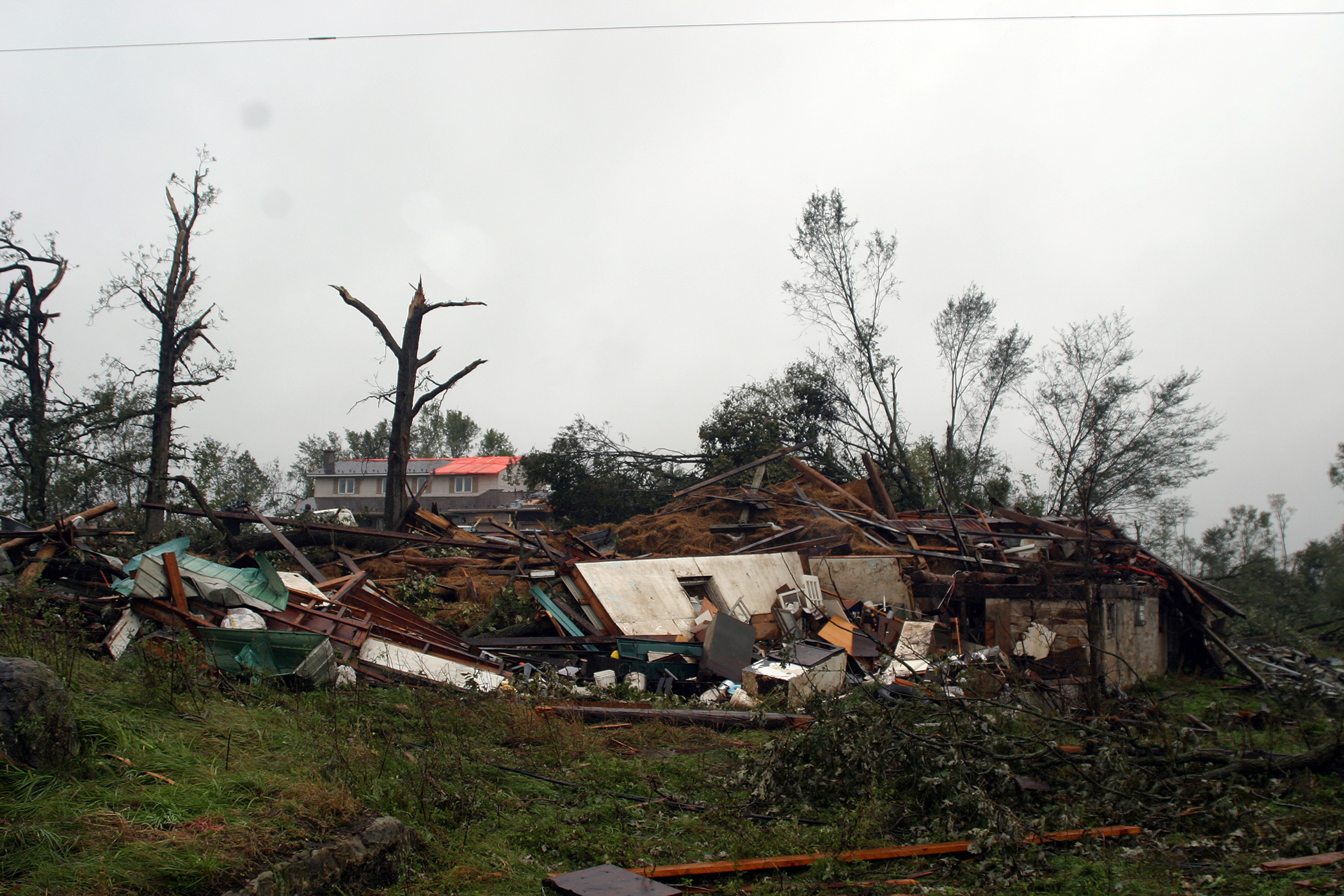 Luckily no one was killed when a class EF-3 tornado with winds travelling upwards of 265 kilometres per hour tore its way across West Carleton from Antrim through Dunrobin and then across the Ottawa River.
That was the only thing lucky about it. Officials say 53 habitable buildings were either heavily damaged or flat out levelled by the tornado.
Two days ago, home and business owners were allowed to inspect the carnage the storm had on their property for the first time. Yesterday, the work began on rebuilding.
Dunrobin Community Association president turned tornado relief volunteer coordinator Greg Patacairk has been stationed at the West Carleton high school turned Red Cross emergency relief centre since Friday evening, following the tornado.
"I was 10 minutes out of town on Stonecrest," Patacairk told West Carleton Online from the high school this morning (Sept. 25). "Hail was coming down the size of golf balls. My brother (Don Patacairk) called me and said 'it's gone, it's all gone.' It took me a couple of minutes but I figured out my brother was in shock. By the time I made it to the village, it was abundantly clear."
His brother's house was gone along with many, many others. The community centre was badly damaged.
"Trees were twisted like a cork screw, still in the ground," Patacairk said. "The baseball backstop was also twisted around but still in the ground. What kind of force can do that? For the first time ever you could see clear to the Dunrobin Meat and Grocery – the houses and trees were gone."
Patacairk said after and before school daycare provider Janette Boomer and her young charges were in the community centre when the tornado arrived.
"Janette and all her kids were hiding in the bathroom," he said. "I can't imagine what that would have been like."
The village was devastated. It was the only West Carleton village that took a direct hit from the tornado. From the path of destruction, the tornado narrowly missed the Village of Kinburn and was pretty close to the hamlet of Marathon Village as well. Despite missing those hubs, the tornado still found much to destroy.
Patacairk said, from his vantage point, the response was almost immediate.
"There was an army of firefighters," he said. "Within 15 to 20 minutes of the tornado, they were already clearing debris. Wires were everywhere. Debris was everywhere. It was still a very dangerous situation."
Patacairk says he is getting about four hours sleep a night these days. He gets to the high school at 7 a.m. and stays there until around 9 p.m.
"Then I go home and answer all the critical emails for a couple of hours," he said. "After that, I'm still pretty wound up."
Much like everyone affected by the tornado.
The work on rebuilding has begun in earnest. Patacairk said there were about 400 volunteers working in the village yesterday, and close to that amount today as well – mostly contractors, skilled labourers, heavy equipment operators, all volunteering their time, expertise and equipment to help residents save some belongings before the rain arrives.
"It was a significant, significant day," Patacairk said. "They were sealing off houses. I'm sure all of west Ottawa came through for us."
He says he has lost track of how many businesses and organizations have stepped up to help. Patacairk says the local Home Hardware just down the road donated "a ton" of supplies. Today, Patacairk put a call out for rain gear this morning on the radio and Princess Auto came by a little later with all the rain gear they needed.
Faith-based groups like the Menonite Disaster Service, Samaritan's Purse and the Church of Latter-Day Saints have had a "huge presence."
"The Latter-Day Saints brought 136 volunteers," Patacairk said. "They bring in teams and they know exactly what to do. It's been triage today and yesterday. We're getting the structures ready for the rain. In three days we went from a place where you couldn't even walk on the roads – it was too dangerous – to now every road is open (only to affected residents, volunteers and emergency personnel). Even today the contractors are hard at work. I don't think they'd be working on roofs today in this rain if it was a normal day."
Emergency service personnel are going door-to-door in affected areas doing 'wellness checks.'
Tomorrow another challenge begins. West Carleton Secondary School will be returning to its primary function as a house for education.
"We will still be running out of the school this week," Patacairk said. "We will be condensing to the small gym."
Patacairk says he hopes to put the call out to general volunteers this Thursday (Sept. 27) to assist in the rebuild. As of right now, they have the expert help they need, but will certainly have lots more work to do later this week.
Boomer will be providing full-day daycare from the Bill Mason centre for those in desperate need of child care the rest of the week.
Patacairk asks, as they downsize at the high school, all perishable donations should now be dropped off at the West Carleton Food Access Centre (WCFAC) located at the Kinburn Client Service Centre and clothing donations should be dropped off at the Salvation Army.
"They are ready and the best suited to handle that help," Patacairk said.
As the community works its way through the five stages of grief, Patacairk gets a sense its at the halfway point.
"It's starting to sink in," he said. "These are our family, friends and neighbours. There's a camaraderie going on as they start to help each other recover. We've been sharing in the pain and in the successes. It's a proud day to be a Canadian when you see this stuff going on."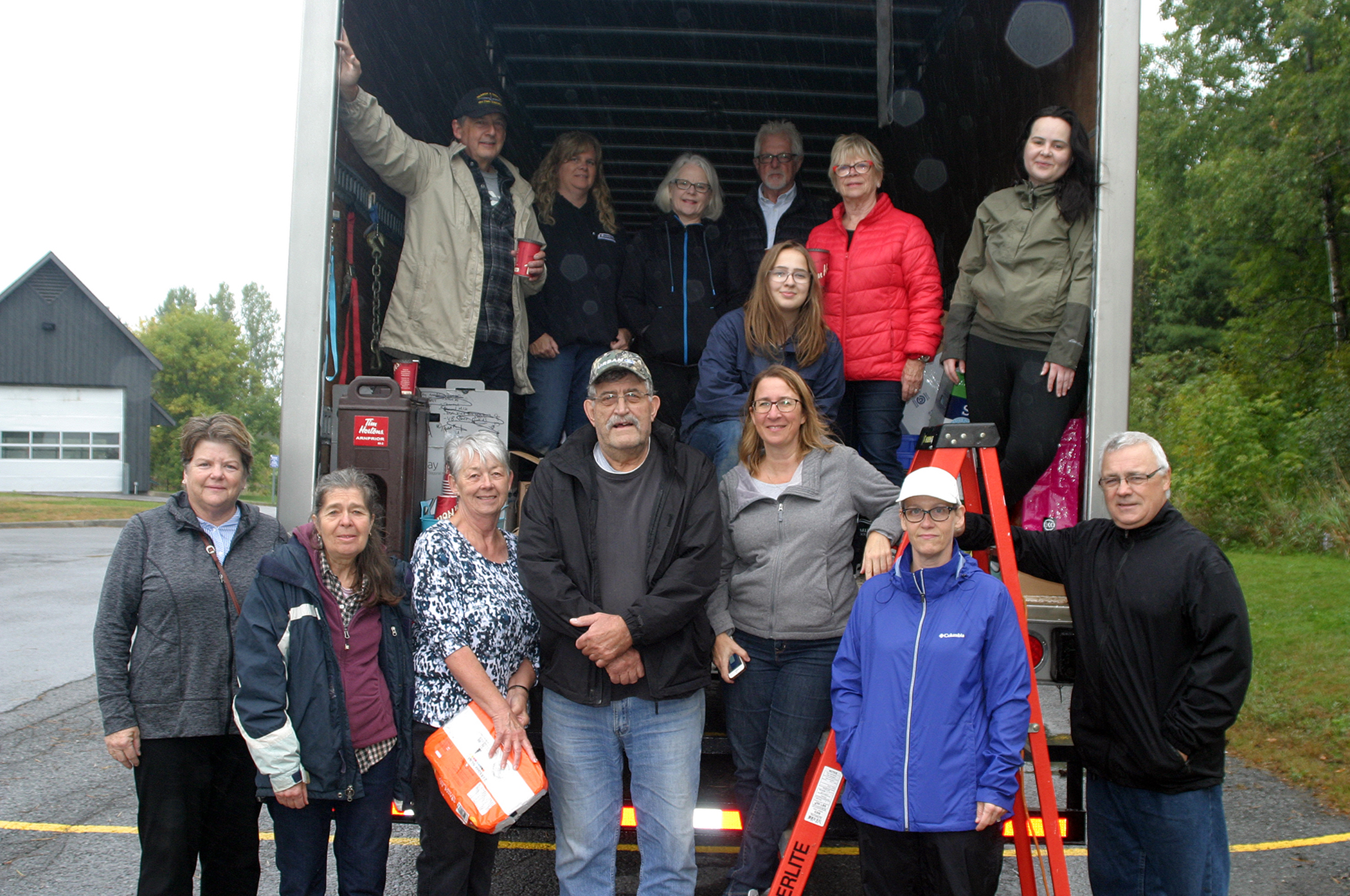 About 10 minutes away near Kinburn, West Carleton Food Access Centre volunteers are getting ready for what they both hope and expect will be a busy week.
The crew have brought two large trailers, donated by Bit-Ta-Luk Farms and D&J Transportation on site to help store food and volunteers are busy organizing food in subsections to make sorting and finding more efficient.
"I have managed to get volunteers to work all week long," WCFAC's Mary Braun told West Carleton Online from the centre, Sept. 25. "A lot of our volunteers are retired seniors."
The centre will be open today until Friday from 9:30 a.m. to 4 p.m., not just for regular users but anyone affected by the tornado. The team will re-assess on Thursday to see if they should open on Saturday aw well.
"Even if you are staying with friends or family, you should still come and use the food access centre," Braun said. "They feel they shouldn't use us because they are staying with others, but you are still doubling your food costs. Come on in and pick up some food."
Braun says the access centre is well-stocked for the moment but has some advice for those who would like to donate.
"If they want to wait a week or two, we'll know what we're short of by then," she said.
The WCFAF is also taking orders for Thanskgiving turkeys. If you would like to register, the WCFAC is asking you register by next Wednesday (Oct. 4) at 613-832-5685 or on their Facebook page.
OC Transpo will be providing free service between West Carleton Secondary School and Ottawa on Route 303 for the rest of this week.