Carp Easter market returns Saturday
By Jake Davies - West Carleton Online
CARP – An Easter tradition returns this Saturday (April 16) as the Carp Farmers' Easter Market is back for the first time since 2019.
The Easter market was always the unofficial kick-off to the Carp Farmers' Market season despite usually being held a few weeks before the official market season begins.
COVID-19, hitting Canadian shores in March of 2020, forced the cancellation of the last two Easter markets, but with things slowly re-opening, the market is back where it belongs.
"It's been two years," Carp Farmers' Market manager Ennio Marcantonio told West Carleton Online today (April 12). "We're kind of rusty and I feel like we're starting from scratch."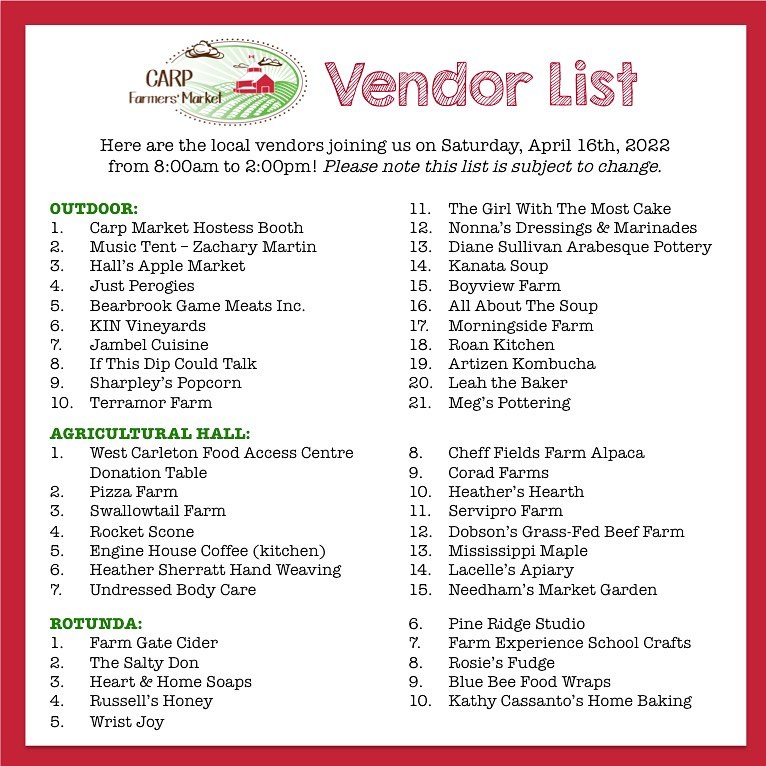 The market is scheduled to open at 8 a.m. Saturday, April 16 and will feature 43 vendors, all producer-based and local.
Parking and admission are free and live music also returns with Zachary Martin providing entertainment. There is also a colouring contest for kids. Download and print the colouring page found in this link. Do your thing and bring your finished art to the market and enter your work at the market hostess booth for a chance to win an Easter basket filled with goodies.
While the opening is only days away, Marcantonio says he, his team of volunteers and the vendors will have to remain light on their feet. The goal is to present a market similar to what shoppers remember pre-pandemic, but flexible enough to adjust if necessary.
"With numbers rising the way they are, it's still up in the air," Marcantonio said. "But that's what the plan is, to get to as close to normal as possible. It's just so hard to judge right now, but we have to stay safe and keep our vendors and customers safe. We might have to wing some of this stuff and be able to change if we need to."
Marcantonio says the market has had two years to adjust and learn flexibility. The Carp Farmers' Market was able to operate the last two years despite the pandemic. But it made big changes in order to do that.
Masks were mandatory; vender numbers were limited; capacity limits were in place; and shoppers were encouraged to do their shopping relatively quickly. There was no live music; no prepared food on the grounds; no food court to mingle in; but lots of sanitizer and masks.
But the farmers' market was able to continue and host it's 30th and 31st consecutive seasons and that was good news for everyone involved.
"I was happy, the board was happy, and the vendors were happy," Marcantonio said.
Those three groups, plus the shoppers, are even more happy to be bringing the unofficial start of the market season back from COVID-banishment.
"It's the market right after a long winter," Marcantonio said of the Easter market's popularity. "It's a taste of what's to come and people are looking forward to it and looking forward to getting out."
Most of the 43 booths at the Easter market will be outside but some will still be inside the exhibitor's and agricultural hall. Those vendors will be well-spaced. Marcantonio says sanitizer will still be widely available and "highly recommends wearing masks."