Humble Creek small home set to tour
By Jake Davies - West Carleton Online
DUNROBIN – Humble Creek Homes' tiny demo is almost built and ready to hit the road.
West Carleton Online caught up with the minimalist home-building company Wednesday, Aug. 7 at the construction site where the model home is being built just off Dunrobn Road. Simon Feizo-Gas gave us a quick tour of the 250-square-foot building before giving us an update on the business.
In a quick recap, Humble Creek Homes hopes to build a 250-square-foot model home through sponsorship support. The minimalist home will then go on a tour so prospective customers can see the home in person and get an idea of the living space and the practicality of the buildings.
A relatively recent City of Ottawa bylaw designed to encourage rural residents to build coach homes on their property, is an opportunity Dunrobin's Feizo-Gas wants to seize on.
We originals spoke with Feizo-Gas last March. A lot has happened since that time.
Feizo-Gas and his partner Patrick Lamothe spent Early June creating networks and raising donations. Early July they started framing the demo home and have a Sept. 1 deadline to complete the home in time for some very important dates.
The Humble Creek Home will be debuting their minimalist home at the Fifty-Five Plus Lifestyle Show held at the EY Centre on Uplands Drive Sept. 21 and 21.
"We were contacted by the Fifty-Five Plus magazine," Feizo-Gas said. "They said they thought we had a great concept for their network and told us we had to be at the show."
Their demo home will be the first thing visitors to the show will see. An even bigger day comes later that month at the demo home will also be at the Carp Fair Thursday, Sept. 26 to Sunday, Sept. 29.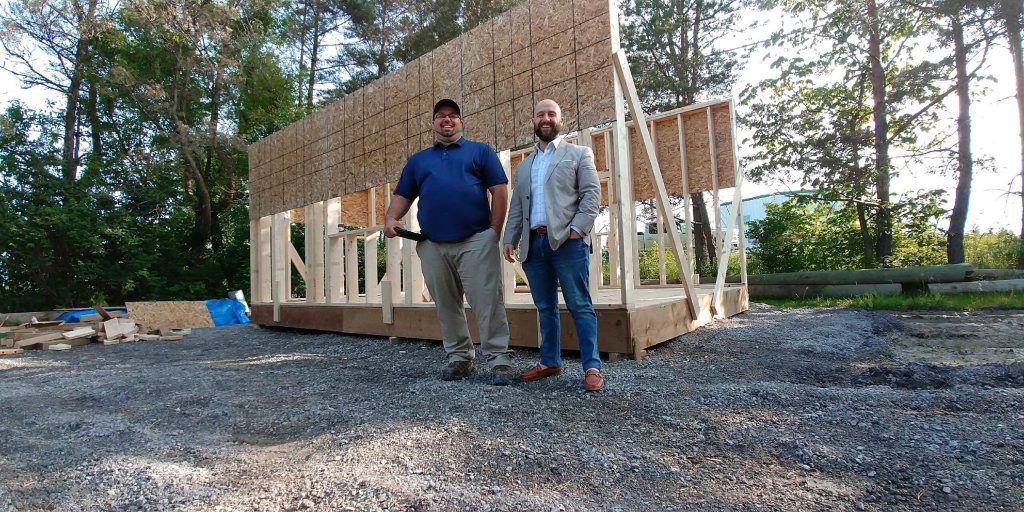 "People have seen small homes on television," Feizo-Gas said. "Let's go for a walk through."
Feizo-Gas says people will be surprised, not only at the layout, but with the technology available for these minimalist homes.
"Light, speakers, climate control, door access – all remotely operable via your smartphone," Feizo-Gas said. "If you use your coach home as a rental, you can change the lock for the next customer without even being there. We're really keeping up on the latest technology."
While the demo home is 250-square-feet, Feizo-Gas says Humble Creek Homes has models up to 800-square-feet.
Humble Creek Homes is working with industry partners such as Deka Home Hardware, Stellar Jay Electric, 613 Insulation and Miller Tech in order to outfit their homes with industry leading products.
"We're finalizing with a window/door supplier, siding company, flooring company, plumbing company, carpentry as well," Feizo-Gas said. "We are also finalizing a partnership with a large national brand for our kitchen."
For more information on Humble Creek Homes, visit their website.