High water a stressful waiting game
By Jake Davies - West Carleton Online
WEST ARMITAGE – It was a simple statement, overheard at a gas station yesterday (May 6), that was so frustrating to flood fighter Stuart Hodge, because of how wrong it was.
"I overheard someone yesterday saying that the floods had receded and everything was back to normal," Hodge told West Carleton Online today (May 7) fitting us in between trying to keep his house safe and trying to fit in a work appointment. "If your normal is refueling water pumps every three hours and having to use waders to get to your house then I guess they are correct. I still have water on three sides of my house and so do my neighbours."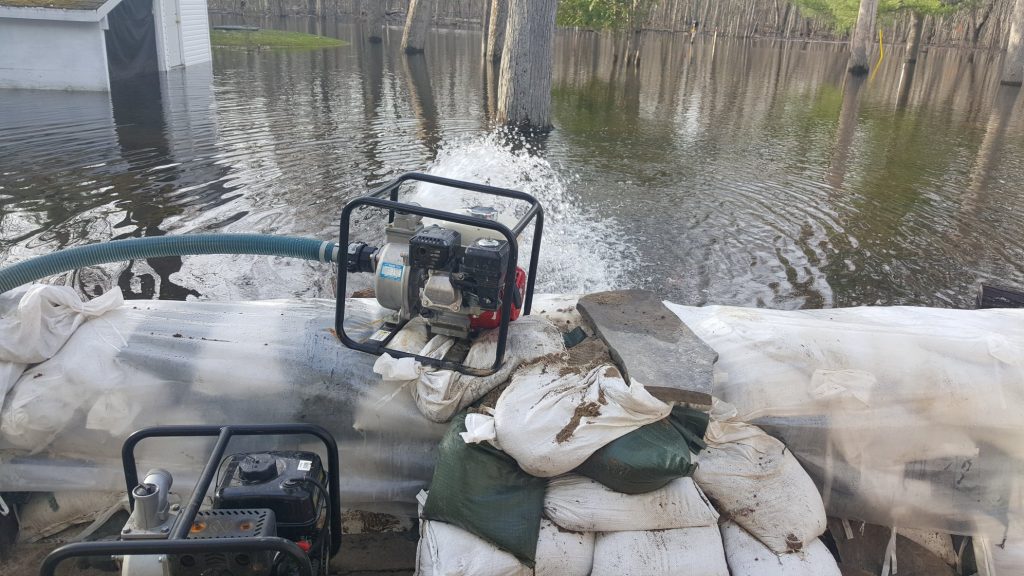 Hodge has been fighting, and winning, the battle against the Ottawa River. Despite being an Armitage Avenue resident with water now on three sides of his home, a sound wall and 24-hour pumping has kept his basement dry for the most part.
"It's different this time," Hodge, who fought the flood in 2017 as well, says.
Although the river peaked late last week, and the water has dropped some, Hodge says what's still here is still higher than May 2017 and it may be like that for more than a week.
The latest Ottawa River Regulation Planning Board (ORRPB) forecast calls for the river to rise and fall all week.
Increasing outflow from reservoirs in the Abitibi-Timiskaming region are causing levels to rapidly rise in the Mattawa area," the ORRPB released in a statement today. "Along the Ottawa River from Chats Lake down to Lac Deschenes, levels are expected to rise again but should not exceed the initial peaks observed last week."
Hodge says the height of the water isn't the only concern.
"Now I've got the Berlin Wall going on," he said of his home's defences." Full on buttresses, engineered and it still moved in the waves."
Hodge says his wall is 10 sandbags high, plastic wrapped with another 20 bags forming buttresses every 10 feet. The waves and their sandbag wall destroying power is a major concern for all West Carleton homeowners waiting for the water to recede.
Hodge says the early warning and the commitment of volunteers are a big reason he and his neighbours still have a fighting chance.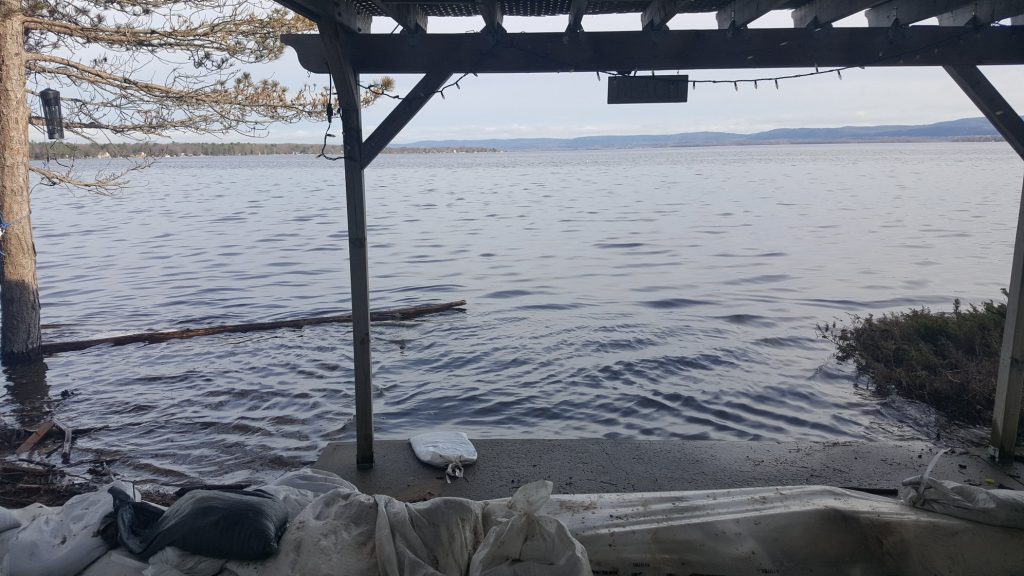 "We've got a lot of sandbags thanks to volunteers," he said. "I've got nothing but good things to say about the Mennonite Disaster Service (MDS) volunteers. Even their kids are amazing. They are living in trailers so they can help. They're watching our pumps in the middle of the night so we can get some sleep. A septic system blew and they knew exactly how to fix it."
Hodge says the residents of Armitage West were also fortunate several area residents are Ottawa firefighters, or retired firefighters, and that leadership helped them get through the early days.
"Everything was volunteer, the manpower, the equipment the fuel," Hodge said. "These guys were indispensable. Latimer Excavation, the firefighters, MDS, I would not have been able to save my home without them."
He also credits Coun. Eli El-Chantiry.
"We had word we were going to get resources but at that time we didn't have any," Hodge said. "I texted Eli and he said we would get resources and we did. I can't say a bad word about Eli."
And if the water does rise again this week?
"We're ready for it," Hodge said. "You learn by each occasion, but we're hoping there aren't any more occasions."
Long term, Hodge thinks there has to be a new solution to the flooding problem.
"What happens next?" he said. "Reliance on volunteers is not sustainable. We don't have the ability to store the water that comes down the river. It's not just Ottawa's problem. It's a multi-municipality issue."
El-Chantiry said he was out visiting all the hardest hit areas this morning.
"Information is hard to collect because there are still so many houses under water," he told West Carleton Online. "To me it still looks like it's above 2017 levels. I know in Armitage there are seven homes that were flooded – there were 13 in 2017. I don't have the numbers yet for Willola Beach and in Constance Bay the issue is still ongoing."
City staff expect damage to be similar to the 2017 flood despite the much higher water.
"In 2017, approximately 500 homes were affected," Office of Emergency Management program manager Jim Montgomery told West Carleton Online. "Although the water levels are peaking higher this year, it is anticipated the 2019 numbers will be comparable to 2017 as a result of the advanced flood preparation. While, the city anticipates water levels will rise again slightly between now and Friday, water levels are starting to recede. The City of Ottawa continues to help communities affected by the floodwater, and asks residents to remain patient, and to visit Ottawa.ca or our social media channels to stay informed on recovery efforts."
Plans are already underway for the next step in flood recovery.
"This week were working with the non-government organizations to start planning the clean-up," El-Chantiry said.
Red Cross Canada also announced it will be giving $600 to all flood affected families that registered with the organization.
"That's why we've been telling everyone to register all week long," El-Chantiry said.
El-Chantiry was also happy to know the Electrical Safety Authority would be waiving reconnection fees, although felt it took a little long to happen.
"I was so upset those residents are up to their eyeballs in contaminated water, fighting for more than 10 days and had to deal with this," he said. "They should have waived those fees yesterday. But at the end of the day, the right decision was made."
Meanwhile, residents, staff and volunteers play the waiting game for now. No clean-up can happen until the flood water recedes and then that huge job can start.
"We're still waiting," El-Chantiry said. "This time there are a lot more sandbags, a lot more sand, a lot more debris, a lot more everything."