HCC President's Cup a curling reunion
By Jake Davies - West Carleton Online
CARP – While there was a lot on the line including bragging rights and a giant trophy, last weekend's (March 10-13) Huntley Curling Club's (HCC) President's Challenge Cup bonspiel was more of a joyous reunion of old friends who haven't been able to step on the same sheet of ice with their neighbours for two long years.
The Second (hopefully from here on out) Annual President's Challenge Cup was held at the HCC all weekend long and it was the first tournament the curling club has been able to hold since the inaugural President's Challenge Cup held Feb. 8 and 9 in 2020. A month after that bonspiel, the COVID-19 had washed up on Canadian shores and the country joined the rest of the world in the still ongoing pandemic.
Recently, regulations surrounding the COVID-19 pandemic have loosened and it was time for the return of the President's Cup Challenge.
The weekend-long event features four rural clubs, Arnprior, Almonte, Richmond and Huntley, competing in seven divisions. Each club brought a team of roughly 48 curlers to compete.
West Carleton Online dropped by the tournament Saturday (March 12) afternoon just as the tournament had reached its halfway mark, nine draws done, nine more to go.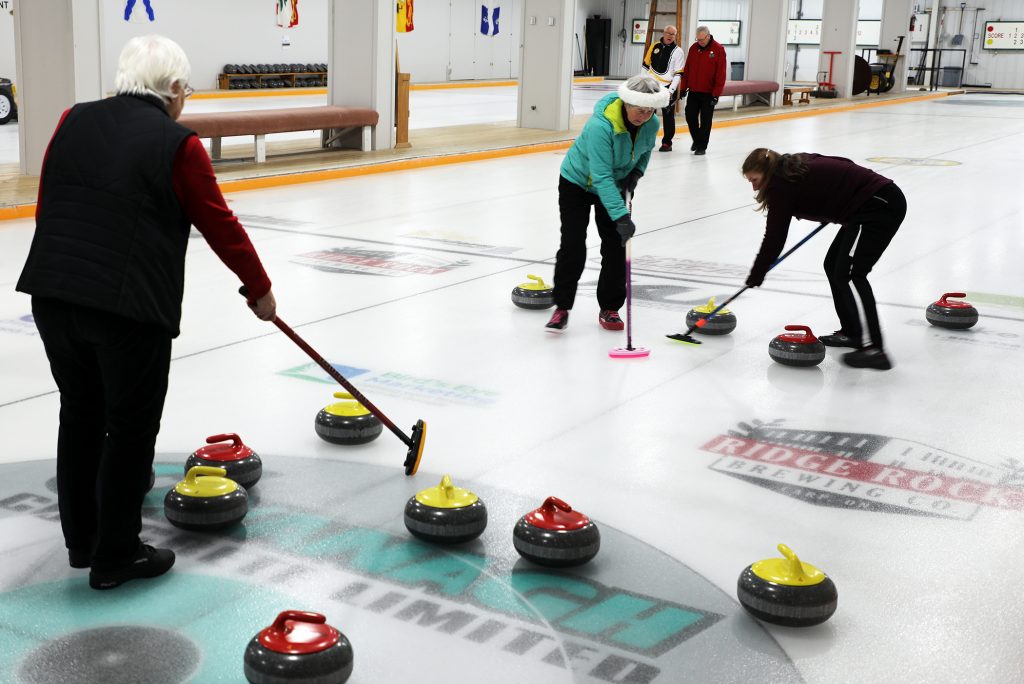 "It's wonderful," HCC tournament director Jim Collings told West Carleton Online just as an early supper was being served. "It's been two years as you said, of basically nothing happening here. We cut short in March two years ago, did a season in October (2021), but basically have not had a single event since then. And of course, January was a wash. Now we're back, not with just an event, but an interclub event with four clubs, Richmond, Almonte, Arnprior and us, and 192 participants and it's a full three days. Eighteen draws, and everybody is so happy to come back to something. And they've all been waiting for it. I can't tell you how many comments I have had where people are saying 'we are so glad to be back. Anywhere.' They're happy to be here because we're able to put on a good event. It's working out so far, touch wood."
While it is all fun and games, it is also a competition.
"It's all close, it is a competition, but everyone is having a great time and laughing and cheering," Collings said. "What more can you say? This is Blake Sinclair's (member and past president) idea, he started it two years ago, and he's continually trying to improve it and increase it in size. He'd like to make it a weeklong event, but that's Blake, he's enthusiastic beyond belief. But I'm the guy who has to put the draw together and there are certain restrictions you have to follow. We're doing it, and it's all working very well so far and we're halfway through exactly. Four more draws today (March 12) and five tomorrow."
And the clubs have even found some sponsorship in these lean times for the tournament.
"We've had a good response from sponsors, and the other clubs too, have found some sponsorship of their own," Collings said.
Of course, an important part of any interclub bonspiel is the food.
"Toogood's Kitchen is our in-house caterer and they're doing a wonderful job," Collings said. "Whitney Toogood runs her business out of the curling club kitchen and she's the one who's home burned down in Stittsville last December. So, this is real good for them."
One thing Collings really likes about curling and this bonspiel in particular, is it is for everyone.
"And here we have everyone from teenagers to, the oldest person here is over 80 and still participating, and stick curlers and new curlers, people who have just gone through Learn to Curl this year, and they are here competing, and we also have people who have been curling for 60 years," he said. "I'm happy to be part of it. I'm here each day, all day and I don't mind at all. You get the vibe, you meet new people and you get to see the people you don't see very often at your own club. We're exactly on schedule, we're not one minute behind. There's nothing to dislike about this thing. It's going so well, I have to touch wood. It's good stuff."
Almonte Curling Club President Steve Conlon was at the inaugural event and is happy to be back for the President's Challenge Cup in 2022, two years later. Despite the time lapse, COVID-19 has made the two cups, more than two years apart, back-to-back tournaments for the Almonte Curling Club.
"This is the first inter-club bonspiel we've participated in in two years," Conlon told West Carleton Online. "We haven't even hosted a bonspiel at our own club. Everybody is just so pumped just to be with other curlers. The vibe is great. Everybody is in a great mood. The curling's been good. All the games have been relatively close. But it's all about having fun and meeting new people. Getting out there and curl your best."
Almonte was four curlers short for the tournament and picked up a loaner team from Huntley to fill out the roster, but Conlon says his club is also bouncing back strong from COVID-19.
"We didn't have a season last year," he said. "This year our membership is where it was pre-COVID, which is around 270 bodies. After what we've been through the last couple of years, it's been great. Everybody is very happy to be back on the ice.