Harbour, Bay's Catholic churches providing mass through COVID-19
By Jake Davies - West Carleton Online
WEST CARLETON – Ward 5 moved in to stage two of the province's strategy for recovery from the COVID-19 pandemic on June 12. St. Michael's Catholic Church in Fitzroy Harbour and St. Gabriel's Catholic Church in Constance Bay both held their first services since the pandemic started that weekend on June 12 and June 14.
"Right at the get-go," Father John Orban told West Carleton Online yesterday.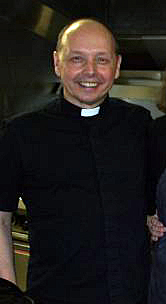 Last week we spoke to Reverend Dr. Christine Johnson whose Fitzroy Harbour United church will remain closed until at least September. The Catholic community's strategy is at the opposite end of the spectrum and chose to re-open as soon as they were able.
"We have been meeting and talking the last little while," Orban said. "We were ready. We had a lot of time and kept very informed. I kind of knew what was coming so we had stockpiled masks and personal protection equipment (PPE). We have a very specific liturgy that we follow, and we looked for ways we could make our churches more COVID-19 safe."
At both Catholic churches, they have reduced capacity to 50 people, roughly 30 per cent of maximum.
"Thirty per cent occupancy is comfortably 50 people," Orban said. "Maybe a little more. We count on families sitting together. We have very big extended families out here. It works itself out."
Orban says pre-COVID-19, anywhere from 60 to 90 parishioners would attend his services.
To make sure everyone who wants to attend. Orban added a Saturday service in Constance Bay. St. Michael's already had a Saturday service to compliment the Sunday service.
"If that fills up, I will just add another mass," Orban said.
Orban says about 95 per cent of his services are attended by repeat visitors.
"In the summer we lose and gain parishioners to the cottage," he said. "We don't get a lot of new visitors in a week, maybe one or two."
Father Orban has restricted access to the lectern – he is the only one who speaks at it during a service and three metres of distance is respected between it and the congregation at all times.
"It is an intimate space," he said. "There's pages, a microphone, so sharing doesn't work. I can't wear a mask when speaking there. People don't go there, period."
At communion time, Orban wears a mask and sanitizes after each parishioner.
"And it seems to work well," Orban said. "We thought about it very carefully. Ottawa Public Health (OPH) came up to our standards when they made masks mandatory."
The choir is currently taking a break but occasionally there will be an individual singer to perform a hymn.
"And that's nice to hear," Orban said. "The choir is ready to go. I'm sure they miss it, but at the same time, now there's extra time for safety and our services are still 10 to 15 minutes shorter. Our congregation is spending less time in the church and on those hot, summer days they appreciated that."
Orban says his congregation understands the process as well.
"People expect there is a certain element of risk, but that risk is probably less than other places," he said. "The only truly sterile place is an operating room. Everybody gets it. Everybody is very respectful. People understand, which is what I would expect from my congregation. That's worked out very well and kind of relieved some pressure for our volunteers. People come in, stay in their space and leave at the end. We're taking in all the recommendations and in some cases we're doing more. People were a little unsure at first, but they are a little more comfortable now."