Flood: City focusing on West Carleton
By Jake Davies - West Carleton Online
WEST CARLETON – The city is focusing its May 2 flood efforts on the heavily hit West Carleton area including hot spots Constance Bay, MacLaren's Landing, Willola Beach, Dunrobin Shores and Vydon Acres.
"Volunteers have been the backbone of the city's efforts in response to flooding," city staff released in a statement last night (May 1). "As the situation continues to evolve, the city is temporarily redirecting volunteers to the West Carleton-March communities to concentrate efforts."
Volunteers are asked to check in between 9 a.m. and 7 p.m. at the Dunrobin Community Centre at 1151 Thomas A. Dolan Pkwy. A shuttle will transport volunteers between the community centre and the affected areas in West Carleton-March.
The city has halted volunteer check-ins in the two other heavily affected areas.
The Ottawa River Regulation Planning Board (ORRPB) is now (May 2) saying levels are expected to peak on Friday "depending on weather conditions."
The ORRPB has had a challenging time forecasting the river's peak originally stating last Saturday as the expected peak and then changing that prediction on almost a daily basis as several different factors continue to affect the flows and levels.
"Once a peak has been reached, levels should start declining slowly but are expected to remain high, as a minimum, over the coming week," the ORRPB said. "Reservoirs in the Abitibi-Timiskaming area are rapidly filling. From Mattawa down to Lac Coulonge, levels are expected to begin rising again over the next few days due to increasing flow from reservoirs in the Abitibi-Timiskaming area."
The first municipality up river from West Carleton is Arnprior. Mayor Walter Stack reported this morning the water in the flooded areas dropped three inches overnight.
Stack said about 23 or 24 homes were "seriously affected" in Arnprior on McLean Avenue which follows the Ottawa River and Lena Street – a cul-de-sac near the Madawaska River.
Yesterday, residents in Constance Bay, overheard by West Carleton Online in the voluntary evacuation zone, reported no change in the flood level between April 30 and May 1.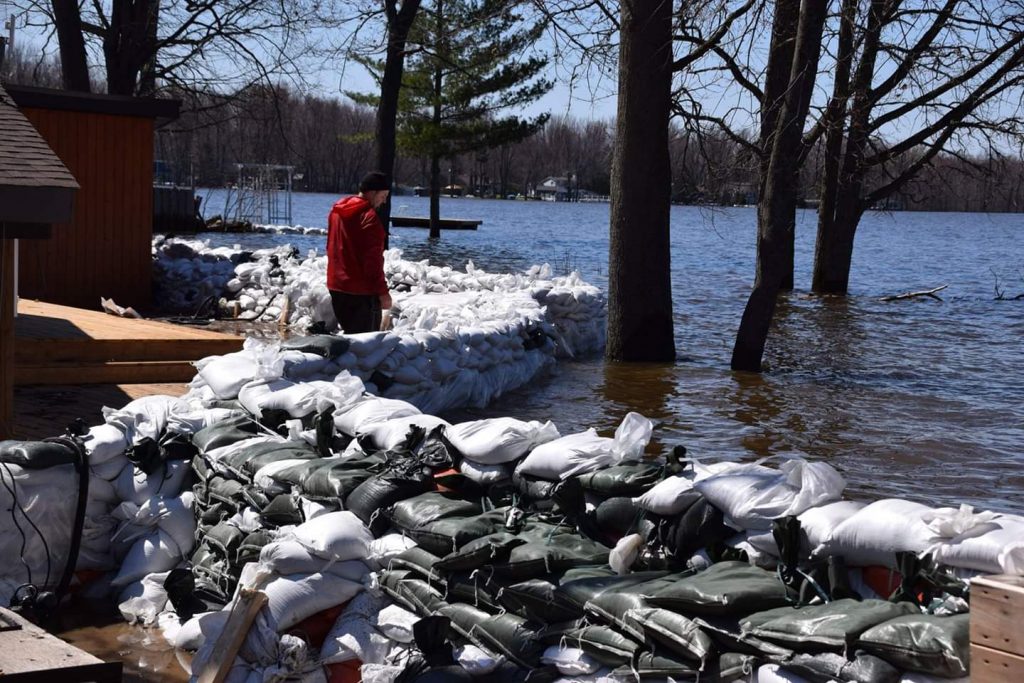 "The peak level due to spring runoff in the west-central portion of the basin has been reached on Chats Lake," the ORRPB said. "From Britannia/Aylmer down to the Hawkesbury/Grenville area, levels have stabilized but could increase slightly due to forecast rainfall over a large part of the basin continuing today and tomorrow."
Mayor Jim Watson says his experts tell him the Ottawa River is expected to peak in the west "at some point later today (May 2)," during an 11 a.m. press conference in Cumberland.
He thanked the more than 1,000 military personal for the help and providing a "physical and emotional boost for residents."
He thanked the 15,000 volunteer so far for "working their hearts out. We couldn't have saved he number of houses we have saved without those people."
But Watson says it will still be a long path forward.
"The peak is still not here," Watson said. "Be prepared for the weeks ahead. The clean up for this is going to be a tremendous challenge and we're going to need a lot of help."
While West Carleton residents are seeing the stabilization of the Ottawa River, there are still other concerns.
Much like in 2017, ground water flooded many homes as well. Reports are that is happening again.
"We're seeing more ground water now," West Carleton Disaster Relief communications director Angela Bernhardt said earlier today. "We still have that fighting spirit. We are grateful for our volunteers and all the emergency personal. But we are getting tired. Many of us are running on adrenaline."
Bernarhdt says the spring flooding may become the new normal.
"We were pretty naïve I think," she said. "There is always going to be this possibility. Even if you are high and dry, that doesn't mean you won't be affected. Infrastructure gets damaged, roads, electricity."
Another challenge related to flooding causing issues for parents of school children in West Carleton is busing. The Ottawa Student Transportation Authority (OSTA) had to change the routes out of affected areas. The West Carleton Royal Canadian Legion on Allbirch Road has become a hub for school buses as witnessed by West Carleton Online yesterday.
Parents learned of the change through an April 28 email – a day before kids returned to school.
There are 10 bus routes through Constance Bay. Four for Stonecrest Elementary School, three for West Carleton Secondary School, two for St, Michael's Fitzroy Harbour and one for All Saints Catholic High School.
Constance Bay resident Shannon Spallin says the routes seem to have been prepared with little thought or concern for the families using the service.
"The routes are almost all exactly the same," she said. "Parents are to drive to the designated stops to drop off and pick up their children. Parents with jobs, cannot get their children to and from these stops without taking time off work. For some that's not an option. The routes don't even cover the northwest side of Constance Bay which isn't flooded."
Spallin whose own school-aged daughter is old enough to walk the 1.4 kilometre walk to the new stop but Spallin says "elementary students can not be expected to walk that distance."
Spallin called the OSTA yesterday afternoon (May 1) to discuss the issue.
"They refused to listen and make any additional stops," she said.
Public safety minister, MP Ralph Goodale was at the same press conference as the mayor in Cumberland. He says number crunching on the flood has not begun yet.
"Right now, that's not knowable," Goodale said. "That will happen in the weeks and months ahead. But it's going to be a big number."
As of Thursday, May 2:
14,363 volunteers have helped at the three sites since Friday, April 19, with 83 volunteers helping on Thursday, May 2 (as of 9 am)
More than 1.5 million sandbags have been made available to residents
155 households have self-evacuated
208 Team Rubicon Canada work orders completed
City emergency services and Ottawa Public Health have conducted 849 wellness visits in all affected areas
3,000 people have joined the city's Spring Flood 2019 Facebook page