Firefighters respond to flood zone fire
By Jake Davies - West Carleton Online
CONSTANCE BAY – Surrounded by water, a Constance Bay home caught fire last night (April 30) and was destroyed.
"Ottawa Fire Services (OFS) received a 911 call from a neighbor to 795 Bayview Dr. reporting smoke and flames visible from side windows on April 29, at 11:07 p.m.," OFS public information officer Danielle Cardinal released in a statement. "Upon arrival fire fighters confirmed that the single detached two storey residence was surrounded by flood waters and that the residents had evacuated the property earlier. Fire fighters confirmed a working fire and are currently engaged in suppression operations. The structure was unoccupied. There are no reported injuries at this time."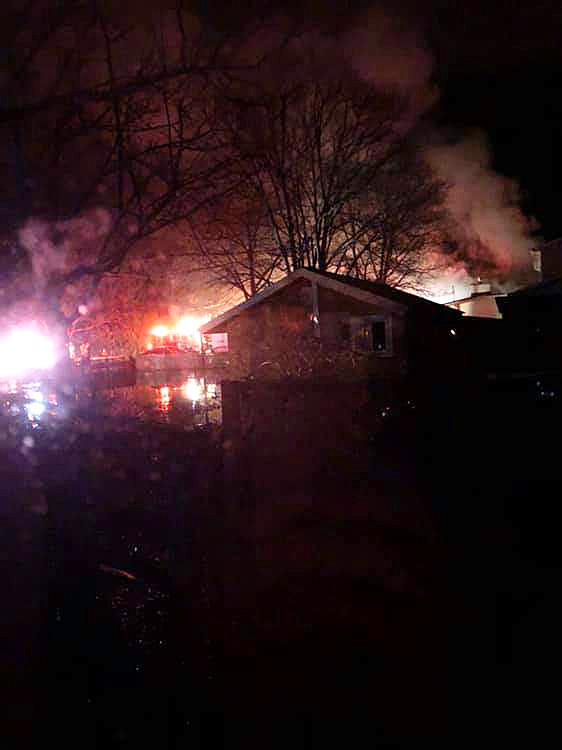 Firefighters from nearby Station 63 in Constance Bay responded to the call.
Homeowner Jen Julian had evacuated the home due to flooding earlier in the week when her sandbag wall was breached by the Ottawa River.
"She's okay," friend and long-time flood volunteer Shelley Welsh said. "Devastated and mad, but okay."
It was a challenging fight for firefighters as the home was surrounded by flood water.
"We would like to thank the following agencies who collaborated with us to manage this incident," Cardinal said. "Ottawa Paramedic Service, Enbridge, Hydro One, Ottawa Police Service . Our work together is based on trust, cooperation and a group commitment to service excellence and safety."