Environment minister replies to Yakabuski flood letter
By Jake Davies - West Carleton Online
WEST CARLETON – The Minister of Environment and Climate Change, Ottawa Centre MP Catherine McKenna, has replied to MPP John Yakabuski's letter requesting an independent review in to extreme flooding in 2017 and 2019.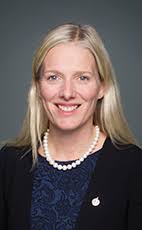 On Friday, Aug. 2, the minister Tweeted her comments and the letter she wrote to Minister of Natural Resources and Forestry Yakabuski in response to his request for an independent inquiry.
"After more devastating flooding on the Ottawa River, I've written my provincial counterparts about working together to protect people and property, including the option of an independent review," McKenna said in her Tweet.
In McKenna's letter to Yakabuski, dated Aug. 1, she stated "I note with interest the recent appointment of Mr. Doug McNeil as your Special Advisor on flooding."
She goes on to write "the Ottawa River community has experience devastating floods twice in a period of three years. With increased frequency of extreme weather, Canadians are now facing the direct impacts of climate change in their neighbourhoods."
McKenna says the Government of Canada is "dedicated to taking action to minimize these impacts and support adaptation while working to reduce Canada's greenhouse gas emissions."
McKenna promises the government will continue to work with its provincial partners and municipal representatives. She says Canada's senior officials have already had discussions with their provincial counterparts in Ontario and Quebec as well as municipal representatives and other stakeholders "to explore options on a potential path forward, including the scope of any proposed independent review. It is critical that all three governments move forward collaboratively to ensure the outcomes needed for the affected communities."
McKenna referenced a May, 2019 conference call between federal and provincial ministers regarding the "short and long-term requirements of provinces and municipalities in relation to floods," but there is no direct mention of support for an independent review.
Pontiac MP William Amos responded to McKenna's Tweet the very same day it was posted (Aug. 2).
"I welcome this positive step towards an independent and comprehensive review," he said. "Thank you (Minister McKenna) for listening to the concerns of the people of Pontiac."
West Carleton Online has requested an interview with McKenna and is awaiting her response.