El-Chantiry: Ward 5 weekly news Aug. 10
The Councillor's Column
COVID-19 – LATEST NEWS
MAKE SURE YOU'RE DOUBLE DOSED BEFORE GOING 'BACK TO SCHOOL'

School starts in just a few weeks! As students, parents and teachers prepare for the return to in-person learning this fall, there's one thing you can do early to make sure your semester is off to a solid start: Get vaccinated. Friday, August 20 is the last day you can get your second dose to be considered fully vaccinated before Labour Day weekend.
Are vaccines mandatory for students? Some post-secondary institutions have made COVID-19 vaccinations mandatory for students in certain situations, while others have made it mandatory for any student or staff member intending to be on campus in person. You can find a short list of some Ontario-based post-secondary institutions with vaccine regulations below. Be sure to check with your registrar about what you need to know to be safe on campus. Read more here.
WARD 5 NEWS
CONSTANCE BAY COMMUNITY PICNIC – Saturday, August 14th from 11:00am – 3:00pm at the Constance and Buckham's Bay Community Centre: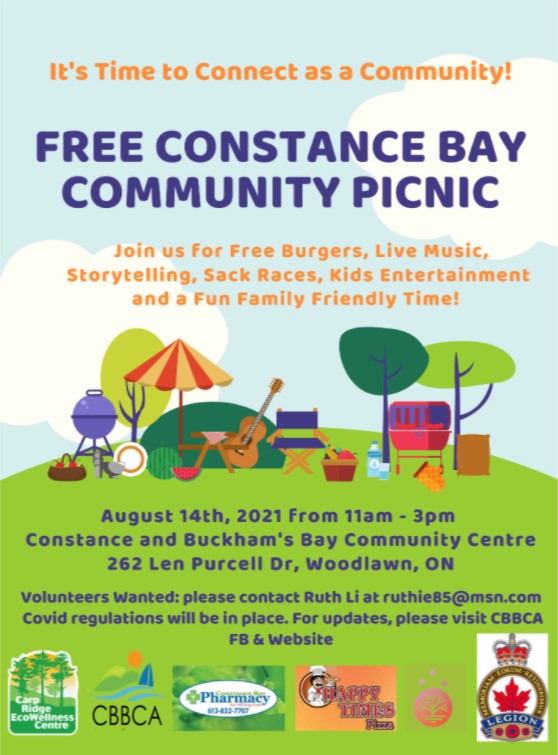 CALL FOR ORDER OF OTTAWA NOMINATIONS – Do you know of a Ward 5 Resident who is deserving of recognition for their contributions to life in Ottawa? The City is now accepting nominations for the 2021 Order of Ottawa. Any resident of Ottawa who has made a significant contribution in a professional capacity that has been of benefit to our community is eligible for nomination.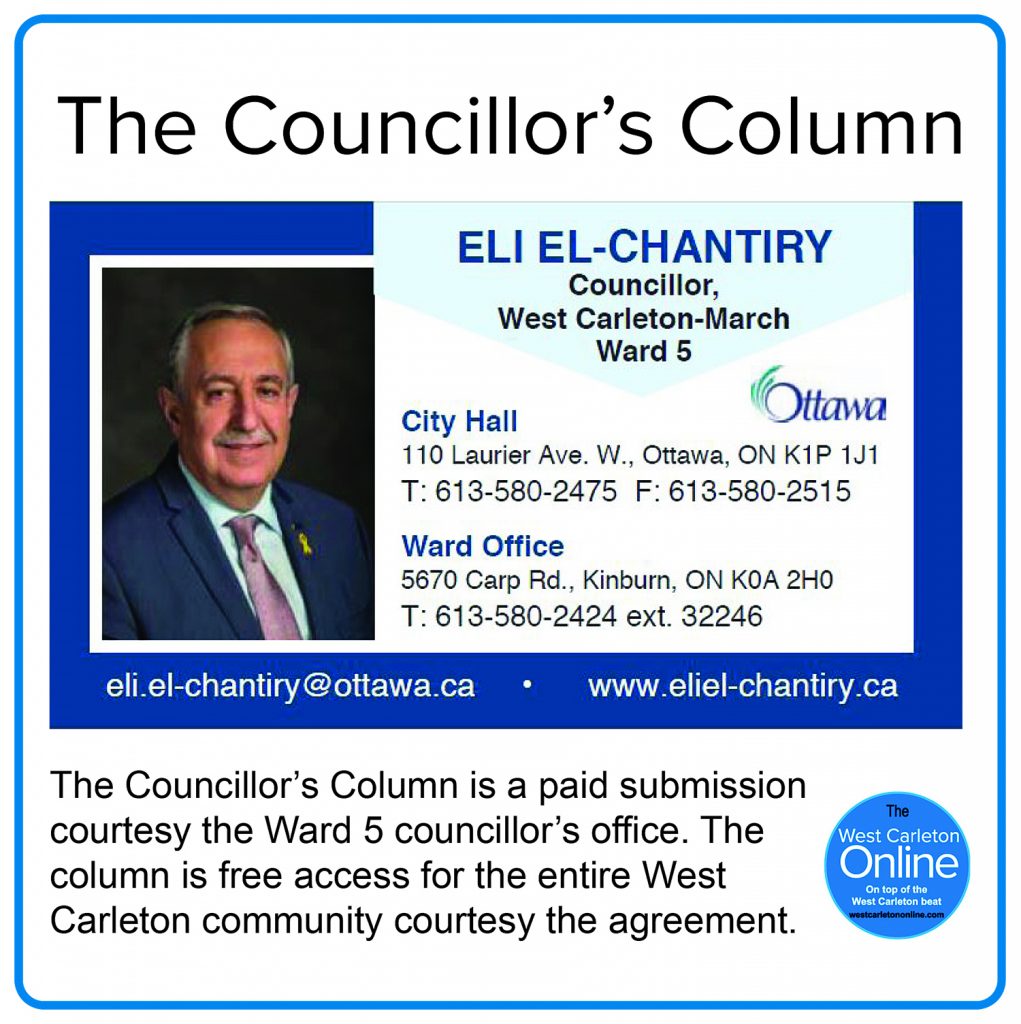 It is worth noting that submissions consisting exclusively of volunteer work will not be considered. Such submissions, however, could be considered for the Mayor's City Builder Award, a civic honour created to recognize outstanding volunteerism.
If you have someone who you feel could receive a nomination, please email ward5@ottawa.ca or you can complete a nomination for the award online: Order of Ottawa award webpage. The submission deadline is Friday, September 10 at 11:59 pm. Nominations will be considered every year for five consecutive years from the date of submission.
NOTICE OF CONSTRUCTION, LANE REDUCTION MARCH ROAD – The March Road Sanitary and Watermain upgrades project is continuing to progress in line with the overall schedule. In order to complete the construction of the sanitary sewer and watermain roadway crossings, lane closures and delays will occur along March Road (rural section) at various locations between Maxwell Bridge Road and the northern project limits at Maxwell Road beginning mid-week of August 9th and are anticipated to continue for 2-3 weeks. Flagging for lane control will be occurring in off peak hours (9-3pm) with the possibility of some weekend work being undertaken.
The following pedestrian and traffic disruptions associated with the Sanitary and Watermain Project are anticipated in the coming weeks:
The west sidewalk of March Road will remain closed from Shirley's Brook Drive/Morgan's Grant to Halton Terrace.
There will be impacts to one of the pathways in the Shirley's Brook Park. Temporary facilities/detours will be provided as required.
Traffic has been shifted to the west side of March Road just north of Maxwell Bridge Road. One lane each direction is being maintained at all times.
Lane shifts during working hours will be required in the rural section of March Road (north of Maxwell Bridge). Lane reductions to 1 lane will be required as above.
Southbound traffic on March Road will continue to be reduced to one lane between Halton Terrace and Shirley's Brook Drive. The lane narrowing to one lane for southbound traffic will be shifted to the north side of Klondike Road as the sewer operation advances towards Klondike Road.
Eastbound Shirley's Brook Drive is reduced to one lane at the March Road intersection.
Lane narrowing along Shirley's Brook Drive, Sandhill Road and Inverary Drive, with intermittent flagging during working hours for Inverary Drive.
Do you have a Ward 5 event to promote? Email my office ward5@ottawa.ca
CITY NEWS
HAVE YOUR SAY: DIFFERENT CURBSIDE GARBAGE COLLECTION OPTIONS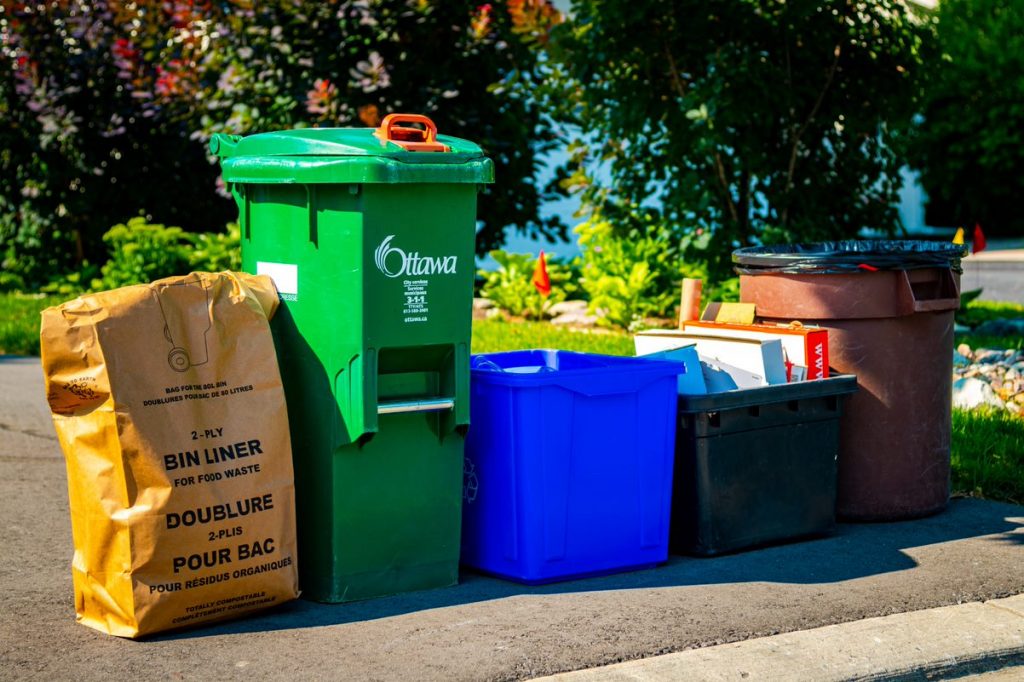 More than half of what we throw in the garbage could be recycled or composted and the Trail Road landfill is filling up fast. We need to do better, and that means rethinking how we collect garbage at the curb. As a community, we can divert more waste from the landfill, reduce emissions that contribute to climate change and turn more waste into new products and resources.
The City of Ottawa is engaging on options for the Solid Waste Master Plan, and curbside garbage collection is up first. Between now and September 12, we want your input on three options to divert more garbage:
Partial pay-as-you throw: Households would be allowed to place a set number of garbage items out for collection. Households with more than this limit would purchase garbage tags for each additional item. Recycling, organics, and leaf and yard waste would still be picked up without any tags and with no limits.
Reduced item limits: Households would set out a reduced number of garbage items for collection. Anything above the limit would not be collected

Clear garbage bags with recycling and organics bans: Households would set out their garbage in clear bags. Recyclables and organic waste would not be permitted in the garbage.
Visit ottawa.ca/wasteplan to have your say and be part of the solution. You can share your thoughts by completing a survey or participating in one of our online workshops.

Feedback from this engagement series will be used to help select a new curbside garbage collection option for Ottawa. It will also feed into the ongoing development of the Solid Waste Master Plan – a guide for how garbage, recycling and household organics will be managed for the next 30 years.

Council will consider a recommended option for curbside garbage collection in the first quarter of 2022, and the draft Solid Waste Master Plan in the second quarter.
OTTAWA PUBLIC LIBRARY NAMED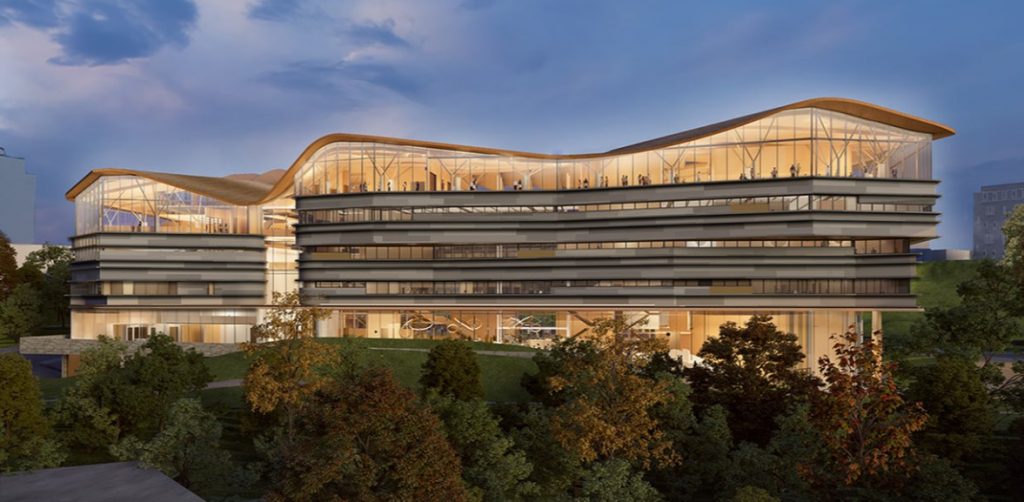 The official name was announced for the Ottawa Public Library – Library and Archives Canada Joint Facility. On behalf of the Anishinābe Algonquin Nation, Kitigan Zibi Anishinābeg and the Algonquins of Pikwakanagan First Nation gave the name Ādisōke for the facility. To learn more about the name story of Ādisōke, please visit adisoke.ca.
CITY'S FALL 2021 RECREATION AND CULTURE EGUIDE AVAILABLE ONLINE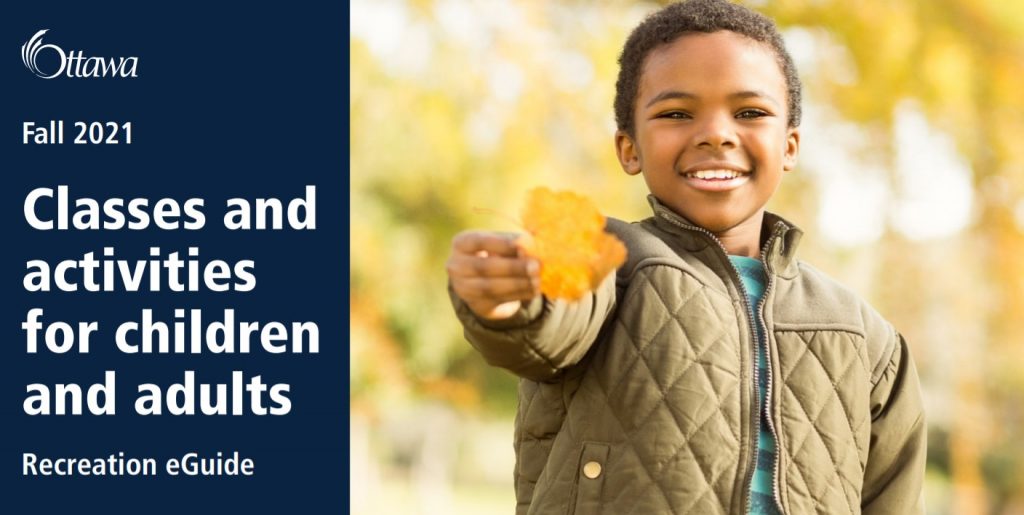 Thanks to our two-dose summer, the City is pleased to welcome back more in-person recreation and arts programming this fall. Browse the fall 2021 recreation and culture eGuides for COVID-modified activities being offered at select City facilities.
Aquatics registration starts on Monday, August 16 at 9 pm and registration for all other recreation, arts and special interest offerings starts on Wednesday, August 18 at 9 pm – including new virtual programs.
Fall 2021 aquatic programs – offered in English and French – include:
Swimming lessons for all ages
Power swim
Aquatic certifications for all levels
Recreation, special interest and arts programming
Explore the wide range of recreation activities to stay in shape and have fun, whether you want to take fitness classes, yoga, karate or take up a sport. Look for on-ice programming coming later this fall.
Some of the sports available include:
Badminton
Basketball
Volleyball
Tennis
Pickleball
You can also take a special interest or hobby program, like crafts, culinary, dog obedience and gardening. Babysitting certificate training courses are also available.
Virtual programming is continuing as a mainstay option that gives people an opportunity to participate from home, offering flexibility, comfort and convenience. Instructors will teach from rooms specialized for virtual streaming, which means better sound and no broadcast delays.
Programs include:
Fitness
Arts
Cooking tips from local chefs, and much more
Registration is easy. Explore the eGuides to select the program that interests you and follow these simple steps:
Go to ottawa.ca/recreation to view the eGuides or visit join.ottawa.
Click the relevant barcode – it will take you to the course page, with details about the number of spaces available, fees and dates.
Add the class to your cart and then proceed through the checkout. We'll email you your receipt.
ONE-DAY HAZARDOUS WASTE DEPOT RETURNS
Mark your calendars! The City is returning to its usual, one-day household hazardous waste depots. All one-day depots will run from 8am – 4pm. The remaining events for 2021 are scheduled as follows:
Sunday, September 12 at Tunney's Pasture
Sunday, September 26 at the Trail Waste Facility, 4475 Trail Road
Sunday, October 24 at the Westbrook snow dump, 200 Westbrook Road
The City, in consultation with Ottawa Public Health, has reviewed safety precautions to protect the health and safety of residents and staff and has posted procedures online.