WC flood relief volunteer powered
By Jake Davies - West Carleton Online
(Editor's note: As we did during the 2017 flood, 2018 tornado, 2019 flood and COVID-19 pandemic, we will be making our coverage of potential extreme flooding in 2023 free access to our entire community to hopefully provide flooding updates, important information and resources to all West Carleton and beyond, so those outside the area can better understand what is happening in our rural community)
CONSTANCE BAY – Today (April 20) is a beautiful spring day. Constance Bay around noon is relatively quiet. But there is also a dread in the air as the Ottawa River raised another 10 centimetres since yesterday (April 19).
West Carleton and other big chunks of the City of Ottawa have been under a Mississippi Valley Conservation Authority (MVCA) flood warning since Monday. And that continues today with their latest messaging.
"Water levels are expected to continue rising within the Ottawa River basin due to snowmelt, combined with forecasted rainfall starting Friday (April 21) and continuing over the weekend," MVCA water resources technologist Jennifer North released in a statement today (April 20). "The Ottawa River Regulating Committee (ORRC) anticipates water levels along the main stem will continue increasing over the next few days before stabilizing near the major flood level, impacting several streets, lawns and houses in low-lying areas. Flood levels are expected to remain well below historic high flood levels."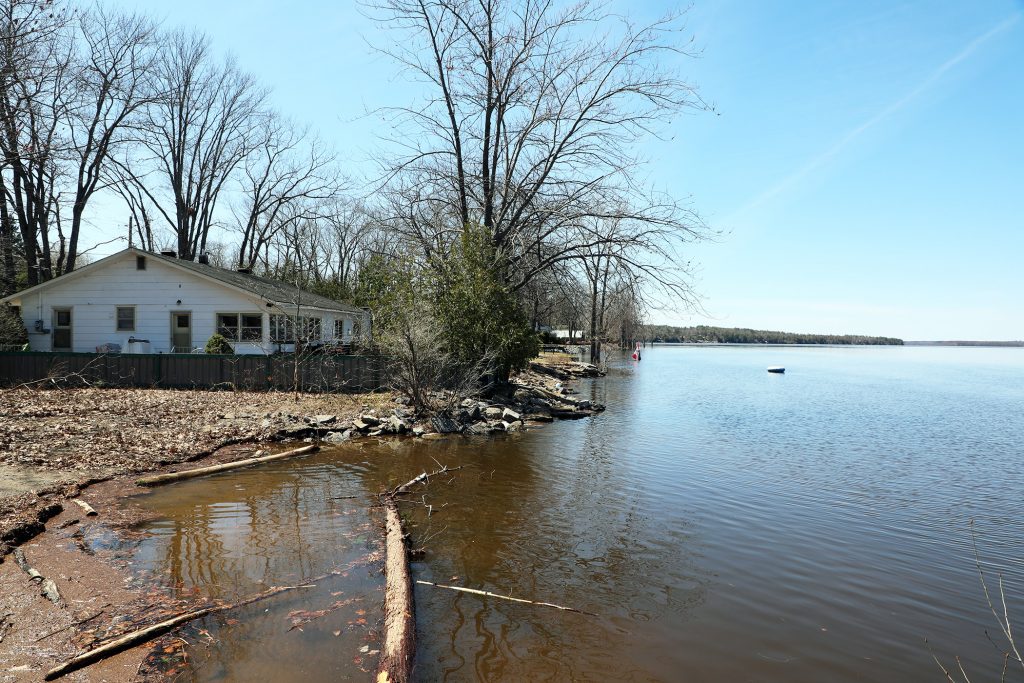 The MVCA says water levels in the Constance Bay area are expected to rise by about 0.15 metres above today's elevation within the next day and remain high over the next four to five days.
According to West Carleton Disaster Relief (WCDR) the water level today is at 59.84 m. The forecast is for it to reach 60.23 m. The 2017 peak was 60.44 m and the 2019 peak was 60.75 m.
Despite those dire warnings, there appears to be very few sandbag walls being built along the stretch of Bayview Drive in Constance Bay that was hardest hit in 2019. During that flood, several kilometres of road were shut down due to the depth of water on them. Roadblocks were set up and electricity was turned off. People who left the restricted area were not allowed back in, so many stayed put, picking up supplies dropped off by others at the police checkpoints.
The Ottawa River has not reached homes along Bayview Drive as of today (April 20). There are very few sandbag walls visible driving down the road, except for two houses, side-by-side, both on the far side of the river from the road and fairly low looking.
One of the two homes is owned by resident Connor Oakley who wasn't in Constance Bay for the 2019 flood. But he saw the damage up close after buying his house just after the flood.
"So, in 2017 the previous homeowner was able to keep the water out of the house," Oakley told West Carleton Online taking a short break from building his sandbag wall. "They had it handled the whole time. In 2019, I guess the owner got to a point where he couldn't fight it anymore and let the house go. So, when I bought it most of the house was ripped out from four feet (one and a half metres) down, there was no floor or anything like that, so it was in pretty rough shape. We just finished the renovation about six months ago."
So, this week Okley and about five family members and friends are building a sandbag wall, complete with vapour barrier, around the house. It currently sits at about two feet tall (1 m).
"Yeah, we're kind of in disbelief that a lot of others aren't doing it," Oakley said. "We just want to try to have this first couple of layers done because we know how hard it can be to move sandbags once the water starts. So those who haven't started, at least a base, I think are going to be in big trouble once the water comes and I also think there is going to be a huge line up of trucks and vehicles last minute trying to get sandbags."
That is exactly what happened in 2019, West Carleton Online saw it firsthand.
"I don't think there will be that much help at that time either, so we're trying to get ahead of it," Oakley said. "It's been good. The city has been filling up sandbags for us at the community centre, so we've just had to pick them up. It's been a lot more work than we thought, but it will feel nice just to get everything done and up to speed. Take some stress off us."
Many houses in the area have been lifted, or have added other flood preventative measures, but there still many that have not. And there is evidence the water is coming. There are a couple lawns, on the far side of the river, that are now giant puddles. Oakley sees the evidence of a rising river all around him.
"We're seeing now water is starting to pool-up in the back yard," he said. "The ditches were dry yesterday and overnight we got about a foot of water in the ditches, so I think people need to be prepared. We don't really know what's going to happen once the rain starts and once it gets warmer and the snow melts up north."
Just after noon, it is it's also quiet at the Constance Bay community centre, the city's and volunteer coordinators' base of operation.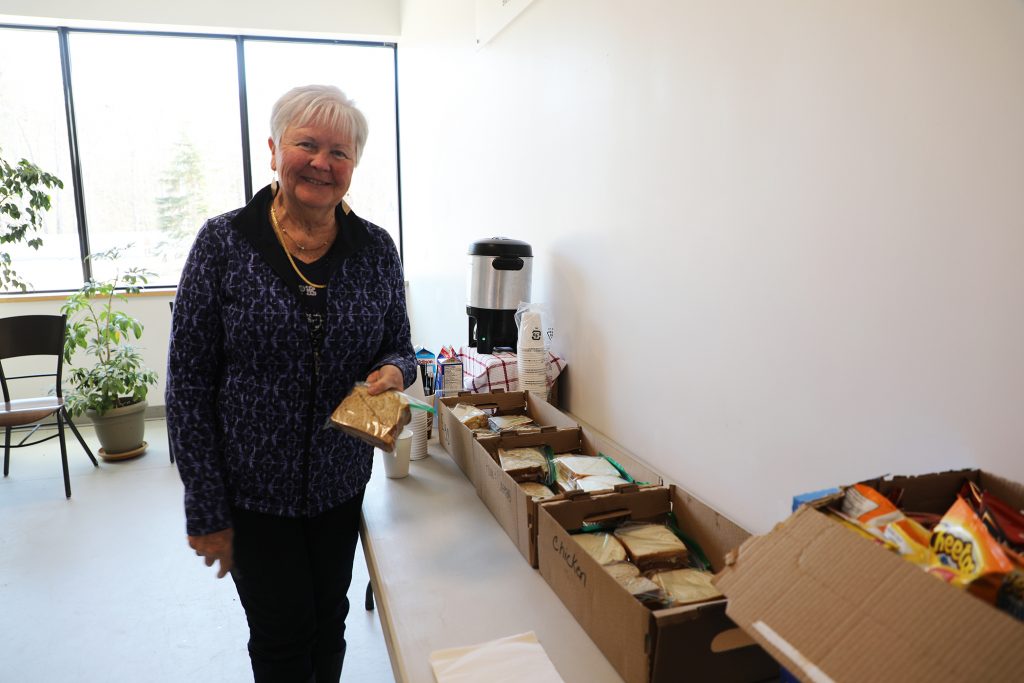 City staff and a couple of volunteers are filling sandbags. WCDR volunteers are working the computers, emailing and organizing in the community centre along with Coun. Clarke Kelly.
The WCDR, unfortunately, now has lots of experience coordinating volunteer flood relief. Something outsiders might not think about when seeking volunteer sandbaggers is the importance of food. But experience shows, that is probably the second biggest coordinated effort when organizing a multi-day flood response.
One of those volunteers helping with the massive food effort, both making and coordinating, is Doris Parks. Parks, a West Carleton resident and a WCDR director, joined the organization as a volunteer shortly after being rescued by them in the spring of 2022 from the May 21 derecho.
"I became a director last November," Parks told West Carleton Online. "I was a victim of the May 2022 storm. I nearly lost my house, but I didn't. All the trees came down and smashed the fence, my patio, the furniture, blah, blah, blah. The firemen did come and help. Then Hans (Baader), the co-chair of WCDR, he came, and he sawed and took all the stumps out and delivered them to the end of my driveway. So, that was the reason I joined WCDR. I wanted to give back for what they did for me."
And a year later, Parks has been called in to active duty.
"A year later, here we are serving food to another disaster," she said. "We've had great help from The Point Dining Lounge. They made mac and cheese for the volunteers. The Legion has made all theses beautiful sandwiches and they are going to do it for two or three days. Hopefully, the flood is over on Sunday (April 23), but you never know. It looks like it might be next week."
Part of Parks role is preparing food, and another part is finding food donations.
"We're looking for contributions," she said. "Harbour Pizza made us 10 pizzas yesterday (April 19), so we fed all that to the city workers. We've had McDonald's who gave us donuts for the high school kids (hundreds of West Carleton Secondary School students were filling sandbags today at the school with a goal of hitting 10,000 bags) and coffee for us. We've sent some sandwiches out to Morris Island and to the Mennonites in Dunrobin who helped out in 2019. We're just asking for more donations basically to help with the food costs."
WCDR has received gift cards from nearby grocery stores like Loblaw's, Metro, and Costco.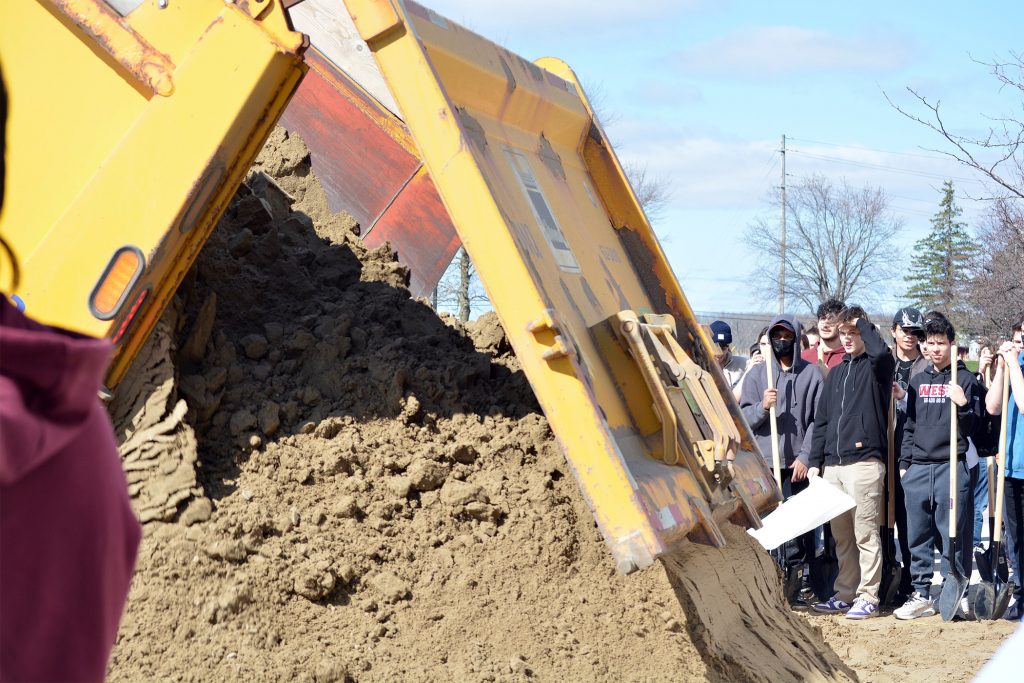 Parks estimates the WCDR has bought $500 worth of food for volunteers after the first couple of days of flood relief, which doesn't include prepared food donated by others. Because of public health regulations, food from volunteers must be made in a commercial kitchen that has passed the public health regulations such as the commercial kitchen at the Constance Bay community centre where a lot of the food for the relief effort is being prepared.
"We have been able to keep our volunteers fed," Parks said.
And that will continue this week.
"We like to keep people fed and it's working pretty good," Parks said. "All the workers are working hard. They're amazing. They are probably out there for 10-hour days. This afternoon we're sending out thank you emails to all those who have contributed so far."
Parks says their donation recruitment is starting to cast a wider net as well.
"We're finally getting our word out there to bigger corporations," Parks said. "We're going local right now and the local always comes through. The locals always come through."
Coun. Kelly had just returned from the Armitage Avenue area of Dunrobin Shores where he and his team were filling sandbags. Now he's at the community centre, just before heading out and knocking on doors in the Constance Bay community to find out what homeowners need.
Even though the river rose about 10 to 12 centimetres since yesterday, it wasn't a surprise.
"That's pretty much what we were expecting based on the projections we were given from the city, the MVCA and the ORRC," Kelly told West Carleton Online. "Right now, the city does expect it to plateau at that level we're seeing right now (60.23 m). That's the hope anyway based on the information we're seeing, but we still continue to prep. We're filling sandbags and building walls."
While the river hasn't reached homes in Constance Bay at this time, that's not the case along Armitage Avenue.
"There's a few homes down there that need help right away," Kelly said. "The water is right up to their homes now. I'm working hard to get those people what they need to protect their homes and stay safe."
Some of those Dunrobin residents are facing what Oakley feared might happen to him if he didn't act fast enough. Volunteers and homeowners are building sandbag walls in the water.
"There are a few homes on Armitage the water is splashing on to the house," Kelly said. "The wave action can cause erosion and damage homes. So right now, we're putting sandbags down to stop that, and getting them down in vulnerable areas to establish a base, and then if things do begin to rise we can go back and build on those walls that are already there."
But now he's checking on Constance Bay residents.
"We're going door-to-door down Bailie Ave.," Kelly said. "Then we're going to start on Bayview and see who needs help and make sure they get some aid."
So far this week, West Carleton Online has not heard from the federal representative on the current flood situation and West Carleton no longer has a provincial representative. So far the response has been primarly made up by municipal government, volunteers and the residents themselves. Kelly says his council colleagues have contacted him and even come to help.
"I haven't even had to reach out to them, they reached out to me thankfully," Kelly said. "Several councillors have reached out and some have already come out to help fill bags. We had (Barrhaven West) Coun. David Hill and his team out in Morris Island yesterday (April 19). And they're on their way again today heading to Armitage. That's where (Knoxdale-Merrivale) Coun. Sean Devine and his team is helping people build walls to protect their homes today."
But the call for more volunteers continues.
"First of all, I'm thankful for everyone who has come out, it's always encouraging to see the commitment amongst community members," Kelly said. "We are definitely still in need, so I would put that call out again and ask for people to sign up through West Carleton Disaster Relief, come down to the Constance Bay community centre (262 Len Purcell Dr.) and let us know when you are available and what you would like to do. You can also reach out to my office (clarke.kelly@ottawa.ca) and I'd be happy to connect you to the people who need help the most."
If you can help with food donations or would like to volunteer with the food element of flood relief, you can contact that element of the flood relief by emailing food@westcarletonrelief.ca.