WC flood relief needs help
By Jake Davies - West Carleton Online
(Editor's note: As we did during the 2017 flood, 2018 tornado, 2019 flood and COVID-19 pandemic, we are making our coverage of potential extreme flooding in 2023 free access to our entire community providing flooding updates, on-site coverage, important information and resources to West Carleton and beyond, so those outside the area can better understand what is happing in our rural community)
WEST CARLETON – The nature of this year's flooding, the relatively long gap between the first peak on April 21 and the second peak expected tomorrow (May 5), has made recruiting volunteers a challenge for those who are leading flood mitigation work in West Carleton.
A drive around Constance Bay yesterday (May 3) showed clear signs of the Ottawa River rising. Lawns that were dry on Friday (April 28) had standing water. Some homes were now surrounded by the Ottawa River. West Carleton Online spoke to Constance Bay homeowner Connor Oakley on April 20 while he and a small group of family and friends worked on a sandbag wall for his home, located on the far side from the river on Bayview Drive.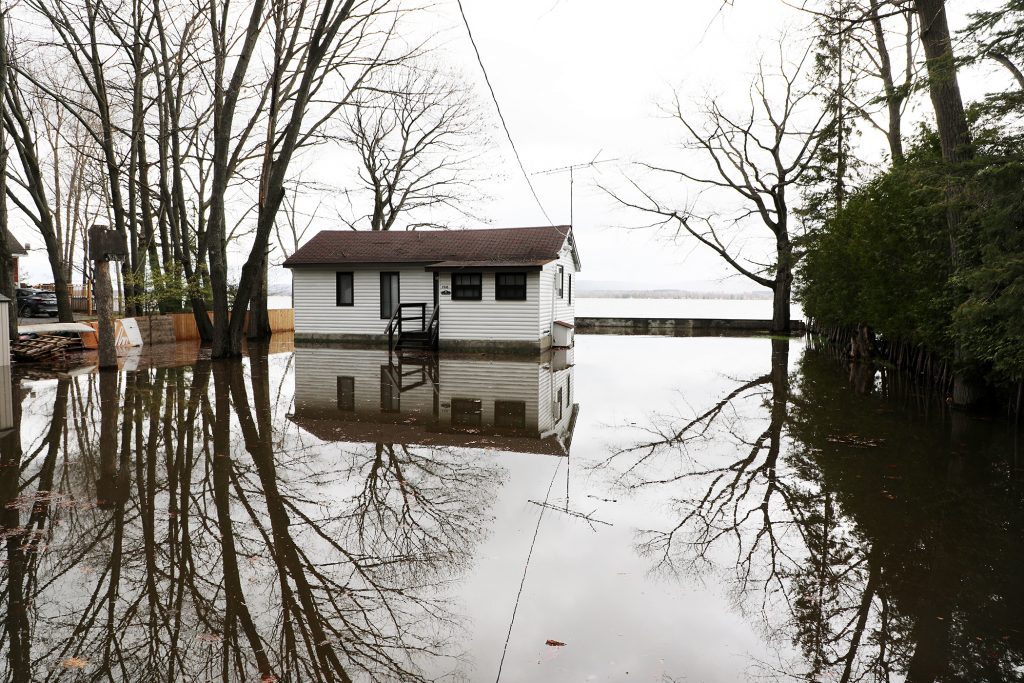 His front lawn is now full of standing water, his home basically surrounded by large pockets of water.
A few homes near his, appearing empty, are completely surrounded by the river. Prognosticators are expecting the Ottawa River through West Carleton to peak Friday (May 5).
While West Carleton Online didn't make it out to Moorhead Drive yesterday (May 3), reports are the water is pretty high in Willola Beach, a small community hit hard in 2019, and one we visited this year on April 18.
"Things are pretty ugly down on Moorhead," Coun. Clarke Kelly's staff told West Carleton Online today (May 4). "Clarke has been there for the last couple of hours."
According to West Carleton Disaster Relief (WCDR), the water level in Constance Bay is currently 59.9 metres above sea level. The 2017 peak was 60.44 m and a 2019 peak of 60.75 m. The three-day forecast is for the Ottawa River to peak at 60.30 m.
The first peak of the 2023 occurred on April 21 when the Ottawa River hit 60 m.
"Flows and levels on the Ottawa River continue to rise due to increased runoff from significant rainfall over the entire basin received over the last few days," the Ottawa River Regulation Planning Board (ORRPB) released in a statement in its daily river conditions forecast yesterday evening at 5 p.m. "Levels are expected to peak in all locations today (May 4) or tomorrow (May 5) from Mattawa down to Lake Coulonge, and on Thursday (May 5) or Friday (May 6) from Chats Lake down to the Hawkesbury/Grenville area. Levels should remain below the historical levels of 2019 (by as much as: 60-70 cm in Mattawa, 20-30 cm in Pembroke, 30-40 cm in Lake Coulonge, 35-45 cm in Chats Lake, 25-35 cm in Lake Deschenes, and 50-60 cm along the reach between Ottawa-Gatineau and the Hawkesbury-Grenville area.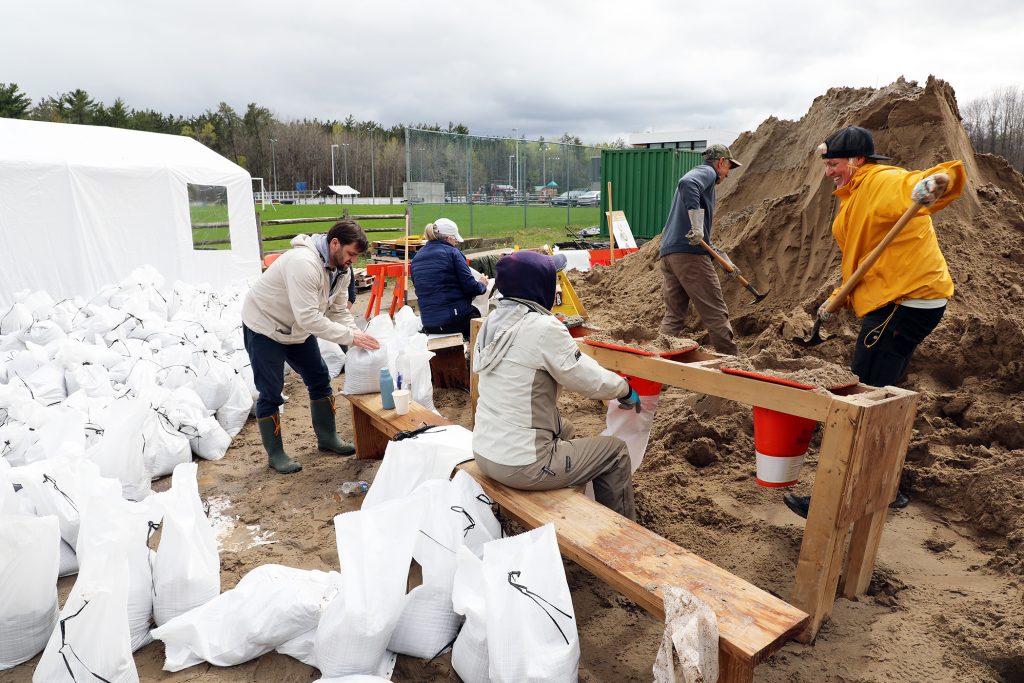 Water levels and flows are expected to stabilize into the weekend and should start to decline slowly into next week with the return of sunny and drier weather.
"Reservoirs in the northern part of the watershed, which are being used to store runoff and minimize flooding downstream, are rapidly filling," the ORRPB said. "Once reservoirs are full, they will have little capacity to reduce river flows in downstream areas. Levels will therefore remain susceptible to further rise should additional significant rainfall occur over the coming few weeks."
The long amount of time between the first peak and the second peak has created new challenges.
This flood is nothing like what West Carleton riverside residents faced in 2019. Not nearly as high, for one. In 2019, that section of Bayview written above, was completely underwater. Even the road, by more than 20 cm. What was more staggering in 2019 was the water stayed roughly at that peak level for nearly a month.
But this flood is still very significant, dangerous and destructive, and it's been a challenge for volunteer coordinators to recruit volunteers as the second peak approaches.
At West Carleton's largest sandbag-filling station located at the Constance Bay community centre (262 Len Russel Dr.) there are volunteers. A small handful of volunteers working with a small handful of city employees filling sandbags and loading them in to trucks.
Despite the rain, West Carleton Online spoke with a volunteer from south Ottawa, one from Arnprior, and one a White Lake native now living in urban Ottawa.
Arnprior's Cobey Errett, a volunteer member of the Arnprior Optimist Club, looked around Arnprior first to see if anyone needed sandbagging help there. He couldn't find any, so he headed to Constance Bay to help out.
Coun. Kelly, who now calls Constance Bay home, is battling the flood at his new place, while leading sandbagging and coordination efforts in Constance Bay.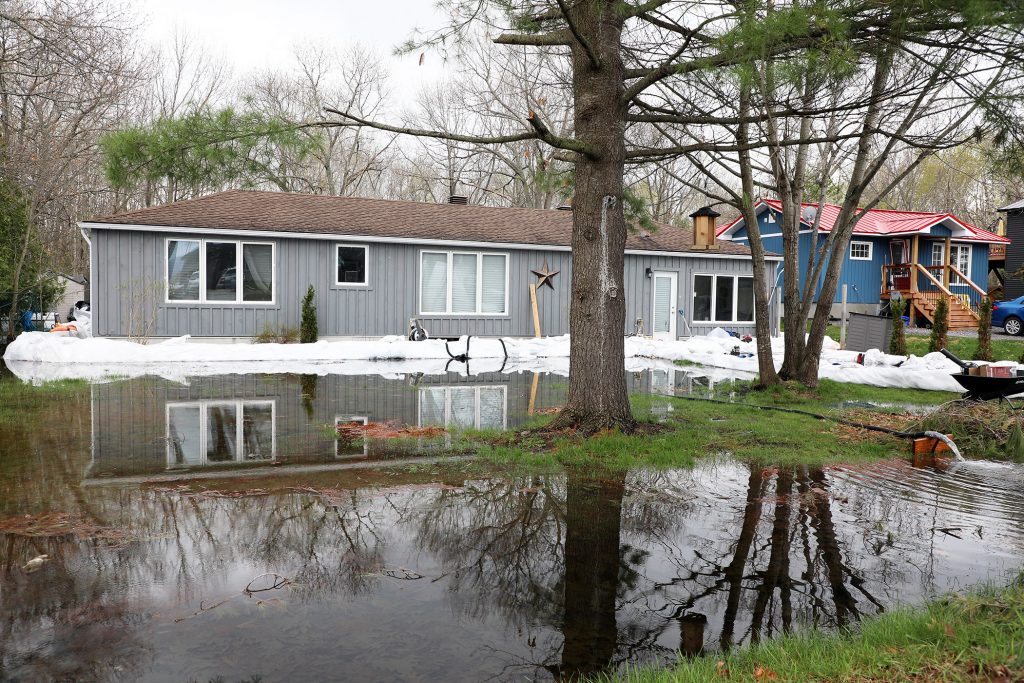 "I got about four hours sleep," he told West Carleton Online yesterday (May 3). "We're still looking at the same projections as we did yesterday and the day before which is about 30 cm above the peak on April 21. So, we're working hard to get bags filled and supplement the walls that were built two weeks ago and help the people who are now in need of sandbags."
Kelly says that works is being done with a smaller group of volunteers than the community had for the first peak.
"I will admit, the last couple days it's been tough to get people out," Kelly said. "It's been a grind, and a lot of people are just tired. And working. We're in the middle of a workday. People have to pay their bills, so it is hard to find volunteers to come out and fill bags. Especially on a rainy day in the middle of the week."
There is still a handful making the effort to come to the community and share a helping hand.
"But we've seen an uptick in the last hour," Kelly said. "And we're starting to fill bags at a pretty good pace. This week we have seen a lower response than we have in the past. It's posed a challenge, but we have a fair number of people out there now and we're making progress."
Kelly says, after weeks of rising and falling shorelines, it is hard to come up with one phrase to define the morale of the community during the flooding.
"It's a big wide range of concerns, from not concerned at all, to hitting the panic button and calling for bags and friends and volunteers to build walls," Kelly said. "I would say it is generally an anxious time for people in West Carleton-March, based on the recent history on the flooding we have faced here. I think anxiety levels are high and people are fatigued."
Kelly is looking towards the light at the end of the tunnel, which may arrive this weekend.
"The good news is projections haven't changed over the course of the week," he said. "That means the ORRPB is not seeing any signs we're going to go over that additional 30 cm. While it will increase the number of people who are going to need help, basically it will be a plateau at that level and coming down from there. Then it will be a matter of cleaning up."
And that isn't a quick job either.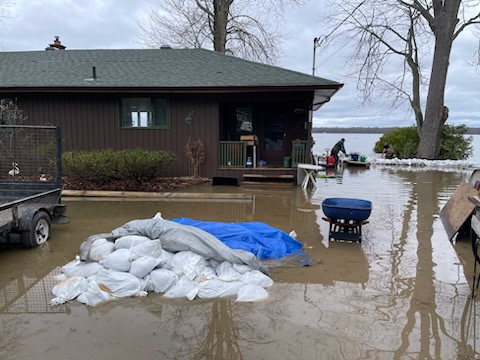 "That always takes a while," Clarke said. "It's quicker to get them up. It's been harder this year, but you do find people to help put the walls up. It's always more of a challenge to take the walls down and bring the sandbags out to the road so the city can pick them up. We do have some organizations that have reached out, that are offering help in those regards, so I think we have some options to look at when we get to that stage. But right now, I'm still pretty focused on mitigation and filling sandbags at this point."
When all that immediate work is dealt with there is the larger problem to confront. This is the third major flood since 2017, and it doesn't seem like a problem that is going to fix itself. Is it time for the city to look at the issue of riverside community flooding on a bigger scale?
"One hundred per cent," Kelly said. "I know a couple other council colleagues, Matt Luloff is dealing with this in the east end in Cumberland. This is something we seem to be dealing with more and more, and more and more city resources need to be put in to it each spring, so I think there will be a conversation on how we plan for these. What information we use to predict what's coming. I think that's been one of the major challenges, is communication around what's coming and how to visualize that, what it means for their property. We've got people talking in terms of inches, in terms of centimetres, levels above sea level and flows and kinds of different metrics people use. So, it is confusing. We need dedicated city staff that can syphon through that and make real predictions we can rely on."
With the high water, Enbridge has begun visiting homes affected by flooding checking to ensure gas hook-ups remain safe. In some cases, the gas will have to be turned off.
"Having a clear dry path to your gas meter will help avoid a shutdown," WCDR released in a statement yesterday (May 3) as well as several other flood related tips. "If your septic system is not working due to flooding, call 311 and ask for a Porta Potty to be placed as close to your home as possible. They can't be placed in the roadway so it might be a short distance from your home. If your water is off and you need showers, call WCDR at 613 447-4446 to arrange access. We have lots more helpful information for residents on our website at https://bit.ly/WCDRFloodInfo."
If you are able to volunteer this week and help West Carleton riverside residents make it safely to the plateau expected this weekend, the best way to do so is through WCDR's website here. By registering, WCDR will ensure volunteers are well supported including food and water. Students who volunteer will be able to put that time towards their required volunteer hours needed for graduation.
To see all West Carleton Online's coverage of the 2023 freshet, click here.