El-Chantiry: Ward 5 bi-weekly news, March 30
The Councillor's Column
Ottawa Public Health News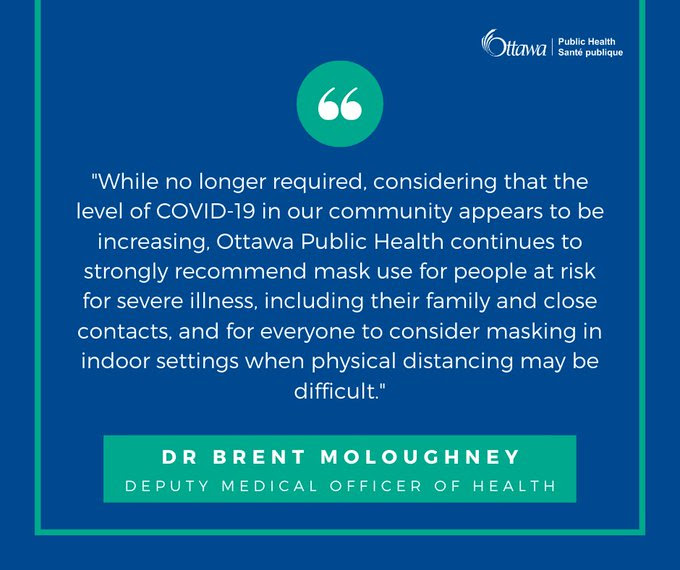 Deputy Medical Officer of Health at Ottawa Public Health Dr. Brent Moloughney's March 24 Special Statement on the local COVID-19 situation is available here.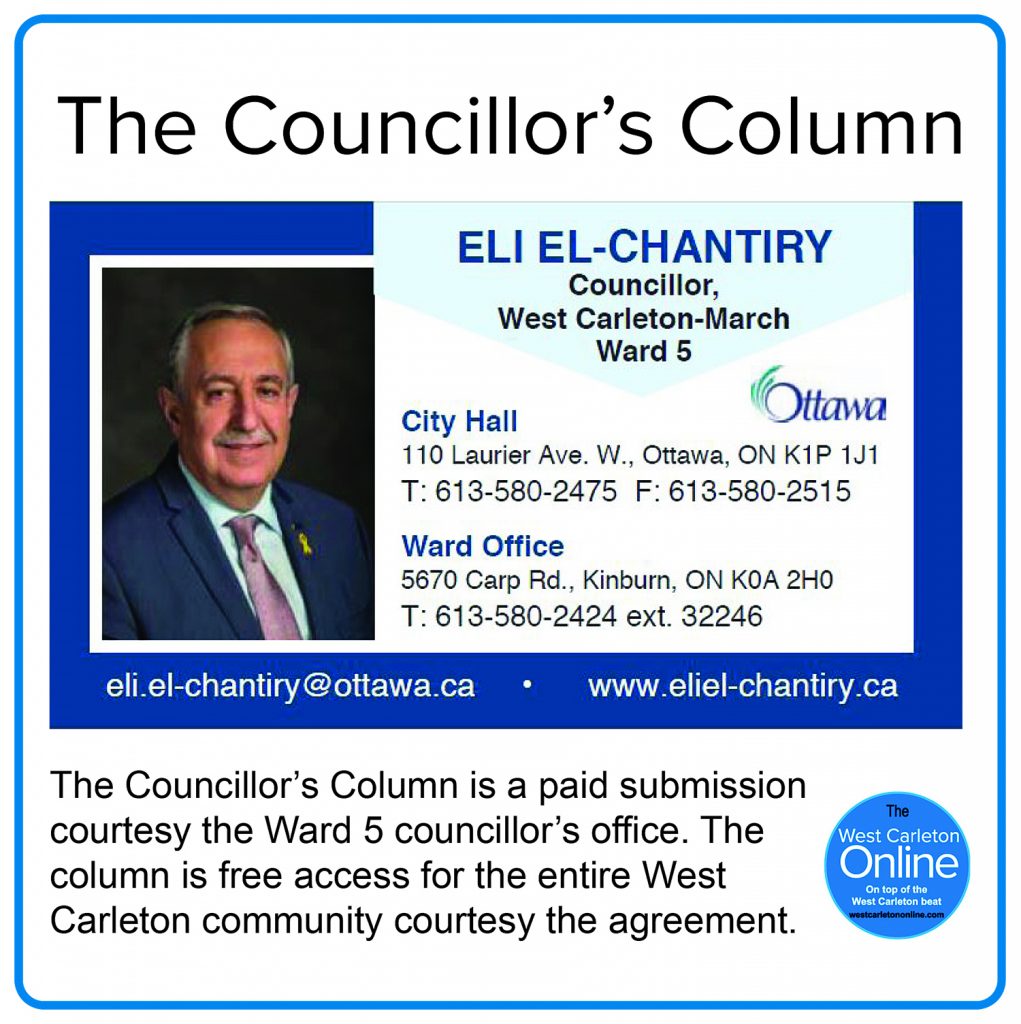 COVID-19 Vaccination
COVID-19 vaccination continues to be crucial, especially as public health measures are lifted. A third dose provides a higher level of protection than two doses. Click here for clinic information.
School Immunization Catch-Up Clinics
Ottawa Public Health has resumed school immunization catch-up clinics, by appointment only, for youth who attend school in Ottawa who were unable to attend or receive their school-based vaccines (Hepatitis B, HPV, Meningococcal vaccines) at their school clinic in Grade 7. Click here for school clinic information. Appointments can be booked through OPH's online booking website or by calling OPH at 613-580-6744, Monday to Friday from 8:30 am to 4:30 pm.
For more information on the school immunization catch-up clinic services or on immunization for youth and school vaccination, please visit the Parenting in Ottawa website.
Your Councillor in the Community
Supporting Local Businesses


I continue to support local businesses, which have been absolutely devastated by the pandemic. On March 26, I enjoyed breakfast with Mayor Watson at the Heart and Soul Cafe in Dunrobin. My thanks to Jim Bowen, pictured here at left, and Jodie Bowen, who have dedicated their lives to their small business, serving their community, and who have worked tirelessly through so much over the years.
In-Person City Council Meeting


On March 23, I was absolutely thrilled to attend the first in-person City Council meeting at City Hall – the first time in more than two years since the pandemic first impacted our lives. This Council meeting was very unique. Most Councillors joined Mayor Watson and City staff around the horseshoe. A few Councillors joined us virtually over Zoom. The gallery was closed to the public during this trial format, but were invited to tune in to watch live over Youtube. It was a very special day and I am delighted to have participated.
Rogers TV – Ward 5 Feature


I was interviewed by Derick Fage on Rogers TV on January 27, 2022. Each year, Rogers features elected civic leaders to provide insights and updates on projects and priorities in their wards in the City of Ottawa. Due to technical difficulties, Rogers was only able to post the video on its Youtube channel on March 26. The video is available here.
Ward 5 News
Ward 5 Clean-up Challenge
I am issuing a friendly challenge to all West Carleton-March residents, community associations and businesses to take part in Ottawa's Spring Cleaning the Capital Campaign. The team that collects the most trash during their registered clean-up this spring will be eligible to win Tim Hortons gift cards (one per person, up to a maximum of 20). Please invite me to your clean-up event so I can see how much trash has been collected. Email me at eli.el-chantiry@ottawa.ca or call 613-580-2424,ext. 32246. Fill out the registration form at ottawa.ca/clean or call 3-1-1 to register your project and request your project starter kit. Registration closes April 30.

Spongy Moths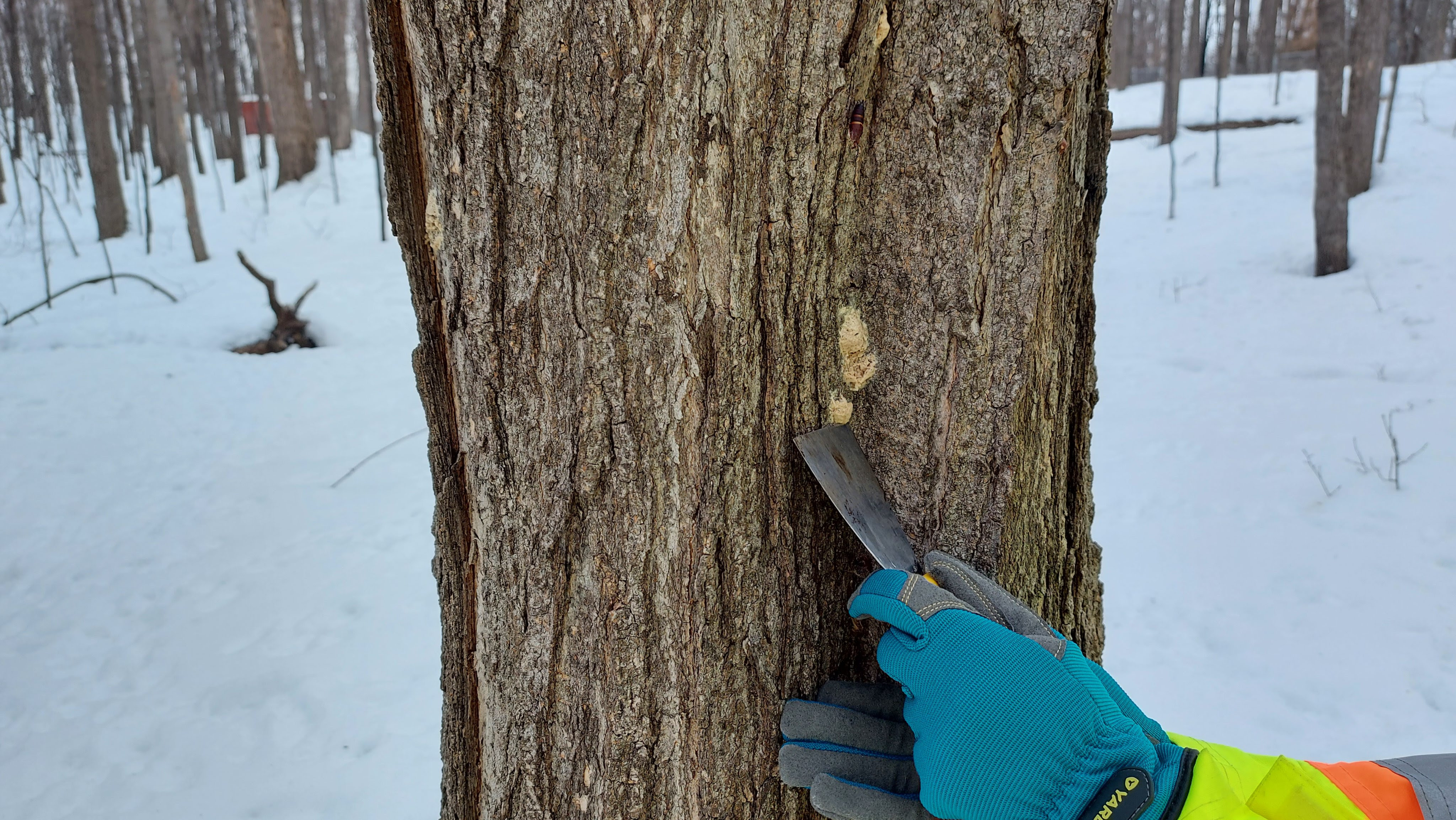 Have you seen Spongy moths (formerly known as gypsy moths) on your trees? Help reduce the number of this invasive and destructive species before they hatch! If you spot eggs on your tree, scrape them off and submerge them in a soapy bucket for two days to keep your tree safe. For more information, click here.
Sandbag-Filling Stations & Water Levels


Sand and sandbags are available at designated City works yards for residents wishing to prepare for low-level flooding in the coming weeks. An updated list can be found here. Join the City's Spring Flood 2022 Facebook group to stay up to date on information about river conditions and how to protect your property in the event of flooding.Helpful links
Ontario Power Generation: www.opg.com/water
On this page you will find information on water management, including an infographic on the freshet timeline. To find information specific to this region, including levels and flows, and other helpful information, please click Eastern Ontario.
The Ottawa River Regulation Planning Board: www.ottawariver.ca

Speeding
Now that the milder weather is here, there is more activity on and near our roads – cyclists, runners, children at play, dog walkers, horseback riding and wild animals crossing. Residents are reminded to report speeding to Ottawa Police by calling 613-236-1222, ext. 7300 or submitting a complaint at ​​ottawapolice.ca/en/contact-us/Online-Reporting.aspx. Your reports allow police to identify and monitor problem areas.
Wild Animal Baby Season is here
-Article submitted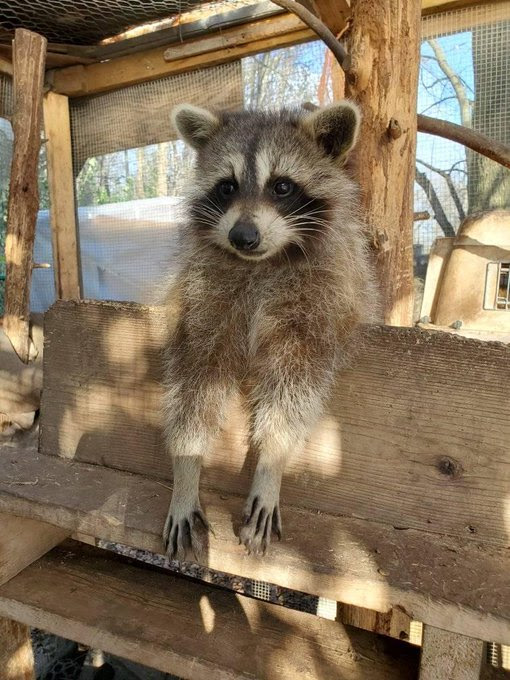 Photo by Holly's Haven/Facebook
Holly's Haven Wildlife Rescue a local charity run by a team of volunteers and based in Dunrobin. Last year, HHWR took in over 850 wild mammals to be rehabilitated and released back into the wild, healthy and away from places where they might cause trouble. This is the time of year when baby squirrels and raccoons are being born. Every year, we'll be asked to take in more animals than we can handle, so we ask for the community's help in supporting us while keeping the need for our services down. Most of the animals needing our help are orphaned because either the mother was killed or has been trapped and relocated. Please know that if you see a raccoon or skunk out during the day, it is probably a mother desperately trying to feed herself on a break between baby feedings. Our website recommends humane removal companies that will keep the mother and babies together. These companies also help with squirrels, that may have nested in your eaves or in a tree that you are having taken down. In many cases, animals wouldn't need help if humans didn't interfere, and often they can be reunited with their mother. Contact us for advice and we'll be happy to help if we possibly can. If an wild animal is very sick or suffering, you can call Ottawa Bylaw at 3-1-1. They have a trained team to respond and take the animal to the Ottawa Humane Society for assessment.
If you are interested in joining our volunteer team, you can sign-up here. Find out more about us on our website, Facebook page or Instagram. Sincere thank you to our community of volunteers and supporters from Team HHWR!
Catch Basins, Ditch Drainage & Potholes
Residents concerned about ditch drainage, those who need assistance clearing a catch basin or wish to report a pothole can call 3-1-1 or create an online service request at ottawa.ca/en/3-1-1/report-or-request. Please remember to record your service request number so you can track your file or request an update.


Potholes-by-the-Numbers
The total number of potholes repaired between January 1 and March 21, 2022 reached 42,398.
The total number of potholes filled for the same period last year was 36,869 – an increase of 5,529.
The three-year average (2019-2021) of potholes filled for a full year is 222,571.
In Ottawa, the five-year average of freeze/thaw cycles over the winter season is 79. Freeze/thaw cycles are the leading cause for potholes, which thrive in these types of environments.

Household Hazardous Waste Depots


The City is hosting hazardous waste depots again this year where household hazardous waste can be dropped off. The Canadian Tire Centre is a new addition this year. Located at 200 Cyclone Taylor Boulevard, this depot is scheduled for June 26. The schedule of depots will be updated as needed at Hazardous waste and special items | City of Ottawa. Residents are also encouraged to consult the Waste Explorer tool for a full list of items accepted at the HHW events: ottawa.ca/en/garbage-and-recycling/waste-explorer. In addition, the Waste Explorer provides a list of retailers throughout the city that accept household hazardous waste materials at any time.
Ward 5 Development News

1015 March Road Proposed Plan of Subdivision – Public Meeting
The City of Ottawa will hold a public meeting April 4 at 6:30 pm on Zoom to discuss a proposed zoning by-law amendment and plan of subdivision application for 1015 March Road. The meeting link is available here. Property owner 13533441 Canada Inc. is proposing to develop one future mixed-use block, one future institutional block and a new street which will connect to March Road. Additional information is available on the City's DevApps website. Comments can be submitted to City of Ottawa Planner Lisa Stern by calling 613-580-2424 ext. 21108 or emailing Lisa.Stern@ottawa.ca.
2431 Diamondview Road – Rezoning Application
The City of Ottawa has received a zoning by-law amendment application to prohibit residential development on the agricultural parcel at 2431 Diamondview Road. The property to be rezoned is retained from a farm surplus severance. As a condition of the consent decision, the parcel needs to be rezoned to AG5 to prohibit future residential development. The deadline date for comments is April 5. For details, please visit my website.
232 Donald B. Munro Drive Development Application – Public Meeting
A public meeting will be held in the coming weeks for a development application for 232 Donald B. Munro Drive. Please stay tuned for details. The zoning By-law amendment and plan of subdivision application is available on the City's DevApps website:
West Carleton Quarry expansion application – 4200 March Road – Comment Period
The City of Ottawa has received an Official Plan and zoning by-law amendment application to permit the expansion of the existing West Carleton Quarry (4048 March Road) by 18.2 hectares. The site is located at 4200 March Road, immediately west of 4048 March Road. The application's supporting documents can be viewed on the City of Ottawa's DevApps website:
To comment on this application, please contact City of Ottawa File Lead, Planner Cheryl McWilliams, by calling 613-580-2424, ext. 30234 or emailing cheryl.mcwilliams@ottawa.ca. Please submit comments by mid-April.
Loggers Way Sewer Replacement Project
What: Sewer Replacement – Project scope covers 293 metres
Why: To address structural deficiencies
When: April 18, 2022 – June 10, 2022
Where: Loggers Way from Kinburn Side Road to Early Avenue
Who: Main Contractor – Core Civil Construction; Sub-Contractor – Englobe (for pre-construction inspections)
Traffic Impacts: A road closure will be in place for the duration of the project. Residents, businesses and emergency services will have full access.
Fitzroy Harbour Sidewalk Renewal
Sidewalks in Fitzroy Harbour will be renewed this summer. Construction is estimated to begin sometime in June or July 2022.
The project work areas are as follows:
1. Harbour Street (east sidewalk) from Crossland Drive to Nicholson Street
2. Fitzroy Street (north sidewalk and part of the south sidewalk) from Harbour Street to Old Ship Road
Ward 5 & City-wide Events

Rural Transportation Solutions Webinar – March 30 at 7 pm. The topic is "How to Pay for a Sustainable Solution." Click here for information and to register.
Softball Canada Men's U23 Canadian Fast Pitch Championship hosts a Trivia Night fundraiser at the West Carleton Amateur Sports Club on April 1 at 7 pm. For details, please click here.
West Carleton Branch 616 of the Royal Canadian Legion hosts a Ukraine Benefit on April 2 at 8 pm. Doors open at 6 pm. For details, please click here.
Rural Root Theatre Company presents "Drinking Habits" April 3 to 9.
For information and tickets, please click here.
The Carp Agricultural Society hosts euchre on April 9 at noon at the Carp Agricultural Hall. Click here for details.
The Carp Agricultural Society hosts Carp Men's Night on April 14 at the W. Erskine Johnston Arena. Doors open at 6 pm. Dinner is at 7 pm. For details, please click here.
The Carp Agricultural Society hosts Carp Ladies Night on April 22 at the W. Erskine Johnston Arena. Doors open at 5:30 pm and dinner is at 7 pm. For details, please click here.
The Galetta Community Association hosts its next board meeting on April 25 at 7 pm at the Galetta Community Hall, 119 Darwin St.
Softball Canada Men's U23 Canadian Fast Pitch Championship hosts an Alumni Night at the Carp Agricultural Hall on April 29 at 7:30 pm. Admission is free. All current and former fastball players and officials are invited. For details, please click here.

The West Ottawa Ladies Chorus hosts its 10th Anniversary virtual Spring Concert on April 29 at 7:30 pm.
For details, please visit westottawaladieschorus.ca.

CN Cycle for CHEO takes place May 1. Become a rider or a volunteer. For details, please visit cncycle.ca.
For event details, please visit my website. To submit an event, please email Ward5@Ottawa.ca.
City of Ottawa News, Programming, Grants & Engagements