Dunrobin Sweet 16 a 35-car parade
By Jake Davies - West Carleton Online
DUNROBIN – COVID-19 couldn't stop Laura Taffiner's Sweet 16 from being a memorable one, kicked off with a 35-car parade.
Laura, a Dunrobin resident, is popular in her community and with her peers. She's a regular at the Dunrobin Community Centre, taking a cooking class or two and being an active participant of the amazing Dunrobin Special Needs program, of which her mom Tracy Taffinder is a big volunteer organizer of. Laura has even done some modelling work.
So, it's no surprise Laura's birthday is a pretty big deal in her neighbourhood and with her peers. But, it was a surprise for Laura.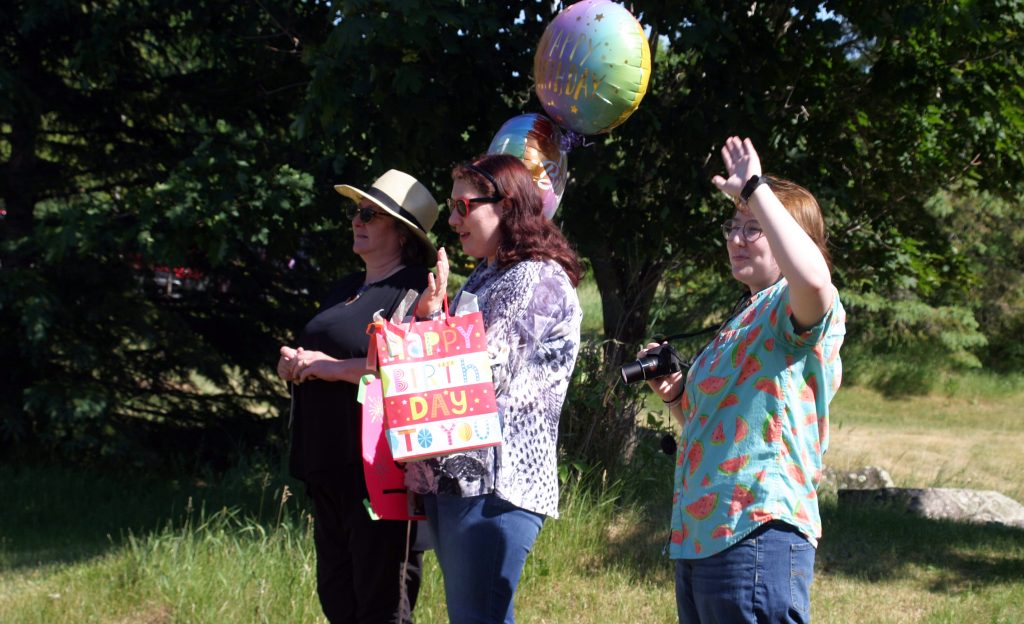 Yesterday (June 17) around 35 vehicles, packed with friends and family, decorated with balloons and streamers, paraded past Laura's Dunrobin-area home honking their horns, yelling out 'happy birthdays' and even stopping to sing the birthday song. They love Laura so much, many did the loop twice.
"Have you been practicing your guitar?" Dunrobin Community Association volunteer guitar teacher Scott Miller yelled from his convertible.
It was a surprise for Laura, but one she warmed up to quickly.
"I love this," Laura said with her mom and brother Ross by her side. "Thank you so much. That was so much fun."
"Laura, I miss you so much," one friend yelled.
When the parade was over, including the double loop, Laura was off to the backyard for a celebratory barbecue and cake.
"It was kind of nice," Laura told West Carleton Online. "I was kind of nervous."
Her mother said it was the first time Laura has been able to see her friends and her peers from the Dunrobin special needs program. Tracy says many of those in the program also have compromised immune systems meaning them and their family are taking zero chances in relation to physical distancing and staying home.
"Even her Kindergarten teachers came by," Tracy said.
"It's a nice day to be doing it," Ross said. "It was so hot, the balloons were popping on the cars."