Donations, momentum build in Dunrobin
By Jake Davies - West Carleton Online
(Editor's note: West Carleton Online would like to thank its subscribers for allowing us to provide our tornado coverage free of charge to the greater community as a public service to allow everyone acess to important tornado-related information. This story will be the last article available to West Carleton as we will now continue to restrict access to our paid subscribers. If you would like to support community journalism in West Carleton and ensure there is a media outlet covering events important to the community, we sincerely hope you will consider subscribing to West Carleton Online for only $50 per year. Click here to subscribe.)
DUNROBIN – Vimy Dean is a three-year-old boy from the far side of Ottawa. He is symbolic of the support pouring in for West Carleton tornado victims from far and wide, in all shapes and sizes.
Vimy lives in Orleans but travelled all the way to the Dunrobin tornado Red Cross emergency relief centre, now downsized in to the small gym at West Carleton Secondary School, to donate the proceeds from profits made from making and selling cotton candy. Vimy visited the emergency relief centre last Thursday (Sept. 27) with his parents Melanie and Michael Dean.
Vimy does have ties to the West Carleton community. His dad grew up in Kinburn and his grandparents still live there.
The Deans had a cotton candy machine at their home in east Ottawa they had rented for a family celebration.
"When the tornado hit, he said 'nobody likes tornadoes'," Vimy's mom told West Carleton Online from the relief centre.
So, the family spent six hours selling cotton candy Sept. 23 and raised $120.
"We got the whole neighbourhood involved," Melanie said.
Coun. Eli El-Chantiry said six days after the tornado, support and donations are growing more and more.
"If I said we were overwhelmed. I would be understating it," said El-Chantiry who was also at the emergency centre.
Donations having been coming from within West Carleton, the City of Ottawa as well as many nieghbouring municipalities. The Ottawa Senators announced at the final NHL pre-season game held Saturday (Sept. 29) their efforts had raised $340,000.
Michael said he was on the road the Friday afternoon of the tornado.
"When I was driving and heard about the tornado I was worried about my parents," he said.
Michael says he also has friends who live in Dunrobin.
El-Chantiry says progress is being made on the clean up of West Carleton's worst natural disaster.
"We're still securing the site," he said last Thursday. "There's still a lot of debris, broken glass and nails."
El-Chantiry says the city will secure the sites of those homes that don't have insurance. He adds public works has already moved 50,000 tonnes of debris from the village.
The next focus is the 22 pools in the area that have all lost their fencing – they too must be secured.
El-Chantiry says more than 400 volunteers are registered and "waiting to come out and help," although as of last Thursday they weren't quite ready to accept them yet. "We're taking all the steps before we can bring the general volunteers in," he said.
Skilled volunteers and volunteer organizations were starting to branch out from the Dunrobin village and were now being sent out to the "Fifth and Sixth lines, Torbolton Ridge, Kinburn, Pinhey's Point and other areas affected by the tornado.
"We can't access anything without the homeowners' approval," El-Chantiry said.
(Editor's note, 1042 p.m., Sept. 30: El-Chantiry announced on Twitter on Sept. 30 Dunrobin Road will be open for tomorrow morning's commute) As of Saturday, Sept. 30 Dunrobin Road through the village was still not open. While the roadway is clear, there still remain some figurative obstacles.
"We don't want to turn the village in to a tourist attraction," El-Chantiry said. "The road will be open for school buses. As much as I'm anxious to open the road, it's logistics."
While the tornado relief centre has shrunk in size, the services provided there have not.
For those affected by the tornado, here are a list of services available at the relief centre at West Carleton Secondary School:
City of Ottawa Building Code Department
City of Ottawa Emergency Services
3-1-1
Ottawa Public Health
City of Ottawa Forestry Department
City of Ottawa Finance Department
Ottawa Volunteer Search and Rescue
Red Cross
Contractors/adjustors
Service Canada
Disaster Recovery Assistance for Ontarians
Enbridge
Dunrobin Disaster Assistance Group (in conjunction with the Dunrobin Community Association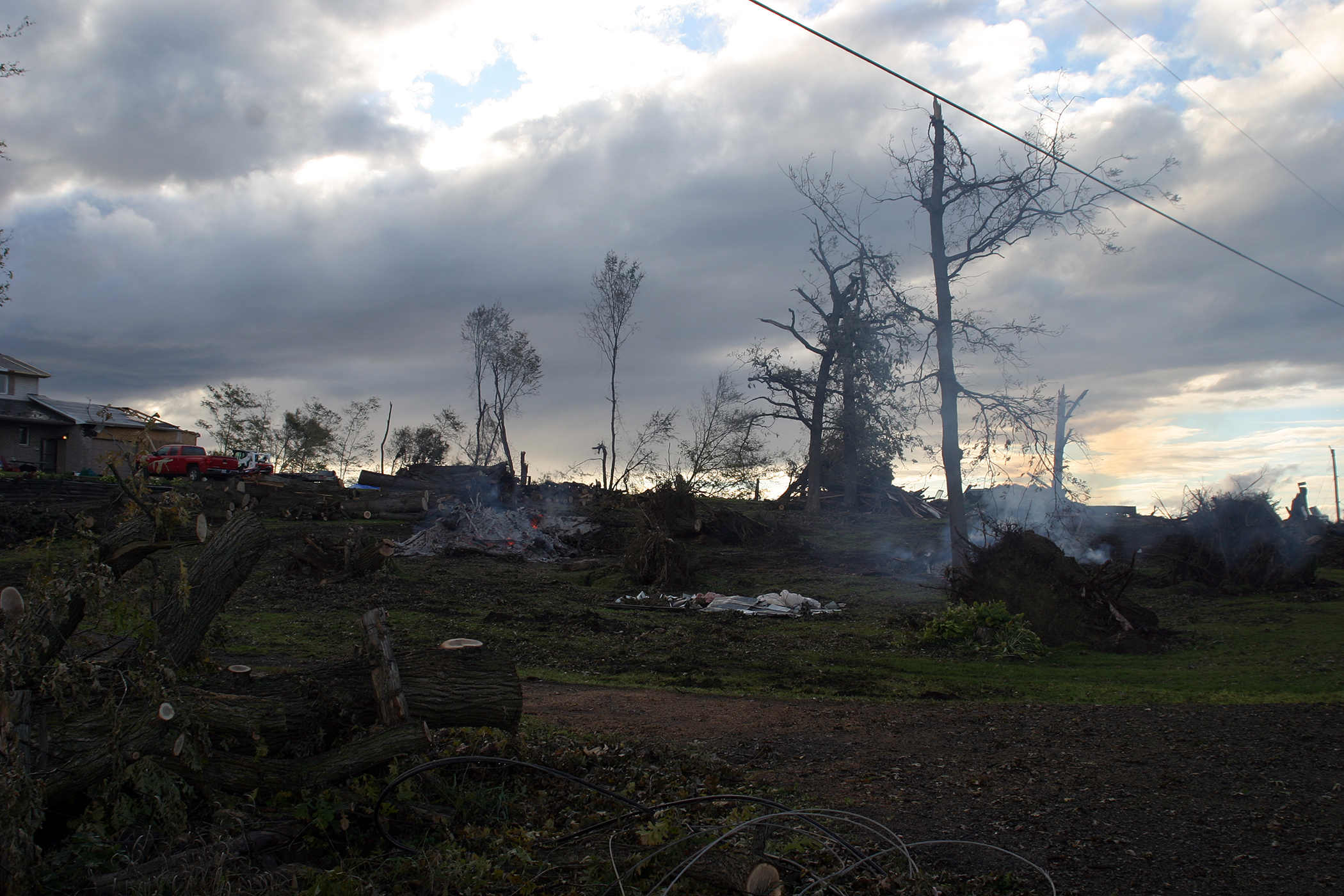 The West Carleton Food Access Centre (5670 Carp Road) will be open all this week from Oct. 1 to Oct. 5 9:30 a.m. to 4 p.m. To request assistance, call 613-832-5685.
In addition to a variety of grocery items including perishables and non-perishables, the WCFAC have toiletry items available, pet food, household supplies (crock-pots) and resources for parents (diapers, formula and school supplies) and medical supplies (contact solution, diabetic supplies).
Thanksgiving baskets will also be available. The deadline to order is Wednesday, Oct. 3.
El-Chantiry recommends anyone who would like to make a financial donation to consider doing so to the Red Cross of United Way Ottawa.
"They are the official organizations and they will match your dollars," he said.
Food and supplies can be donated to the Dunrobin Disaster Assistance Group.
Yesterday (Sept. 29) the Government of Ontario announced additional funding in the amount of $1.568 million.
The funding will be used to support non-governmental organizations involved in removing debris from private residences; support tree removal on private and commercial properties; and supplement Public Works and Forestry capacity to remove debris.
"The City of Ottawa greatly appreciates this support from the Province of Ontario for emergency cleanup efforts," said Ottawa Mayor Jim Watson. "This funding will help the City of Ottawa with its recovery efforts. The removal of trees and debris on private property remains a priority, and our Public Works and Environmental Services department, specifically Forestry Services, has been working around the clock. This assistance will help residents return to their regular routine as quickly as possible."
This funding is in addition to the $140,000 already committed for disposal bins and specialized tree removal equipment.