Davies: WC state of journalism
By Jake Davies - West Carleton Online
It was met with surprise for many across the West Carleton community last week – the West Carleton Community Voice was shutting down.
It's the fourth West Carleton newspaper to shut down this century. That's only 20 years and not one of those four were closed in the aughts.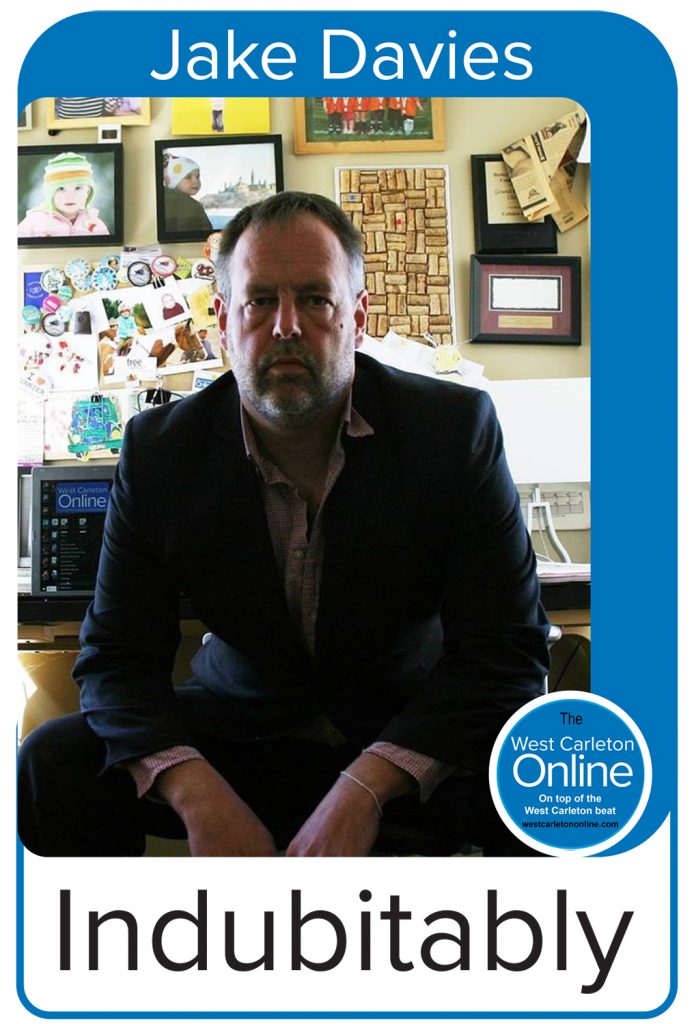 I worked for two of them and had darn close connections with the other two. The West Carleton Review was my first job in journalism way back in 2001. Back then it was still a mighty independent owned by Renfrew's Fred Runge who also owned the Arnprior Chronicle-Guide and Renfrew Mercury.
I was still there when he sold the papers to Metroland, I'm going to guess, around 2005. Back then, the free weekly newspaper business was pretty good. The Internet wasn't established, and the newspapers were often 40 to 60 pages long – chock full of advertising. When I left Metroland for Cobden in 2009, there were three newspapers in West Carleton – the Review, the West Carleton EMC and the Carp Valley Press.
In 2010 I returned to the city and worked for the EMC chain in Ottawa. I was the managing editor for all their weekly products in the Ottawa area. By then, the Carp Valley Press was gone. It was a subscription-based paper, and it couldn't compete with those newspapers that were giving their product away for free. Eventually, those freebies couldn't compete with themselves either.
I quit the EMC in 2011 to take a job with the Renfrew County school board. A week after I gave my notice, Metroland had bought Performance Printing and was closing the EMC chain – basically, buying out the competition and closing roughly 27 community newspapers including the West Carleton EMC.
I came back to the Review in 2016. Roughly seven months later, there was a media deal with Post Media and Metroland swapping roughly 40 products. After the swap, each company shut down the newspapers they received in the trade. The West Carleton Review was no more.
The writing was on the wall for years, but the Community Voice didn't see it. They made a valiant effort, but they did not re-invent the wheel. In a world where people want the news a half-hour after it happens, they chose to publish once every two weeks. But the free newspapers are all about ad revenue. Ad revenue that just isn't there anymore. Not only did the Voice reduce its potential ad revenue in half by publishing half as less as its predecessors, it had zero flyer revenue.
Flyer revenue was so critical to the West Carleton Review and EMC models. It brought in more revenue than the ads in the paper. Back in my Chronicle-Guide days, when the phone rang, whomever was there grabbed it. Often it was someone calling to say they didn't get their paper. That flicker of joy created in a reporter's dark soul that someone was interested in our stories was quickly extinguished by the caller's second sentence. 'I want to look at the flyers.' Us reporters only half-jokingly referred to the Chronicle-Guide as flyer wrap.
The Voice didn't have the flyer business and couldn't get it. In those heady flyer days, a newspaper company had to have its own distribution service. When the newspapers closed, so did their distribution networks. The Voice delivered their newspaper via Canada Post. An expensive plan and one that eschews growth. The heavier your paper is, the more money Canada Post is going to charge you for delivering it.
I looked in to newspapers shortly after the Review closed. Met with a printer and Canada Post. To produce and deliver 10,000 20-page newspapers every week, it was going to cost $16,000 every week (in 2016). Just to do those two things. That's why it was so expensive to buy an ad in the newspaper – they are trying to make a profit.
Community Voice publisher Michael Wollock put it best in the paper's final editorial.
'The revenue from these small papers cannot sustain the costs of publishing a community newspaper,' he said.
I know people love to hold their newspaper and read it with their coffee. From that perspective it is a sad story. I'm a newspaperman, I get it. In my career I've seen, up-close, more than 40 newspapers shut down. Of the 11 I worked on, as either editor, reporter, photographer or all three, one remains open (the Arnprior Chronicle-Guide, a part of the Metroland chain that has been publishing at about 12 to 20 pages for the last year and a bit).
It's a tough business, but it doesn't mean journalism is dead, just newspapers. With West Carleton Online, we've got rid of the paper, but kept the community journalism. This new(ish) model is pretty exciting I've learned. Its opened up coverage of West Carleton like no newspaper ever could. We can now break stories hours after they've happened. We can publish every day allowing us to write more stories on West Carleton than ever before. Because our size is not based on how many ads we sell we can provide even greater coverage on the West Carleton community. One of the things that excites me the most, is that we're subscriber owned. I know for a fact, thanks to Facebook, that is not something that excites many would-be readers. Let me share a common Facebook 'discussion' I've been drawn in to far too often because I am a slow learner.
Unnamed Facebook poster: All media is controlled by the government.
Me: My small business is based in Arnprior, I grew up in Kinburn, my media outlet focuses on community journalism. We are subscriber-owned meaning we are 'controlled' by the community we serve.
Unnamed Facebook poster: I would never pay for news.
It's hard to win that argument, although we are open to discussing the option of being controlled by the government. But let me put it this way. The first rule of investigative journalism is 'follow the money.' And if you follow the money of a subscriber-owned media outlet, it takes you right to the readers.
November Top Five stories
November was a huge month for West Carleton Online with 2,000 more page views than the month before. In November we had 8,961 visitors perusing 22,697 pages.
Golf Cart Dave passes away at 69 (Nov. 10, 780 pageviews): David Creighton was a legendary volunteer in Carp. That nickname alone sparks memories in many a Carp villager. Call him crazy. Just don't call him stupid.
Stonecrest declares positive COVID-19 case (Nov. 24, 259 pageviews): COVID-19 is the undisputed newsmaker of 2020, so combining it with a local West Carleton school and you've got what the cool kids call clickbait.
Sketch of March Road attempted abduction suspect released (Nov. 25, 255 pageviews): A Nov. 7 incident at a park in West Carleton got everyone's attention. These sorts of crimes don't often occur here.
OFS attack morning Diamondview barn fire (Nov. 30, 249 pageviews): Some livestock died, and one person suffered smoke inhalation. Despite being posted on the second last day of the month, this story managed to make the top five.
Creighton receives royal Carp send off (Nov. 23, 246 pageviews): A legendary send off for a legendary volunteer. Dave Creighton is also the first person in West Carleton Online history to reach the Top Five stories of the month twice in the same month.