Creighton receives royal Carp send-off
By Jake Davies - West Carleton Online
CARP – It was a tribute designed for these COVID-19 times, but held in any time, it would have been the perfect send-off for Carp royalty.
Dear friends of Carp legend 'Golf Cart' David Creighton organized a drive-through wake Saturday (Nov. 21) and it was the perfect tribute for a man known to everyone for his helping hand. More than 320 visitors came by to pay their respects to Creighton including MP Karen McCrimmon, former West Carleton Mayor Dwight Eastman, a long line of Carp Fair past presidents, many of West Carleton's not-for-profit organizational leaders, and of course, a long line of friends.
The drive-through was held on the Carp Fairgrounds through the main show ring. Visitors were treated to photos of Creighton on large posters. There were also displays in tribute of the uber-volunteer. The Huntley Community Association set up a mini-ball diamond and shinny rink, complete with stands.
Further along was some lawncare equipment. In the middle of the ring was Creighton's familiar golf cart, a monument and a poster-sized photo of the now famous Freeman Keats photo of Creighton in his golf cart. Mourners and wake organizers Peggy Blair, (2006 Carp Fair President) Barry and Lana Dean and Taylor White greeted well-wishers.
Past the cart, on the way out, was a line-up of antique vehicles, cars, trucks, tractors and engines. All things on the route, all very close to Creighton's heart. On the way out, mourners received a replica golf cart key inscribed with Creighton's name, years on this earth, and well-known catchphrase: 'I may be crazy, but I'm not stupid.'
If Carp was a state, this would be a state funeral.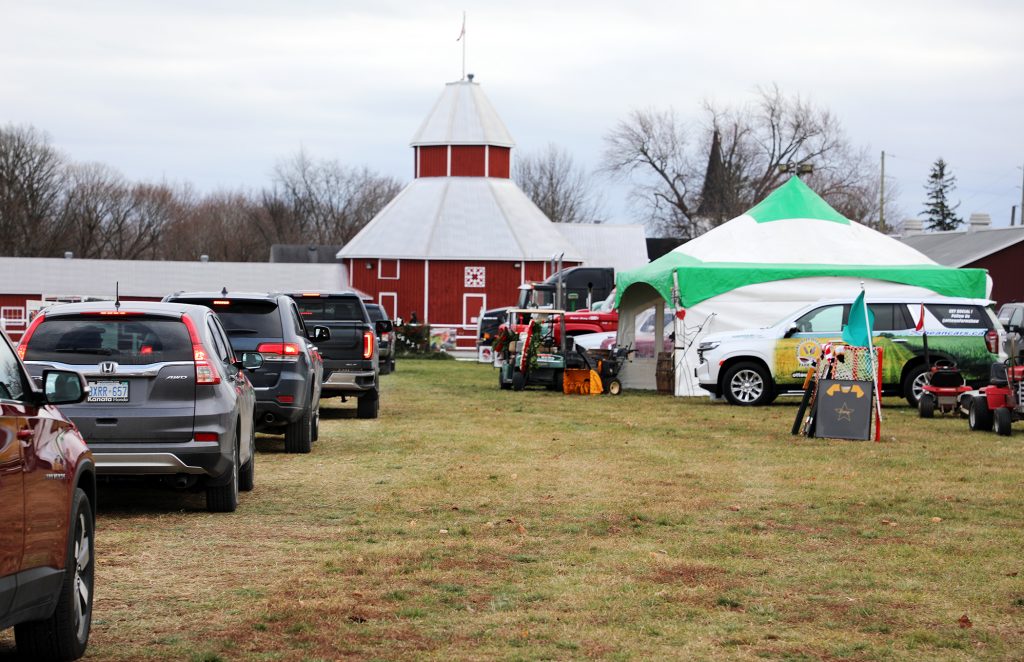 West Carleton Online first spoke to Creighton's lifelong friend Blair the day after he passed. She was blown away by the community support she was witnessing on this chilly Saturday.
"It's a bit overwhelming," Blair told West Carleton Online. "It's what David deserved. It's very nice."
Blair credits Barry Dean, owner of M&R Feeds and Farm Supply Ltd. In Arnprior, with the heavy lifting of organizing this unique wake.
"This is perfect," Blair said. "With the circumstances we are all facing, this is what we could do. It's working. We want to thank the Carp Fair for the use of this facility. We couldn't have done it without them."
The event was supposed to start at 1 p.m., but organizers opened the gates early to appease the long line of cars waiting and to "avoid traffic problems on the Carp Road."
Blair said organizers were not surprised lots of friends dropped by.
"I think we all knew that David knew everybody," Blair said. "When I put it in (West Carleton Online) that he never met a stranger, he truly never did. He'd talk to anybody. And everybody. And at length."
Carp Fair 2005 president and founder of the 15-year Carp Show and Shine, Glen Byrne was one of the early visitors. After he drove through the service, he parked his car outside the show ring and continued to watch the procession to the end.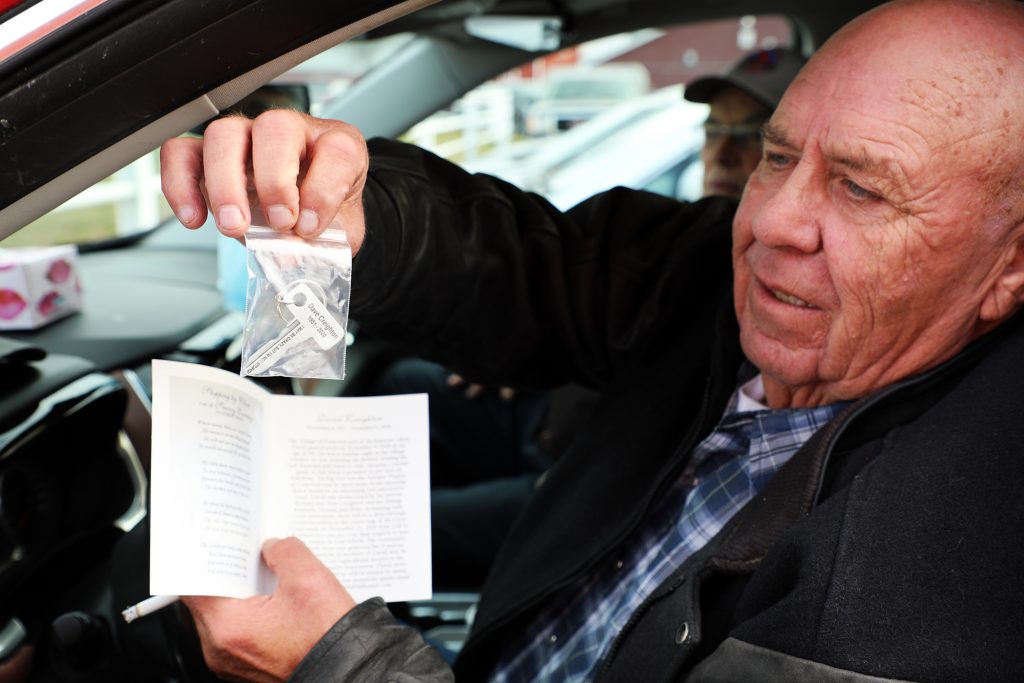 Byrne knew Creighton a long time and said the super-volunteer was a big help all 15 years of the Carp Show and Shine antique car show (it did not run this year) as well as at the antiques department at the Carp Fair. His help was immeasurable.
"Very important," Byrne told West Carleton Online. "He was here all the time. You didn't need any security. I would tell Dave, okay, we'll arrive here at 8 a.m. in the morning and I'm sure he would get here at 6 a.m. You couldn't beat him here. He was security for the grounds. I think, he was here more than a lot of people."
Byrne was blown away by the tribute.
"Just unbelievable," he said. "He deserves it, if anyone deserves it, it's Dave. He put so much time in and cared. He had his ups and downs, but he just loved doing it. He was a great help to our car show and the Carp Fair antique show."
Byrne says this is the first time he is aware of a wake being held in the Carp Fairgrounds show ring and only the second time in the fair's more than 150-year history it has been used at all as part of a funeral service.
Byrne says when Carp Fair 1985 President Ross Craig passed, his dying wish was to be driven through the Carp Fairgrounds.
West Carleton Online ran in to Panmure Road welder Willy 'the Welder' Fassbender at a bonfire later that evening. Like almost all West Carleton residents, he had a Creighton story.
"I used to play darts and would occasionally run in to David," Fassbender told West Carleton Online. "I didn't know him well at the time. This was about 20 years ago. I qualified for a regional tournament in North Bay. I drove up by myself to play. When I got there, Dave was there to cheer me on. He drove up by himself. He told me he wanted to support the local guy."