Community leader, builder Kennedy passes at 93
By Jake Davies - West Carleton Online
DUNROBIN – A man whose name is known across West Carleton for his leadership, devotion to community and love of West Carleton, George Kennedy passed away Tuesday, Dec. 6 at 93-years-old.
Leaving behind his devoted wife of 65 years Ruth Kennedy, George was a lifelong Dunrobin resident, farming the land and getting in to the construction business, building many of the homes found in the area.
George's grandfather moved to what is now known as Thomas A. Dolan Parkway near the Sixth Line Road in 1902.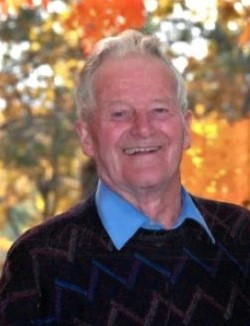 George graduated from Kemptville Agricultural School in 1946.
George got an early taste of construction when he and cousin Harold Kennedy built the second bridge over Constance Creek.
When he wasn't working, he and his wife were devoted to the community, volunteering thousands of hours over years of service.
He dabbled in politics as a school board trustee in the 1970s and served a term as a councillor on Torbolton Township council in the 1980s.
George was the 1960 Carp Fair President of Agriculture and volunteered for many years with the Carp Agricultural Society. He also served as Dunrobin Community Association president for a time.
George had a love of history and was a founding member of the Torbolton Historical Society. He was a lover of the written word and for a brief time was a columnist for West Carleton Online at 90-years-old.
In one column, George spoke of the Dunrobin Bridge and some of the history of the area dating back to the 1860s.
While the column was about the bridge the story was about Dunrobin's interesting logging history, Carleton County building the bridge, and his grandfather moving to the area in 1902. George speaks of using dynamite to destroy some support posts hammered in to the riverbed that needed to be removed from the construction site.
"We were a bit nervous the first time, but it was even better than we had hoped for," George wrote.
George also shared with us the history of Younghusband's Store in Dunrobin.
George also wrote and published a memoir in 2009, chronicling his life and titled My Memories of a Life Lived Across the Creek, dedicated to his grandchildren.
"I wrote a story for my grandkids because they didn't know what it was like growing up here," Kennedy told West Carleton Online at his 91st birthday party in 2020. "I used to know everyone in Fitzroy Harbour. I knew the names of their horses, their dogs."
George was a lifelong member of the Dunrobin United Church. George enjoyed his fraternal affiliations with Carleton Masonic Lodge #465, the Scottish Rite 32nd degree and Tunis Shriners.
George leaves behind his wife Ruth (nee Seabrook), children, Janet Foley (Mark), Heather Kirk (Howard), David (predeceased, 1988), and Peggy Brule (Gary Foster), and 10 grandchildren.
Visitation will be held at the Carp Chapel of Tubman Funeral Home, 115 Rivington St., Carp on Saturday, Dec. 10, at 1 p.m., with a service to follow at 3 p.m.. There will be Celebration of Life afterwards at the Carp Agricultural Hall from 3:30 p.m. to 5:30 p.m. Please consider wearing a mask if you will be attending.
To read George Kennedy's complete obituary, click here.