City flood staff make friends in Constance Bay
Special to WC Online
CONSTANCE BAY – When a team of city employees stepped up to hand out essentials at a commodities filling station in Constance Bay, all they expected was to make life a little easier for flood-affected residents.
What they didn't expect was to make so many new friends along the way.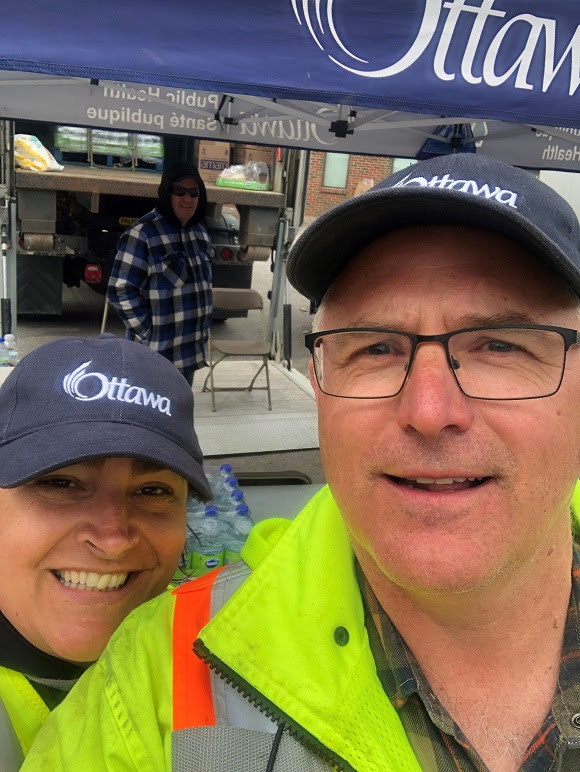 That's how it felt for Kimberlee Lambe and Shawn Norman, two public works employees who usually work with the city's Technology Innovation and Engineering Support Services. They set up shop in the parking lot of the Constance Bay fire hall, handing out cases of water and bottles of hand sanitizer to flood-affected residents, who were fast becoming friends. They were the recipients of friendly handouts as well.
"One cold and rainy day, we were just under a canopy," Lambe said "People kept coming by to make sure we had warm food to eat. They brought hot soup and chili in their cars. They started to look after us."
Sometimes all the two had to offer was an ear.
"People drop by whenever they're having a hard time, and it's rewarding to be a sounding board for them," says Norman. "They're tired and frustrated and they just want to vent a little. It's nice that we can be there for them. Sometimes they just need someone to listen."
The two were amazed how thankful and friendly the community was despite the tremendous stress it was under.
"People express their gratitude every day. We regularly hear words of heartfelt thanks, not only to us, but to the Canadian military, all the other volunteers and for all the donations of food and equipment they have received," Norman said. "Seeing everyone coming together was such a positive experience."
"After a few days, the locals kind of got to know us. And we recognize them as well," Lambe said. "So, if they're just driving past, they'll honk or wave to us. We have a few new friends who regularly stop and talk to us. I'm really glad that I've been involved and had the opportunity to meet these people as well as the other fantastic City staff working at the station. For such a horrible situation, it's great to be able to identify something positive that's come out of it."