Canada's best golfer drives in Dunrobin
DUNROBIN – She's 21, she's Canada's greatest golfer and she was in Dunrobin giving tips and telling stories to around 100 young golfers yesterday (May 14) at the Eagle Creek Golf Club.
Part of well-known golf instructor Kevin Haime's 12th annual Kids to the Course Golf Classic fundraising tournament, Smith Fall's Brooke Henderson and her sister Brittany with help from PING Canada and their expert fitters, put on a loose clinic for young golfers at the Dunrobin golf club.
The young golfers and very interested parents gathered around on bleachers at Eagle Creek's practice range for a more than two-hour clinic highlighted by a question and answer session with the very talented golfer and her sister moderated by radio host and instructor Haime. Henderson than showed off her famous swing going through a brief warm up before letting the big dog eat (as is the vernacular).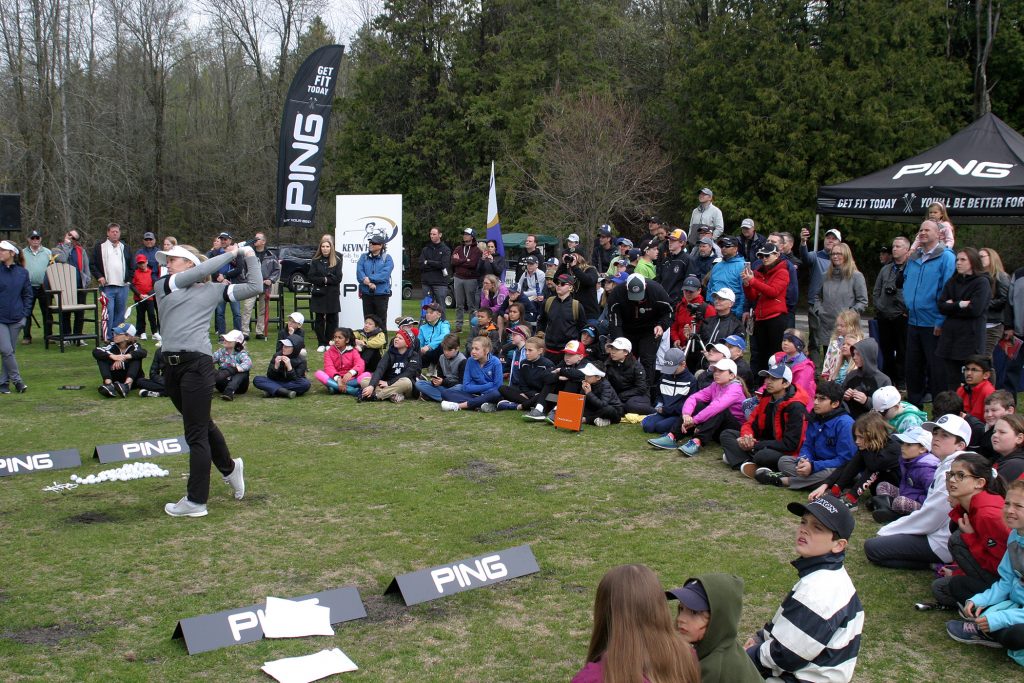 Kids attending the clinic each got to take a few swings with a professionally fitted driver and have their swing analyzed by computer. Following Henderson's demonstration, all in attendance got an autographed PING hat from Brooke and could pose with Canada's most accomplished golfer for a photo.
"Brooke and Brittany are as friendly and accommodating and as genuine as they appear on TV," Haime told the audience before sitting down with the famous golf personalities for a casual talk that also included questions from the crowd.
Haime came out with the tough questions early asking Brooke which victory meant more – winning the Canadian Open last year or the PGA Championship in 2016.
"Winning our national championship was really special," Brooke said. "I remember at 14, seeing the trophy and how beautiful it was. I wanted to touch it but I didn't because I wanted to earn it. I did take a photo though."
Brooke said practice time was family time so, despite some sacrifice, it was easy to put in the work.
"I was so fortunate," she told the youth. "To have Brittany and me just practicing together all the time, it was just fun for me. Playing with my dad, who was my coach, was just family time."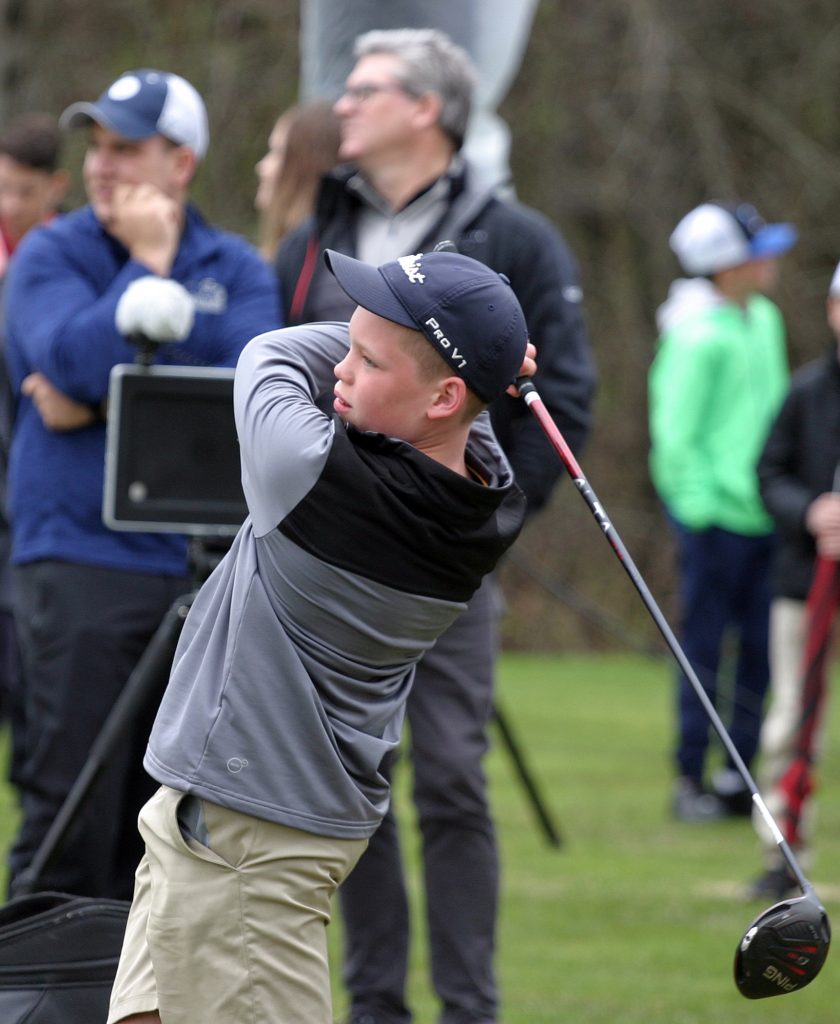 Brooke added her mom was not a golfer. Brooke's sister Brittany is also her caddie and an excellent golfer as well. Brittany was on the national junior team for three years, played at Coastal Carolina University and professionally on the Symetra Tour for three years.
Apparently, Brooke is a better golfer than a caddie.
"She did caddie for me," Brittany said. "It was rainy, cold. She didn't want to hold the umbrella for me. She told me I didn't need it, I had my rain gear. One time I looked back and every zipper on my golf bag was open."
But Brittany did realize Brooke was going to be one heck of a golfer.
"It was really early on," she said. "She was just so determined and so fiery but patient at the same time, which is a rare combination."
In terms of training Brooke says she focuses on her lower body and finds that doing arm work can affect her putting and chipping so avoids it.
In true Smith Falls fashion, Brooke played hockey until she was 14, even while she was starting to golf at the highest competitive levels.
Her favourite club is her 7 iron.
"I've got a couple of hole-in-ones with it," Brooke said. "And made a pretty important shot at that major."
Her mental tip for young golfers: "Have fun and enjoy yourself."
Brooke then went through her game-day warm up routine before pulling out the driver and crushing a few balls long and straight.
Her long drive of 281 yards, beat the field of young drivers who took some measured whacks before Brooke arrived – by one yard.
While area youth got the chance to meet a 21-year-old Canadian golf legend on the driving range, the Kids to the Course tournament was being played on the Eagle Creek championship course. The tournament raised almost $72,000 which is used to provide junior memberships to young, deserving golf players around the Ottawa region.
Brooke, after taking some family time the last couple of days in nearby Smith Falls, will be competing in six LPGA tournaments over the next week including the first major of the season.