Harbour firefighter key during flooding
Special to WC Online
FITZROY HARBOUR – A Fitzroy Harbour firefighter is putting his water rescue training to use in his own community as West Carleton enters its fifth weekend of flood fighting.
Lt. Paul Champion-Demers, a gilder by day, is proud to be working alongside his community and keep his neighbours safe.
Champion-Demers has served as a volunteer firefighter with the city for 20 years. Working out of Station 62 in Fitzroy Harbour, he is a lieutenant with the specialized Water Rescue unit, which has given him a healthy respect for the dangers of water.
"Water rescues are challenging," explained Champion-Demers. "A water environment is very different from other rescue situations. A bad decision can put your life, and those of your colleagues, in danger."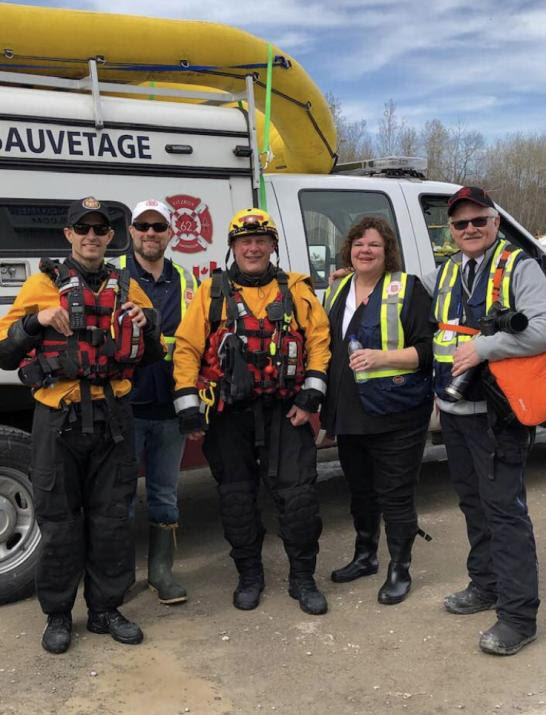 Ice rescues are the most daunting and dangerous. When Ottawa Fire Service (OFS) receives calls about people plunging through the ice, Champion-Demers and his fellow water rescue technicians get the call. They rarely have an exact location on where individuals are located, often travel kilometres at a time, along dangerous ice, in the dark, to safely find and rescue those who have fallen in.
The Water Rescue technicians have been quite busy helping residents in Constance and Buckham's Bay and Fitzroy Harbour during the 2019 flood. And Champion-Demers has been front and centre.
"We've been quite active in helping during the floods," he said. "Our services have been required regularly due to the dangers flooding poses. The murky water can hide depressions, holes, window wells and other hazards. With our equipment and training, we can get people safely to and from homes. This is critical during an emergency situation."
With water affecting properties on Bayview Drive and elsewhere, water rescue technicians and their tools have helped deliver Ottawa Public Health and other emergency response officials to each home, to allow for wellness checks and to survey for other potential dangers. The travelled in teams, with two water rescue technicians, a public health official, a paramedic and a police officer.
With power being shut off to many homes, some residents were relying on generators for power. These posed their own dangers.
"During visits, we noticed a home operating a generator indoors. Since we were travelling with Public Health officials, we could test for carbon monoxide (CO) emissions. In this case, CO had reached dangerous levels inside the home without the residents being aware. Without swift action, and the help of our partners with Ottawa Public Health and the city's emergency services, we could have lost lives."
The flood has tested the water rescue unit with the frequent wellness checks, two separate fires, both requiring firefighters to attack from the water and other emergencies.
Having experienced the 2017 flood and being a resident of Fitzroy Harbour have helped Champion-Demers deal with the current situation. And people appreciate the familiarity.
During wellness checks, firefighters identified one house whose resident would require evacuation due to electricity concerns. But the resident was a bit of a recluse and did not like leaving her home. When Champion-Demers arrived to help with the evacuation, the woman agreed to leave, pointing to a picture on her wall of the lieutenant helping her out during the 2017 flooding. "She remembered me and had the picture on her wall," he said. "Being a familiar face made the process easier for her. It's neighbours helping neighbours."