Christmas party a Dunrobin reunion
By Jake Davies - West Carleton Online
(This Christmas present is brought to you buy the generous subscribers of West Carleton Online)
FITZROY HARBOUR – Nothing says community like an Anrprior resident organizing a Christmas party for Dunrobin and Kinburn residents in Fitzroy Harbour.
It was a joyous reunion for some 200 Dunrobin area families who, for the first time since Sept. 21, were able to come together as a community and celebrate as friends, family and neighbours during a Dec. 15 Christmas party at the Fitzroy Harbour Community Centre organized just for them.
"Everybody is so excited, the kids are sweating because they are running around, playing with their neighbours," Dunrobin Community Association member and event organizer Lori McGrath told West Carleton Online from the beautifully decorated hall. "I am beyond thrilled. It's such a thrill to see little guys like these running around. It's like family. Everyone is talking. It's quite a feat."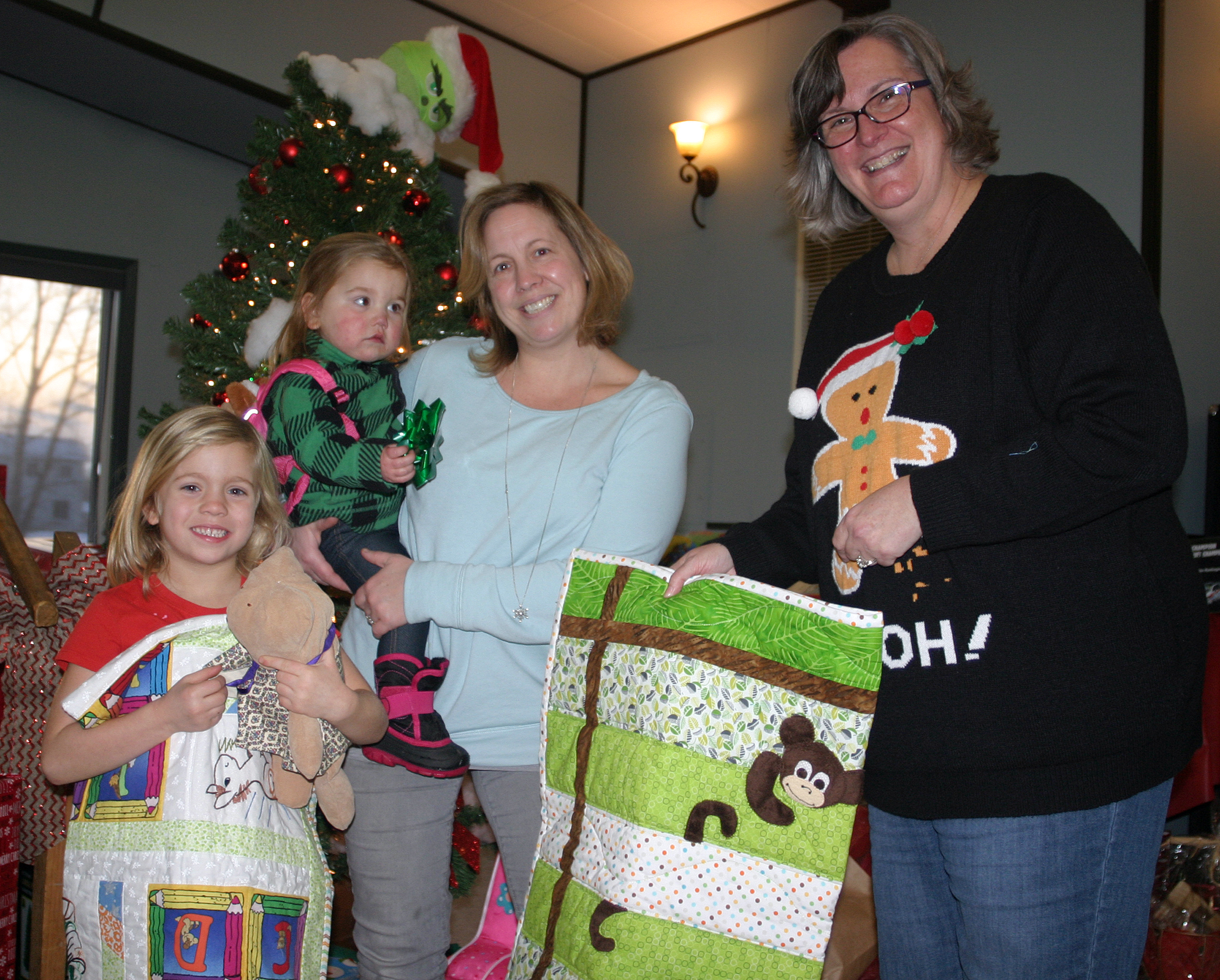 McGrath started organizing the huge undertaking, Christmas dinner for more than 200, weeks ago (for that story and the long list of donors and volunteers, click here) and was now standing on the hall floor, watching kids play; Santa give out presents (every child there would be receiving four); live music being performed; 200 friends and neighbours catching up; and some 62 volunteers helping cook, prepare, serve and entertain.
For the Dunrobin community, dispersed by a tornado that destroyed the entire village (almost) on Sept. 21, they've only been able to find out about their neighbours through the media, portrayed only as victims of a tornado.
No news of their kids, school, work, sports, life. But today, was all about catching up.
Todd Nicholson, Emily Glossop and their family's home was destroyed by the tornado. They have relocated to Pakenham on a farm near the head pond. The farm is a family friend's who recently bought another place but hadn't sold the old place yet.
"They say the water rises and falls too much for a rink but I think we'll give it a try," the Olympic Sledge Hockey gold medalist said.
Nicholson says the dinner has been a great opportunity to catch up with his nieghbours.
"No two stories are the same," he says of each family's road to recovery. "My brother (Jason) and I have the same adjuster. We get different answers. It's been great to see the kids playing together. It's great to get the families together because we're all so dispersed right now."
Nicholson says "after this and Christmas, a lot of us won't see each other until spring."
That is the timeline a lot of residents are hearing in terms of returning home.
Brigid Whitnall is a Dunrobin resident and the president of the Kanata Quilt Guild. Her and her team are providing a quilt for every single child affected by the tornado.
"We had quilts come from all over eastern Ontario," she told West Carleton Online. "Cornwall, Arnprior. We kept it kind of quiet because we knew we would be overwhelmed with too many quilts if word got out."
Whitnall is not only a volunteer for tonight's dinner, she also is recovering – her home was destroyed by the tornado.
"You just make it happen," she said of her ability to organize the making of more than 200 quilts in just a few short weeks while going through the process of rebuilding her own life.
Whitnall has temporarily located to Stittsville following the tornado.
"Getting my sewing room set up was important to me and having a project like this was huge," she said. "I find it very therapeutic to quilt."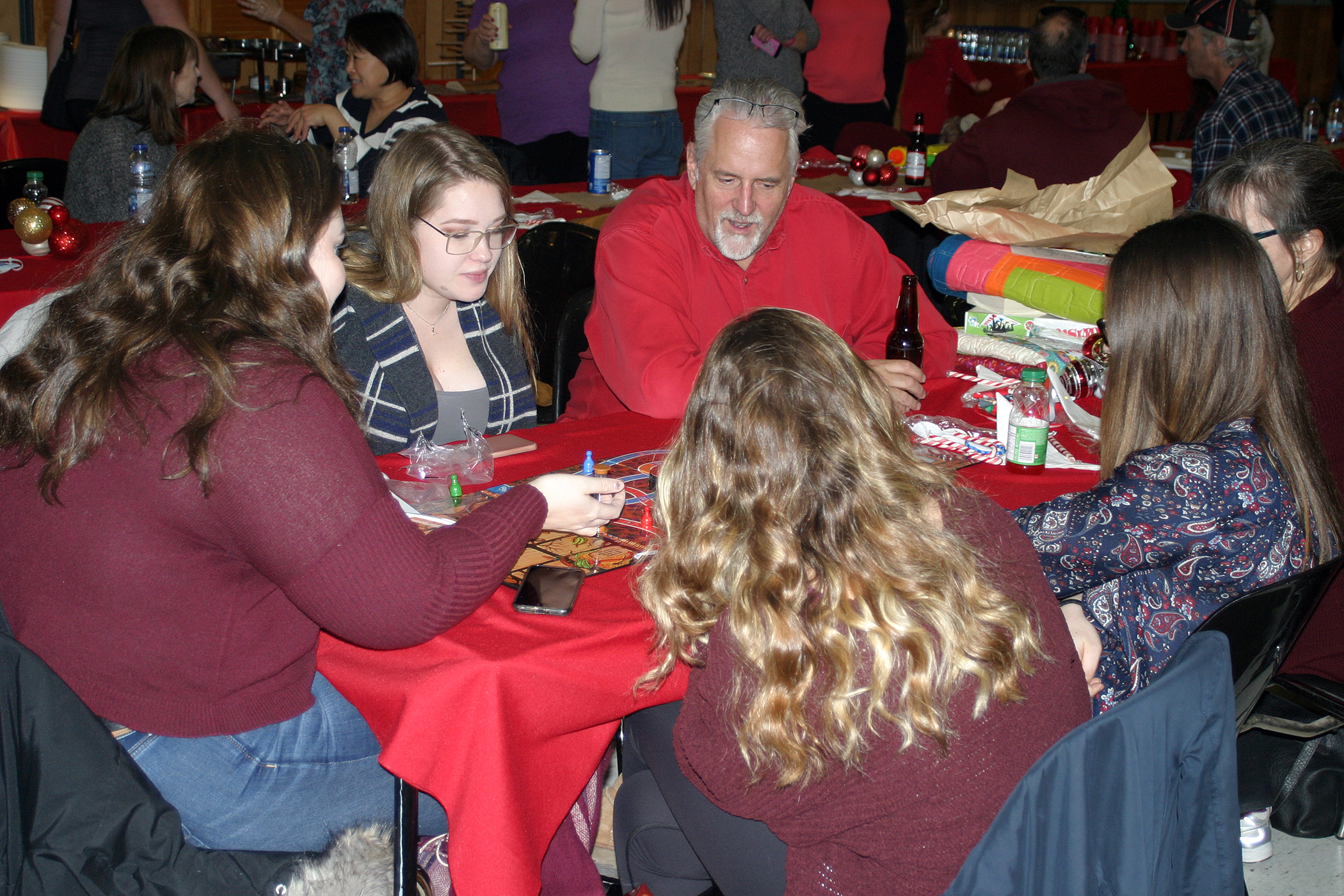 Leo and Adele Muldoon, 48 years married, lost their barns to the tornado but are back in their house on Dunrobin Road.
Leo spent about two months in the hospital and although not 100 per cent yet, the two were able to attend the dinner.
Leo was on a ladder when the tornado struck, it lifted him up about 10 metres and deposited him on his side in the wreckage of a shed.
He had nine fractures in seven ribs and collapsed lungs. He was put on a breathing machine in ICU.
"I was on my back for two months," he said. "Once my lungs and ribs started feeling better, I got up and found out my leg was sore."
So, he's not back in his tractor, plowing snow in the neighbourhood yet, but he has a friend helping out for now, and soon enough, Leo will be back doing what he wants to be doing. Working in his tractor. In the meantime, he's enjoying Christmas and the company of his community, in Fitzroy Harbour.