Carp's Snelgrove celebrates 104
By Jake Davies - West Carleton Online
KANATA NORTH – It was a celebration and a parade for Juanita Snelgrove as she wrapped up her 104th year, a woman who grew up in Carp and whose name can be found on road signs all over the community.
The long-time Carp resident who has lived on both sides of the river was the special guest of honour as a parade of well-wishers drove by and celebrating her day, the way its now done in the age of COVID-19.
Juanita's name is dotted throughout West Carleton history. At the age of 80, Juanita was named the Ontario Senior of the Year based on her volunteer work and had a park named in her honour. She is still a member of the Dunrobin and District Women's Institute and a Pinhey's Point board member. Juanita moved to the Carp and Snelgrove Farm on Charlie's Lane. after marrying her husband Charles around 1950. Juanita and Charles moved to Pinhey's Point in 1956.
Juanita's husband Charles died in 1958 and she never remarried.
"She devoted her life to the farm and us three charmers," her daughter Megs Colbourn told West Carleton last August referring to herself and her two sisters Constance and Daphne.
Juanita would live in Pinhey's Point until moving to Kanata in 2014.
You can find both a Juanita and a Snelgrove street in Carp.
That's the kind of street cred that earns you a roughly 15-car parade on your birthday.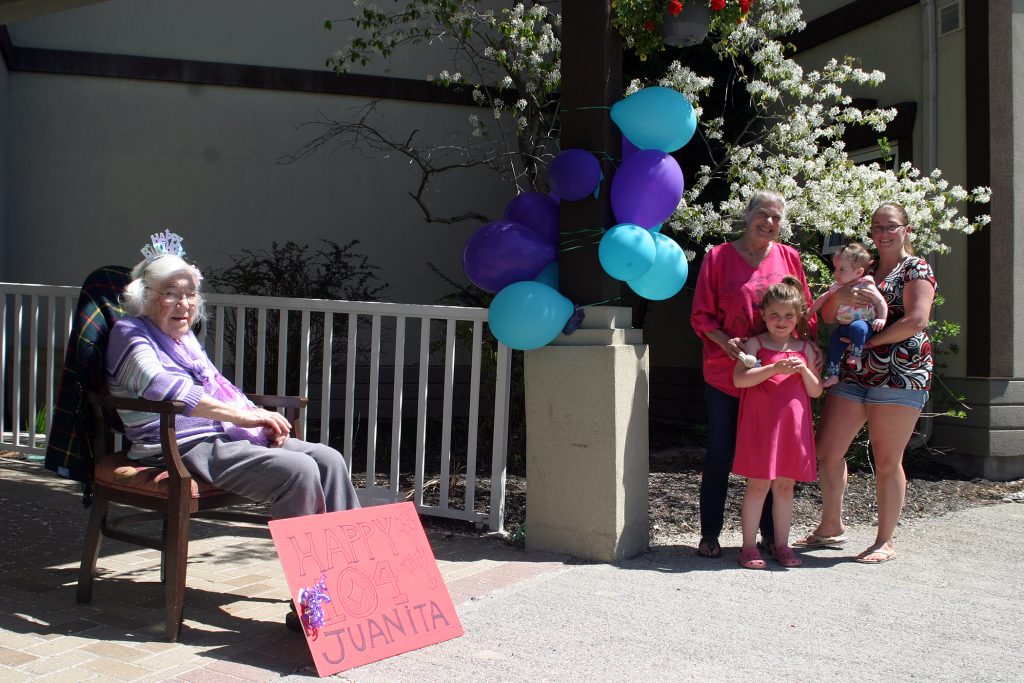 "I tell you it's a pretty wonderful tribute," Juanita told West Carleton Online from her seat just outside the front doors of the Chartwell Kanata Retirement Residence today (May 21). "A surprise indeed.
It was also a chance to meet her four-month-old great granddaughter Leah. In 104 birthdays, Juanita has never been the focus of a birthday parade.
"Not like this I haven't," she said. "This is all very unexpected indeed."
Along with Juanita's newest great granddaughter, many other family members made it out including two of her three daughters, two grandchildren and two great grandchildren. A son-in-law and a couple of other inlaws, several close friends and several of her fellow Women's Institute members who were able to fill eight of the cars. Many of the cars were decorated with balloons, streamers and messages of congratulations.
Megs said it took her about 10 days to organize the event, and Juanita's granddaughter Jacci Coulbourn made a pile of birthday cupcakes.
Juanita moved to the retirement residence in 2014 straight from her Carp-area farm.
"It's a lovely spot," Juanita said. "So many people that I've known along the way have lived here."
A few photos of Juanita Snelgrove through the years: