Carp Fair: Talk to a farmer
By Jake Davies - West Carleton Online
CARP FAIR – It's called an unofficial PA Day at Huntley Public School. It's the only weekday of the year the Carp intersection needs a traffic cop. It's Friday at the fair.
Legend at the fair today (Sept. 27) has it, Huntley Centennial Public School staff send a note home with students at the beginning o the week asking their parents if their child will be coming to school on Friday or going to the fair.
You know what? There's an education to be had at the fair too. The Carp Agricultural Society takes agriculture seriously. The industry, culture and life is a huge part of the Carp Fair and anyone who spends time at the fair (some 50,000 people will spend some time there this weekend) is going to get a taste of it.
Cattle, horse and sheep shows of all sorts, demonstrations, workshops and presentations all focused on providing a deeper understanding of rural living.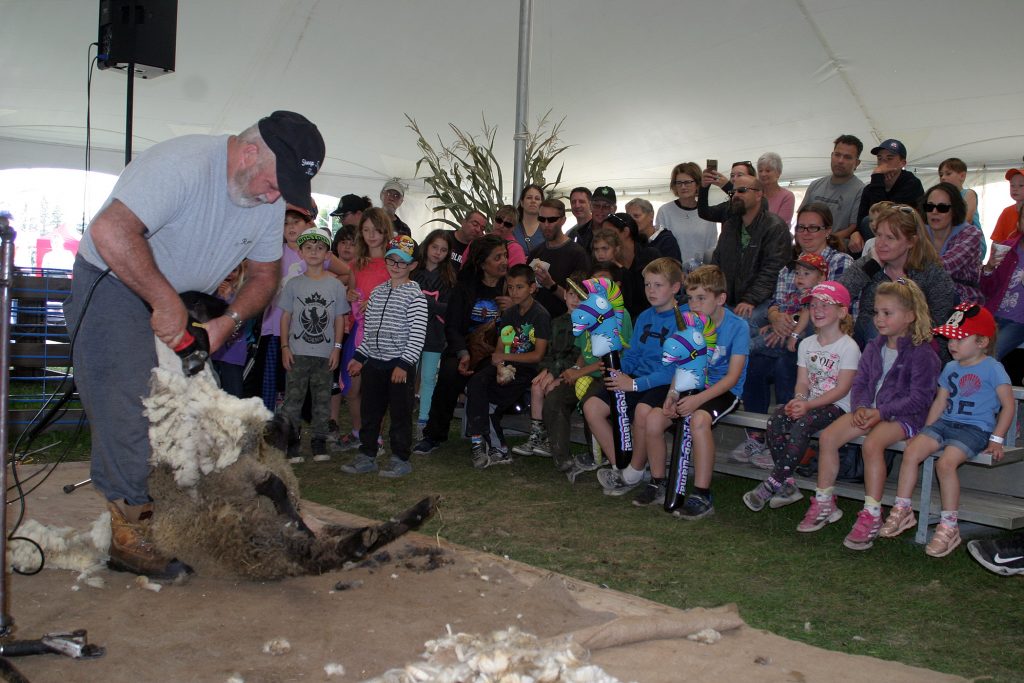 Agriculture awareness "is something we really value," Homecraft President Martha Palmer said the night before at Homecoming.
One of the new ways the fair is helping raise agricultural awareness is with its Talk to a Farmer program. A couple of West Carleton farmers are spending time each day sitting in comfy rocking chairs chatting with anyone interested in having a talk with a working warmer about anything at all.
Farmers from all different backgrounds, crop, livestock producers, cows, sheep, will be in the agriculture tent striking up conversations with fair-goers.
Friday afternoon crop farmer Lorne Montgomery, who was presented with The Role of Honour, Distinguished Service Award during last night's Homecoming event, and "Plant Doctor" Paul Sullivan, an agronomist – an expert in the science of soil management and crop production – were available for any discussion a fair attendee wanted to have.
"Some folks wondered if I got arm-twisted to come in here," Sullivan told West Carleton Online from the tent. "But I think it's all our obligation to talk about the industry."
Sullivan says he's very familiar with his conversation partner.
"I'm fortunate enough to work with Lorne," Sullivan said of Montgomery who grows corn and soy beans. "Here's the way we do it – we tell Lorne's story."
Many a farmer have said this year was a challenging growing season, but Montgomery says "every year is a challenging year. I don't know what a perfect year is."
"What we try to do is talk with rural people and urban people together," Sullivan said. "Here's the opportunity to chat with people coming through, answer their questions and talk to them."
Sullivan says some of the concerns he is hearing is relating to genetically modified organisms (GMO).
"There has never been a recorded health issue with GMO food," Sullivan said.
He likens it to the cell phone. There are risks associated with cell phones. Those risks are very small. Should people go back to land lines?
"I think GMO is a term people thing of negatively," Sullivan said. "It's really misunderstood. It's current technology being used to improve crops. It's well regulated and controlled. The better crop you grow, the better that crop is for the soil and you improve the soil. It's a tool that helps manage weather issues and improves the whole industry."
Sullivan says he takes every opportunity to talk agriculture shop every chance he gets.
"We try to chat when we cross paths with people who aren't in agriculture," Sullivan says. "Most of our friends are in agriculture so that doesn't happen often. When someone asks you if those soy beans are GMO, that's an opportunity to talk about GMOs."
Sullivan says the idea to start up the Talk to a Farmer program came from the mind of board director Kaytlin Barr.
"Kaytlin has done a really good job of bringing in new ideas and creating opportunities for the rural folk and urban folk to interact," Sullivan said.