Blackhawks jersey fits de Haan fine
By Jake Davies - West Carleton Online
CARP – Carp's Calvin de Haan is making the switch from 'a bunch of jerks' to one of the NHL's most storied franchises this season.
Make no mistake though, being a jerk is one of the six-year NHL defenceman's hockey highlights.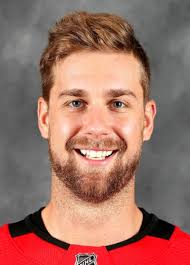 De Haan sat down with West Carleton Online last Tuesday (Aug. 27) to talk about what turned out to be one of the best times of his life as a professional hockey player and what lies ahead as the 28-year-old prepares for his seventh NHL season playing for on of the most successful franchises in NHL history, the Chicago Blackhawks.
De Haan has been at home in Carp for the last couple of weeks with his fiancée Brittany DaSilva. It was an opportunity for de Haan to attend a special event at the Ridge Rock Brewing Company in Carp, a business he is a partner in.
He took some time out from his hosting duties to talk to West Carleton Online about last season and the upcoming season with a brand-new team.
The Carp native is one of the West Carleton Warriors minor hockey association's most decorated graduates.
The left-shooting defenceman has played six full NHL seasons plus one game in 2011-20012 after being drafted 12th overall by the New York Islanders in 2009.
Following his time with the Warriors, de Haan played with the Ottawa Valley Titans and the Kemptville 73s before joining the OHL's Oshawa Generals for three seasons. De Haan played in Bridgeport in the AHL getting his first call-up to the NHL in the 2011-2012 season. He played most of the 2012-2013 NHL season with the Islanders and was then a full time regular with the team for the next four seasons from 2014 to 2018.
Last year, de Haan went on a magical run in his first and only season with the Carolina Hurricanes. He played 74 regular season games and 12 playoff games for the team dubbed The Bunch of Jerks following a tirade by hockey commentator Don Cherry who didn't like the Hurricanes post-win celebrations in the regular season. The Hurricanes ended the NHL season on a three-game winning streak to secure their playoff spot and then went on to compete in the 2019 NHL Eastern Conference Championship after knocking off the defending Cup champions, the Washington Capitals, in round one, and then his former team the New York Islanders in round two before losing to Boston in the Eastern Conference finals.
"We were close, we were close," de Haan whispers, almost to himself. "It's almost hard to put in to words. It's probably the most fun I've had playing hockey in a long time. Being part of the resurgence of hockey in Carolina was a ton of fun. That community down there has been dying for the playoffs for years. I think they had had a 10-year drought."
De Haan said he went to Carolina in the 2017-2018 season because he saw a team on the grow.
"I wanted to be a part of the solution," de Haan said. "I signed there for a reason, even though it was short, I did my best, I gave it my all, and like I said, I wanted to be part of the solution to get us back in to the dance."
It was a first time for him in the Carolina area and it was an experience he really enjoyed.
"I gave it everything I could," de Haan said. "it was a really fun hockey year and I made a lot of good friends down there, off and on the ice, and I'm hoping those relationships will last for years and years to come. It's a really good place to play as well, it's a beautiful little community down there, my fiancé and I really embraced it, it was a lot of fun."
But that was then. Carolina traded de Haan, along with forward Aleksi Saarela in June for goaltender Anton Forsberg and defenseman Gustav Forsling. It was a bit of a surprise for de Haan who had only just completed the first year of a four-year $18.2 million contract he signed with Carolina. De Haan averaged 18:30 minutes per game and is expected to help Chicago's penalty kill which finished last season in the basement.
The Blackhawks finished out of the playoffs last year with a 36-34-12 record but has been one of the most dominant NHL teams of the last decade. Of the six Stanley Cups the team has won, three of them were this century in 2009-10, 2012-13 and 2014-15.
The 28-year-old is in the prime of his career and is excited about playing with superstars Patrick Kane, Jonathan Toews and Duncan Keith. The team is looking to get back to the playoffs with players like young stars Alex DeBrincat, Dylan Strome and David Kampf starting to blossom as well as some veteran players also added to the fold. Ryan Carpenter, ex-Senator and former Carp resident Zack Smith and Olli Maatta are some of the new faces joining de Haan in the windy city. Andrew Shaw is returning to the Blackhawks after a few seasons in Montreal.
De Haan says he will be heading to Chicago soon as pre-season starts at the end of September.
"Leaving in a few days," he said. "I now get to go to one of the best organizations in the NHL and probably in pro sports as well. We're excited now. The dog days of summer or over now and we're pumped. We're pumped to move on and go to Chicago."
De Haan hopes he will finally realize his dream with his new team as he continues to look forward.
"You can't live on the past, especially in hockey, you've got to always be trying to move forward," de Haan said. "Ultimately, my goal is to win the Stanley Cup one day. Not everyone gets to do it, but if you can say you gave it your all and have no regrets, that's all that really matters."