Bay meeting flooded with doubters
By Jake Davies - West Carleton Online
CONSTANCE BAY – The more than 150 in attendance at last night's (July 9) Mississippi Valley Conservation Area (MVCA) hosted flood meeting just don't believe what they are hearing.
The open house was part one-on-one discussion and part presentation as exhausted and disgruntled residents packed the standing-room only meeting in the NorthWind Wireless Fibre Centre theatre looking for answers to why the West Carleton community has faced such severe flooding the last several springs – especially 2017 and 2019.
By the mid-way point of the meeting, several frustrated residents left early, and the talk of a lawsuit gained momentum.
Retired former staff sergeant of Ottawa police's rural west patrol and MacLaren's Landing resident Mel Robertson and a neighbour he drove to the meeting were two who chose to skip out part way through the contentious meeting. Robertson says he has a cabin in the Deep River area and saw with his own eyes the low water there earlier this spring. The basin was empty in 2017 and in 2019 he said.
"This wasn't just lower water, these basins were empty," he told West Carleton Online on his way out. "I'm not satisfied it was handled properly. The people don't want a scientific review, they want a management review. I don't think there's going to be any more coming out of this meeting."
Robertson says a class action lawsuit is what will help get to the bottom of this.
"We don't know who the Ottawa River Regulation Planning Board (ORRPB) is responsible to," he said. "(A class action lawsuit) is the only way we're going to find out who's responsible."
Coun. Eli El-Chantiry says he has also heard the rumblings of a class action lawsuit gaining momentum.
"Did I hear about it? Yes. Is it seriously moving forward? I believe so," he told West Carleton Online shortly after the meeting concluded. "A group of Constance Bay residents already met with Ottawa lawyer Lawrence Greenspon and they are preparing for a class-action lawsuit. I also saw on Facebook a priest is working with his residents from Chapeau and Allumette Island, Pembroke area also. They already hired a law firm to take their class action lawsuit. If there is a class action lawsuit, they will have to retrieve the books, their management data and all those involved through the courts."
El-Chantiry is referring to Father Tim Moyle of the Diocese of Pembroke. Father Moyle has organized a meeting tentatively scheduled for Thursday, Aug. 8 to be held at St. Joseph's Church.
"If our numbers grow beyond the seating capacity there, I'll move the meeting to St. Alphonsus Parish (106 rue St. Jacques, Chapeau)," Moyle said in a Facebook post. "So, pencil it in on your calendars and I hope to see everyone there. It's a meeting for those of us that are exploring the possibility of a class-action suit to seek compensation for damages suffered as a result of the flood."
Back to the beginning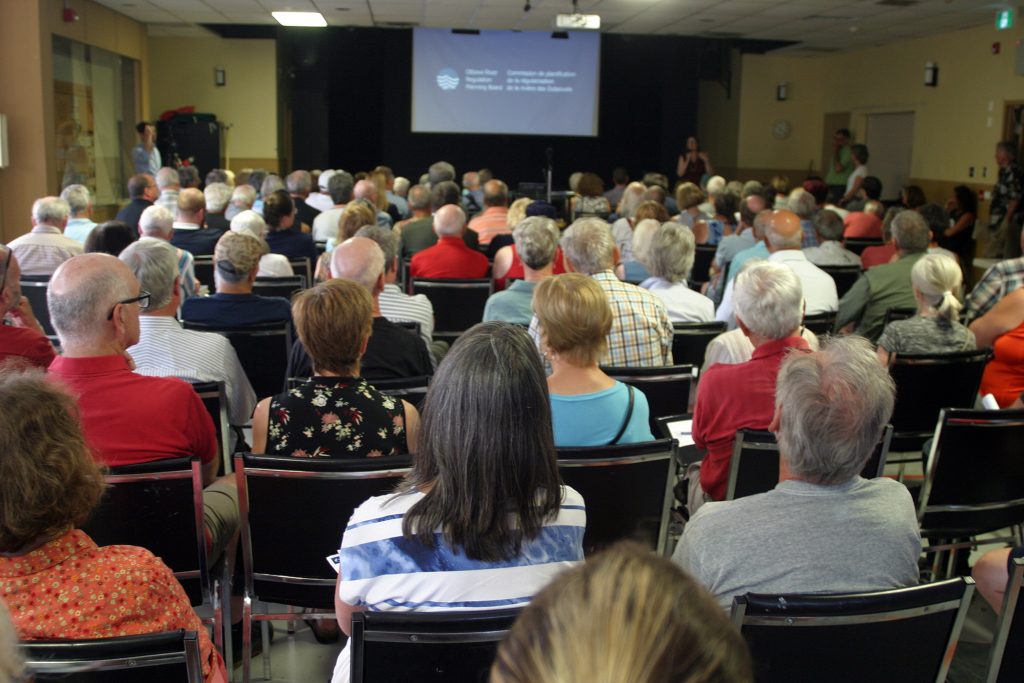 Despite the frustration and exhaustion, the residents at the meeting were respectful, did not interrupt speakers, did not shout and yell from the audience and conducted themselves with class – despite their disbelief at what they were hearing.
The meeting's original goal was to provide information on rebuilding and recovering from the 2019 spring flood – one that broke several historic records in levels and length. During the one-on-one portion of the meeting, attendees had the opportunity to speak to representative from the MVCA, Ontario Power Generation, the Ottawa River Regulation Secretariat executive engineer Manon Lalonde, the Ottawa River Clean Water Program and several City of Ottawa services.
The MVCA and the secretariat also made presentations. To read about the Ottawa River Regulation Planning Board (ORRPB) presentation, click here to for the story from Arnprior's flood meeting on June 23 where the secretariat made the same presentation.
The MVCA's presentation, by general manager Sally McIntyre, focused on recovering and rebuilding from the flood. Her presentation can be found at the MVCA website which she promised would be posted today (July 10).
"The purpose today is to help you rebuild and recover from the flood," she said.
The meeting also accepted questions from the audience. Most of those questions had nothing to do with rebuilding and everything to do with how did this happen?
"People don't believe us," ORRPB engineer Michael Sarich told the audience which drew several chuckles and nods in agreement from the audience. "These dams could be removed and spring flooding would be the same."
Independent review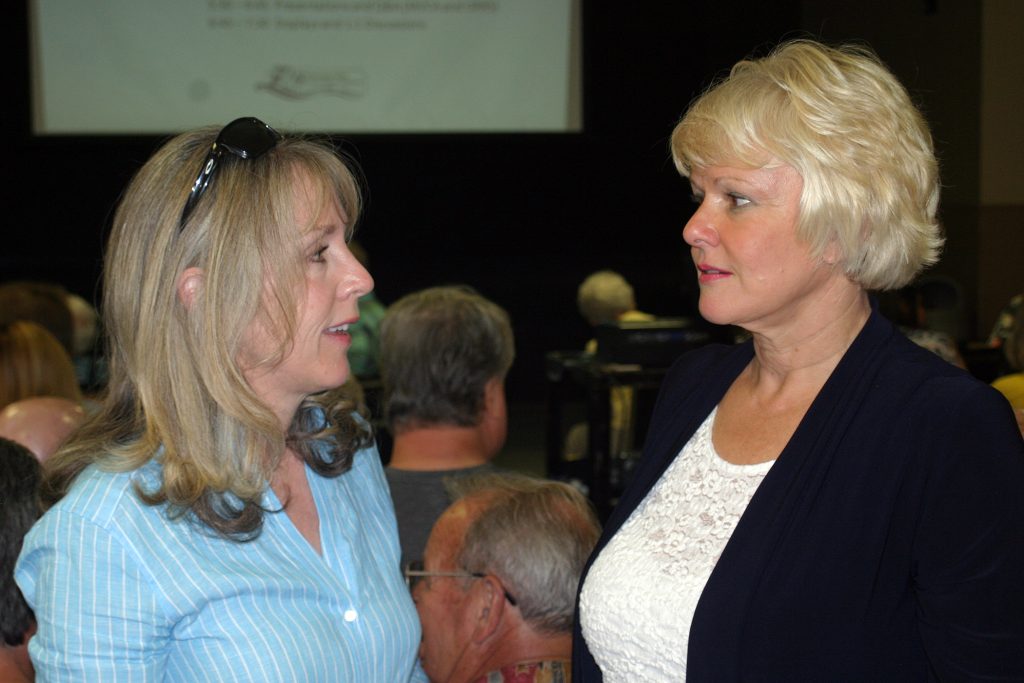 Several politicians also attended the meeting, but were not part of the agenda, including Coun. El-Chantiry, MPP Dr. Merrilee Fullerton and Renfrew-Nipissing-Pembroke MP Cheryl Gallant.
Dr. Fullerton was the one the audience wanted to hear from, amping up the pressure for an independent review.
"We've been pushing very hard to get this to happen," Fullerton told the crowd about finding an investigator to conduct the independent review. "Everyone deserves to know what happened. I was hoping to have something to announce today, but that didn't happen. I'm encouraged and hopeful we'll have something to announce soon."
These words were very similar to what Minister of Natural Resources and Forestry John Yakabuski said almost three weeks earlier in Arnprior.
El-Chantiry was encouraged but cautious of the MPP's words.
"You heard them, 'we don't believe you,'" El-Chantiry said. "No matter what was said from the Ottawa River Secretariat they don't believe them. In my humble opinion, what we heard tonight from MPP Fullerton was the same statement we read in your paper that Minister John Yakabuski said – they were almost going to announce an independent investigator-slash-advisor to review that and it didn't happen and tonight we heard from another minister (Fullerton) they were hoping to announce it tonight but they don't have the final announcement to make. I'm going to hold them to that. If the independent reviewer or body took place, it can only validate what these people are saying, so they shouldn't be afraid of an independent review. It will validate what the ORRPB is saying, but it has to be comprehensive because you heard it tonight, Plan 2014, implemented in 2016, since then we have had three floods. So that means something, has an impact on the drainage. The water has no place to go so it's going to back up, and that's what a lot of people believe happened this time. The river didn't have a place to go. We heard it tonight. (Fullerton) said she was almost going to announce it tonight, so that means they are close to a decision. Minister Fullerton, please tell us when you are going to announce the independent review."
Conservative MP Gallant, visiting her neighbouring riding was also at the meeting and also spoke with West Carleton Online on her way out. We asked her what brought her to Constance Bay.
"I'm encouraging everyone who's affected by the high water to get together," she told West Carleton Online. "I'm going community to community and I'm hearing all the unique circumstances and stories."
Gallant is surprised the damage hasn't reached the level to activate federal support (if the total damage from the flood surpasses $47 million, the federal government will assist financially).
"We want to help everyone piece this together so we can start to help," she said. "The Petawawa Bridge, the Chaudiere Bridge are both heavily damaged, all the property owners on both sides of the river."
Constance Bay residents exhausted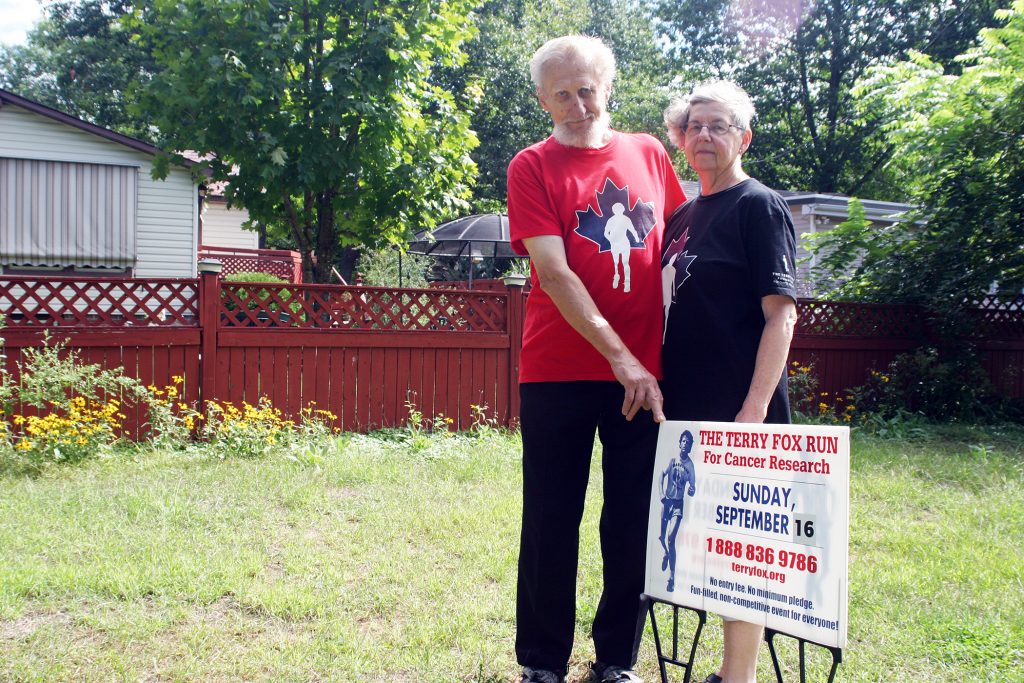 West Carleton Online spoke with Constance Bay residents and soulmates Bob Dupuis and Linda Cassidy on May 24. They were exhausted, eating at the last free community dinner hosted by the West Carleton Royal Canadian Legion, living in their heavily damaged home with no electricity or water.
At that time, Dupuis and Cassidy were considering their options. Their basement had a crack from one end to the other, caused by the pressure created from pumping water out of their basement during flooding while ground water surrounded the outside of their foundation.
They were eventually advised to stop pumping and just let the water in. It was too late though, their foundation moved and is no longer stable.
Almost a month and a half later, they are not much further ahead.
"Not really," Dupuis told West Carleton Online as the couple left the meeting early. "We're still waiting for an estimate. We could be waiting two to three weeks. Then we have to go through the regulation process. We will have to get another engineer out. It's a never-ending process."
The two seniors do look a little less tired than they did in May. They still have to live in only one floor of their house. They are still looking for answers as to why this happened.
"I don't think they've justified why," Dupuis said. "They seem to be circumventing the reasons why. It's a waiting game. I'm sure many in attendance feel the same way."
While the couple did not lose much, they started preparing for the flood early, there was still some losses. Their laundry machines, a spare fridge and an old dresser.
"We learned a lot in 2017," Dupuis said.
But they still can't drink their own water. Their first water test came back clear, but subsequent water tests failed.
"We're relying on neighbours for our laundry," Cassidy said. "All those little things you don't know you need until they're gone."
They also wish they knew that pumping water out of their house would cause so much damage to their foundation.
"The city should have been proactive and told people not to pump," Dupuis said.
When West Carleton Online spoke to the couple in May, they were planning on changing their basement in to a crawl space. Now they've been told they don't think the ground can support the weight the walls would put down without a foundation.
"They think because of the weight on the sand, we can't do a crawl space," Cassidy said.
Provincial disaster relief help
Sept. 4 is the deadline for people in West Carleton affected by the flood to apply for the province's disaster relief program.
Because of the confusion of the process and who is eligible, Coun. El-Chantiry is organizing two meetings at the end of the month on July 22 and July 25. They will be held at the NorthWind Wireless Fibre Centre.
El-Chantiry recommends everyone apply whether they think they are eligible or not.
"Area residents need to apply, regardless, for disaster relief," El-Chantiry said. "If your application has not been submitted and approved by the Sept. 4 deadline, you might miss the opportunity to receive help. So, it's very important to apply regardless of what you want to do and get approval. For that reason, we are going to host two meetings on July 22 and July 25 from 6 p.m. to 9 p.m."
The meeting will be a presentation on provincial disaster relief; who qualifies and who doesn't; and one-on-ones with individual people to help them fill out the forms. For more information on the relief program, or to apply, click here.