Wet weather causes commuter chaos
By Jake Davies - West Carleton Online
WEST CARLETON – A day of rain closed some roads, raised some water levels and is responsible for a busy start to the week for Ottawa's emergency and city staff.
Almost 24 millimetres of rain fell on west Ottawa and the Ottawa Valley yesterday (April 14) creating issues for this morning's commute and may have been a factor in a single-vehicle rollover in the Dunrobin Shores area.
"The ditches are full to the top," Coun. Eli El-Chantiry told West Carleton this morning.
Ottawa Fire Services (OFS) was contacted by Ottawa police staff at 8:39 a.m. reporting a rollover in the area of Thomas A. Dolan Parkway and Barlow Crescent in Dunrobin.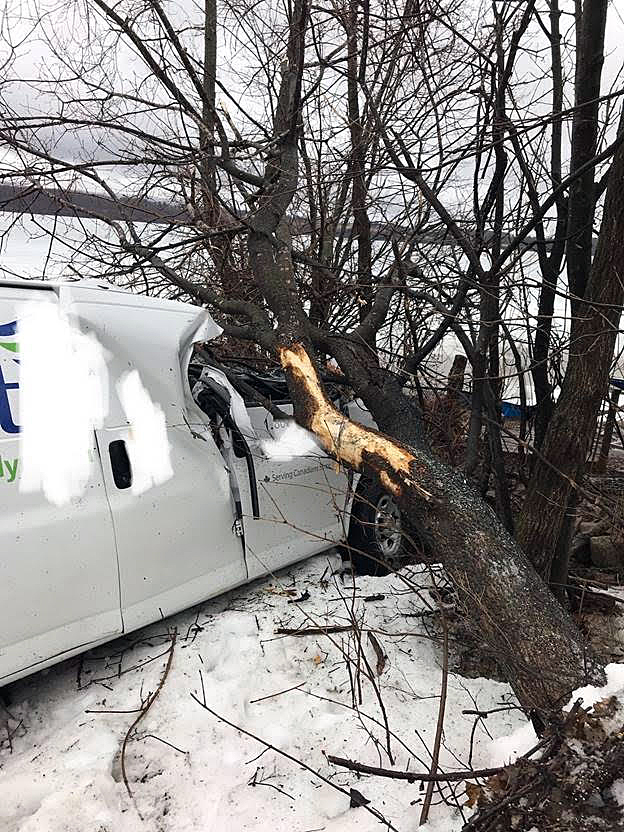 "Early reports from our dispatch peers indicated one vehicle was involved and it had rolled multiple times before coming to a stop in a wooded area on the shores of the Ottawa River," OFS public information officer Danielle Cardinal released in a statement this morning. "The first personnel on scene confirmed one vehicle was involved and one person was trapped in the heavily damaged van. Crews began extrication procedures at 8:56 a.m. after clearing away trees with chainsaws and stabilizing the vehicle with cribbing. The driver's side door was mechanically opened with extrication tools called spreaders. The patient was extricated at 9:04 a.m. and transferred into the care of our Ottawa Paramedic partners."
Firefighters from Ottawa Fire Station 66 in Dunrobin responded to the call.
El-Chantiry reported early this morning a section of Marchurst Road between Murphy Side Road and March Road was closed due to "flood related issues."
When West Carleton Online arrived at roughly 9:30 a.m., the road was still closed but there was no water on its surface.
"The ground is still frozen so this rain is perfect for runoff," El-Chantiry said. "Many culverts are still frozen. We've been working on them for some time. With all the snow and ice, it's been creating a hell of a job for us."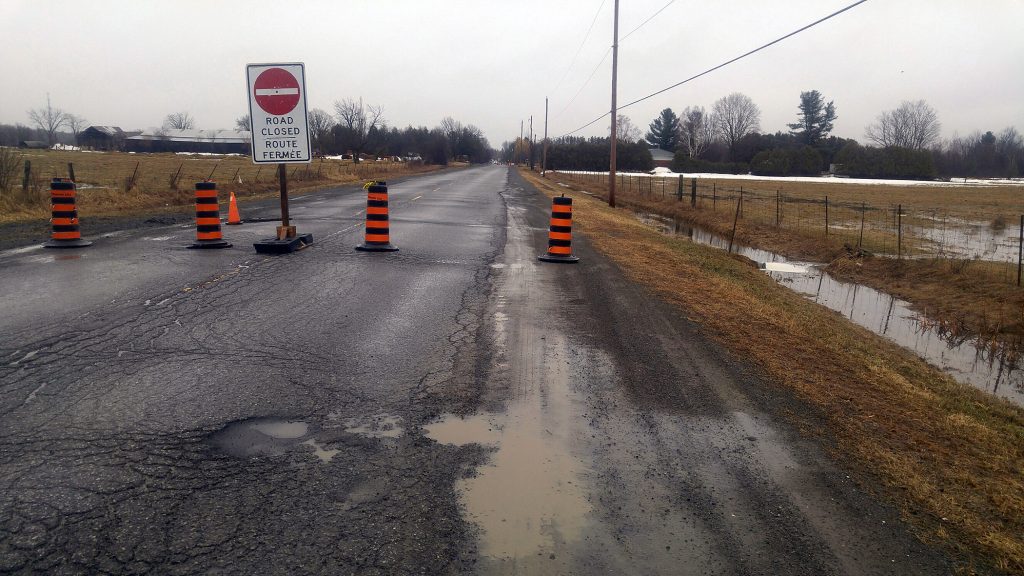 Other unsubstantiated reports on road conditions were readily available on social media. A section of the Carp Road near the Cheshire Cat (Richardson Side Road), was under water and one vehicle ended up in the ditch trying to turn around.
Reports also indicated a section of Old Carp Road near Loch March Golf Club was flooded as well but "still passable in one lane," according to Amanda Diniz-Hewitt.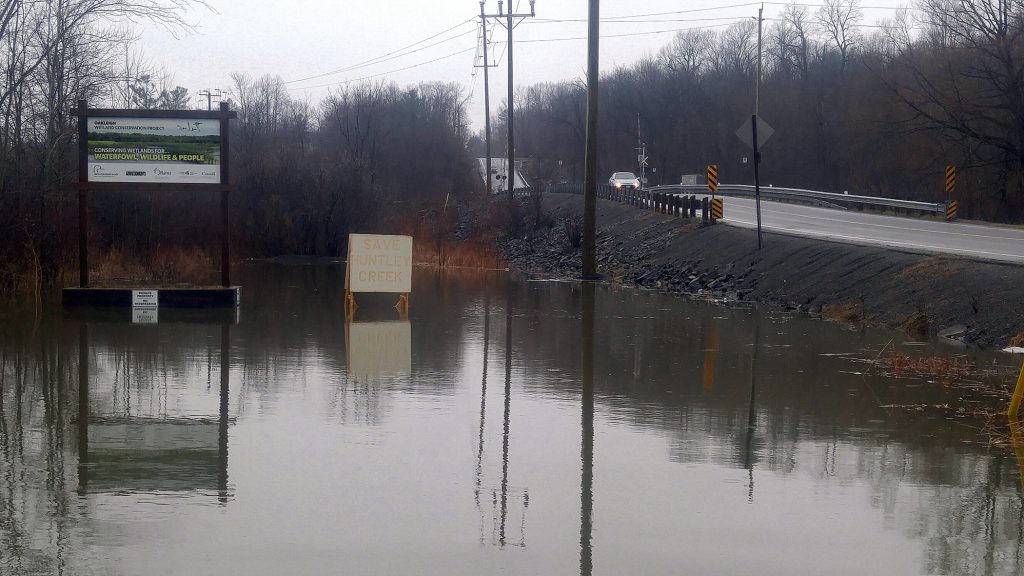 There are reports Upper Dwyer Hill just east of March Road was also starting to flood.
El-Chantiry said this is a unique experience for the city "with the amount of snow still on the ground and the ground itself being frozen."
El-Chantiry said the city's 3-1-1 service has been overwhelmed with calls of road issues and trouble spots.
Despite the city "sending staff to historic trouble spots early" in the thaw, the unique conditions have still created problems.
El-Chantiry said today's flooding is not a result of the Ottawa River, as was the case in 2017.
"Quite honestly, this isn't the Ottawa River yet," he said. "We are still waiting for the snow to melt up north and the temperatures to warm up."
Our neighbours in Lanark County are dealing with massive flooding in Pakenham. Highway 29 as it enters Pakenham near the Pakenham Golf Club at McWatty Road is under water at approximately 6 a.m. this morning.
"Hwy. 29 coming in to Pakenham from Almonte under the train bridge is blocked off and closed due to flooding," Kate Hazel reported. "They are turning cars around."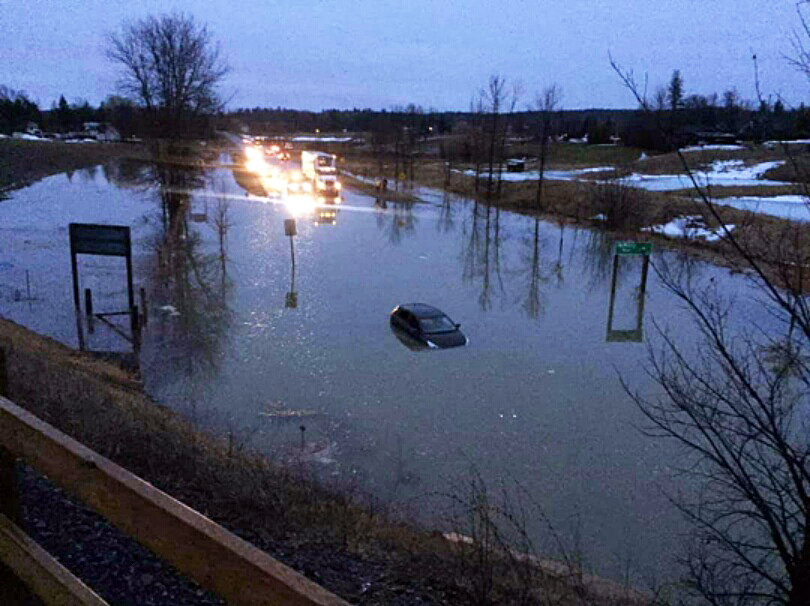 Meanwhile, city staff "continue to monitor conditions in communities that have experience flooding in the past," Coun. El-Chantiry released in a statement today. "If you see flooding issues in your area please call 311."
El-Chantiry says the city has 275,000 sandbags ready to go if flooding issues persist through spring.
The city has distributed sand and sandbags at various locations in West Carleton including:
2941 March Rd.
4127 John Shaw Rd.
2121 Huntley Rd.
1655 Maple Grove Rd.
262 Len Purcell Dr.
Beach at Moorehead Drive (Willola Beach)
Greenland Road at Armitage Avenue
Kingdon Mines Road and Logger's Way
Grandview in the Park (Barry Mullen Park)
"Make sure to bring your own shovels," El-Chantiry said.
West Carleton Online will continue to monitor this story, and all stories related to the spring thaw in West Carleton.