Sudds: Year in review
The MP's Report
Whether you're celebrating Christmas, Hanukkah, Kwanzaa, Winter Solstice, or another holiday, I hope that this time is filled with love, joy, and meaningful connections with your loved ones. I am grateful to represent such a welcoming and supportive community, and I extend my warmest holiday wishes to all residents!
As the year comes to a close, I would like to take a moment to reflect on some of the positive news stories of the past few months.
Year in Review
It's been a big year for Kanata–Carleton! Since taking office in October of 2021, I've been hard at work, advocating on your behalf and addressing the issues that matter most to you.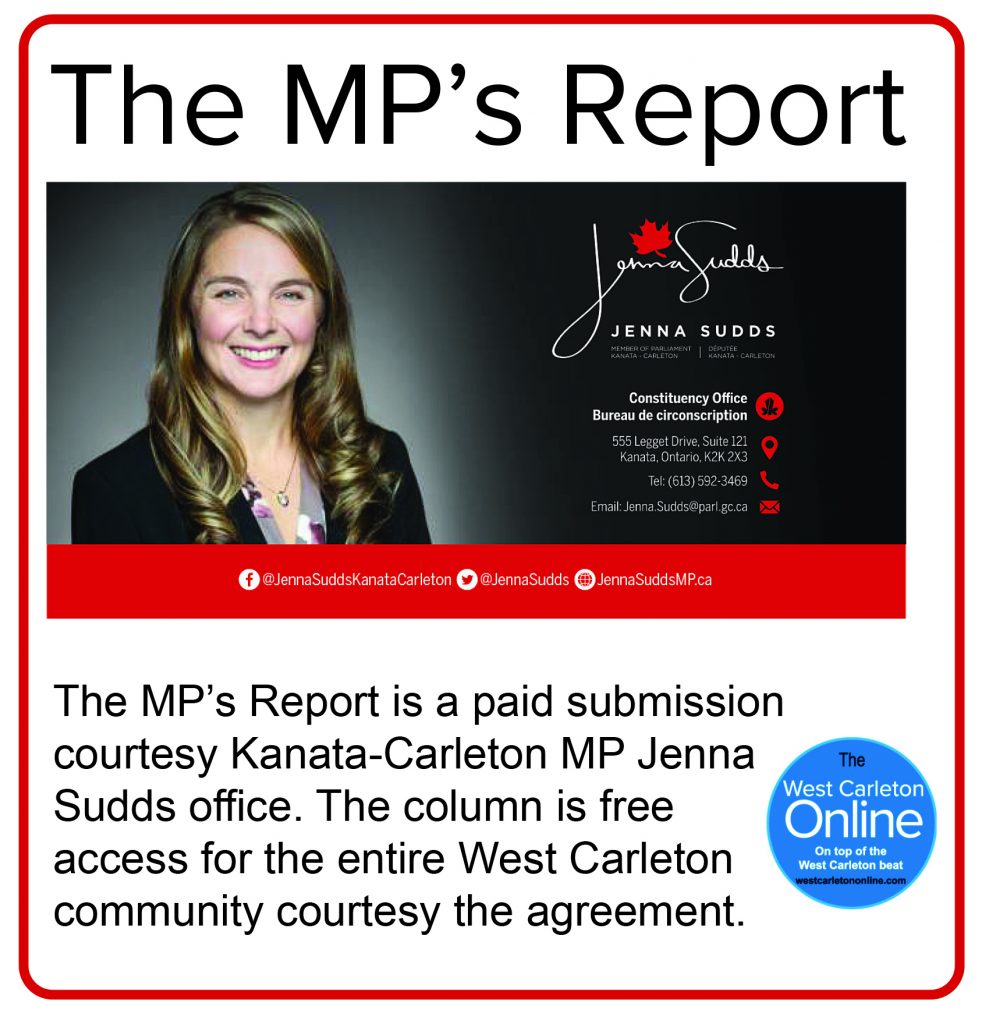 In the House of Commons, I've represented Kanata–Carleton's voice on over 240 votes, 131 speeches and debates, and thousands of hours spent in the House of Commons. I have responded to over 5,152 constituents on policy positions and ongoing legislation, and my team has helped over 1,250 constituents with casework and federal services.
Take a look at all of the statistics from this Year in Review.
Competition & Regulatory Lawyer Becomes CRTC Chair
One of the top issues I hear from constituents is the need for lower phone prices and stronger competition in our telecommunications sector. I welcome the recent appointment of Vicky Eatrides—former Senior Deputy Commissioner of Competition, Cartels, and Deceptive Marketing Practices at the Competition Bureau—as Chairperson and CEO of the CRTC. With her focus on delivering lower prices for consumers, this appointment is a great step forward.
Eliminating Over 1.3M Tonnes of Single-Use Plastic Waste
In my September mailout survey, many constituents responded positively to the government's plan to eliminate single-use plastic waste. I am proud to share that the federal phase-out of plastic straws, bags, cutlery, stir sticks, and takeout containers is now in effect.
Every year, Canadians throw away at least 3 million tonnes of plastic waste, with only nine per cent being recycled. Within the next year, businesses will be encouraged to turn to sustainable solutions for cutlery, takeout containers, and other common single-use plastic items that often end up in our waterways and landfills.
100,000+ Canadian Children Now Receiving Dental Care
Thanks to the new interim Canada Dental Benefit, over 100,000 Canadian children without private insurance will be returning to school next month with healthy teeth and happy smiles! Are you a parent of a child under 12? Read more about the Canada Dental Benefit and how to apply.
This milestone is just the first step. Dental care supports are currently being developed for seniors, people with disabilities, and low- and middle-income Canadians without private insurance.
A Record Year For Processing Immigration Applications
Immigration, Refugees, and Citizenship Canada has had a record-breaking year, processing over 4.8 million immigration applications, study permits, and work permits to address skilled labour shortages. See the full report.
To help strengthen Canada's immigration system, IRCC has digitized applications, hired and trained new employees, streamlined processes, and harnessed automation technologies to increase processing efficiency while protecting the safety and security of Canadians.
IRCC continues to provide monthly updates on their progress in reducing immigration backlogs, reuniting families, and addressing labour shortages in Canada.
50,000 More EV Chargers Across Canada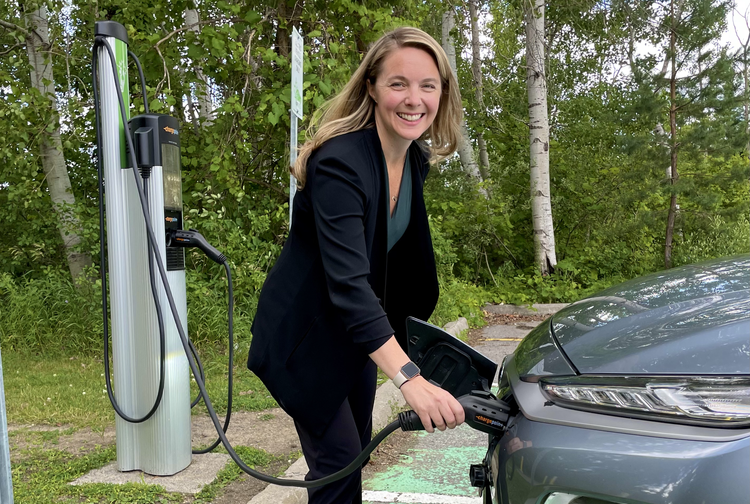 This week, the federal government invested in building 50,000 more EV charging stations across the country, for almost 85,000 federally-funded chargers across Canada by 2027. This is in addition to charging stations supported by provincial governments and the private sector.
Additionally, the Minister of Environment and Climate Change has renewed the program that provides Canadians up to $5,000 toward the cost of buying or leasing a ZEV. Over 180,000 individuals and businesses have taken advantage of this program to date. Read more about how we're mobilizing Canada's auto industry and critical mineral reserves to make Canada a world leader in electric vehicles.
Stamping Out Sexual Misconduct in the Canadian Armed Forces
In May, the Government of Canada received 48 recommendations for meaningful change in our Canadian Armed Forces by retired Supreme Court Justice Louise Arbour.
Last week, National Defence Minister Anita Anand updated Parliament on our path forward in response to every single one of these recommendations, and shared the work ahead to implement institutional reforms to protect those who serve our country.
Rehearing Expert Witnesses on C-21
In response to public concerns, the Public Safety Committee (SECU) will be holding two urgent meetings to allow expert witnesses to testify before the committee on proposed amendments to our firearms legislation, Bill C-21.
I appreciate the need to take time to thoroughly and diligently craft firearms laws to ensure that hunters like those in my riding are not inadvertently caught in it —and that Canada's hunting culture remains preserved. A serious and thorough study is needed to clarify the impacts of these amendments. I am pleased that SECU is undertaking this study urgently.
As this amendment is being debated at SECU, a Committee which I am not a member of, I do not have any input on these amendments. However, I have written my thoughts and how I'm taking action on my constituents' concerns — alongside my fellow rural MPs — on my website.
Holiday Office Hours
Please note, my Constituency office will be closed from December 24th to January 9th. From my family to yours, best wishes for the Holiday Season and a Happy New Year!
Important Benefit Dates
Canada Child Benefit: January 20 and February 20
Canada Pension Plan: January 27 and February 24
Old Age Security: January 27 and February 24
Canada Workers Benefit: January 5
Veteran Disability Pension: January 30 and February 27
Climate Action Incentive: January 2023
GST/HST Credit: January 5
You can sign up for direct deposit to automatically receive benefits in your bank account. To do so, visit the Canada Revenue Agency website or call 1-800-959-8281.
Other Important Dates
December 24: Christmas Eve
December 25: Christmas Day
December 26: Last day of Hanukkah
December 26: Boxing Day
December 26 – January 1: Kwanzaa
December 31: New Year's Eve
January: Tamil Heritage Month
January 1: New Year's Day
January 7: Orthodox Christmas Day
January 22: Lunar New Year / Chinese New Year
January 27: International Holocaust Remembrance Day
January 29: National Day of Remembrance of the Quebec City Mosque Attack and Action Against Islamophobia
Please Keep in Touch
I am always happy to hear from you. My team and I also work hard to continue to update constituents on important government events and programs on my website.
In addition to these monthly newsletters, I also provide regular updates about my work in the House of Commons on my website.
Again, please don't hesitate to reach out by email Jenna.Sudds@parl.gc.ca or by phone (613) 592-3469. I'd welcome your input and look forward to continuing to work together. Happy Holidays!