Weekend rain helps Ottawa River swell
By Jake Davies - West Carleton Online
(Editor's note: As we did during the 2017 flood, 2018 tornado, 2019 flood and COVID-19 pandemic, we are making our coverage of potential extreme flooding in 2023 free access to our entire community providing flooding updates, on-site coverage, important information and resources to West Carleton and beyond, so those outside the area can better understand what is happing in our rural community)
WEST CARLETON – After a day-and-a-half of rain, the Ottawa River is showing the results Monday (May 1) afternoon, visibly higher than it was heading in to the weekend.
Following a short drive to Vydon Acres and Willola Beach, areas hard hit in both 2017 and 2019, it is clear the river rose over the weekend, but judging from the lack of activity at sand-filling stations, residents are confident they are prepared.
At sand-filling locations at both aforementioned spots, there was no one present filling, but lots of pre-made sandbags ready for use. Many driveways along Lighthouse Lane and Moorehead Drive had piles of reserve bags ready for use.
Authorities had to close Hwy. 29 through Pakenham as high water overtook the road, several feet deep underneath the train bridge.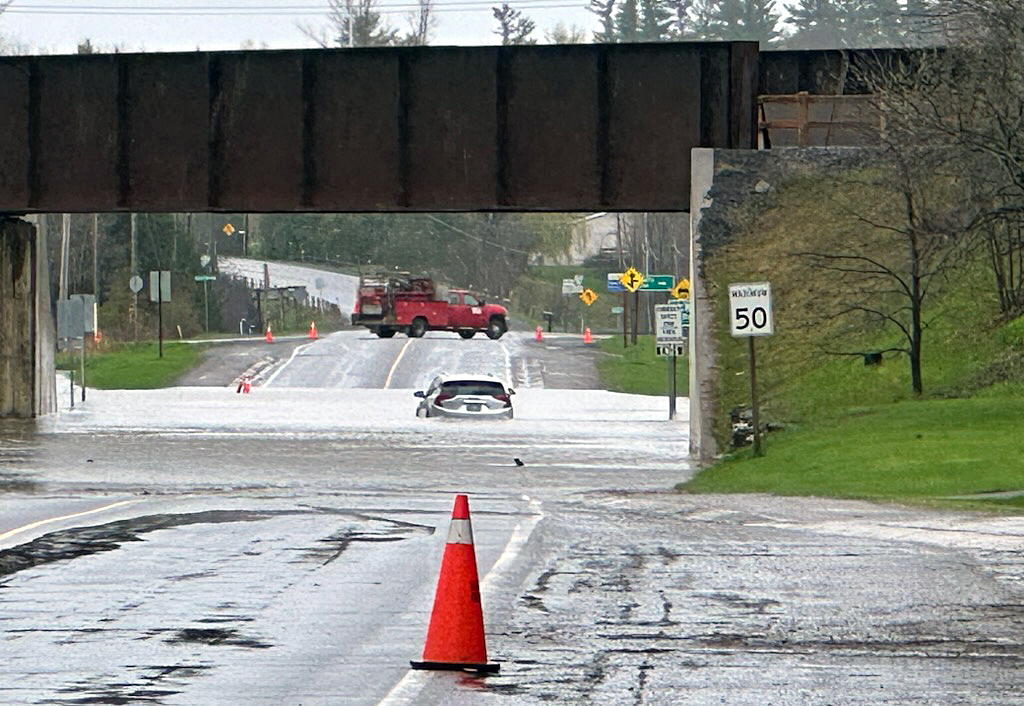 "Please be advised County Road 29 in Pakenham at the OVRT overpass is flooded," Mississippi Mills staff released in a statement this morning (May 1). "We will provide updates as we receive them from Lanark County."
During yesterday's (April 30) Ottawa River Regulation Planning Board (ORRPB) update, the Ottawa River Regulation Committee (ORRC) says rain and runoff will help the Ottawa River exceed the 2023 freshet peak reached roughly two weeks ago.
"Significant rainfall is expected over most of the Ottawa River basin beginning Sunday (April 30) evening and continuing into Wednesday (May 3)," the ORRC released in a statement yesterday afternoon. "Runoff from this rainfall will raise river levels above what was experienced last week along the main stem of the river. Principle reservoirs are being managed to reduce river flows in downstream areas."
Levels in Mattawa are expected to exceed the minor flood threshold over the coming days. Levels in the Pembroke area are expected to approach the major flooding threshold over the coming days. Levels on Lake Coulonge are already above the major flooding threshold and are expected to rise higher over the coming days. Chats Lake and Lake Deschenes levels are expected to exceed their major flooding thresholds over the coming week.
"Flood prone areas between Ottawa/Gatineau and the Montreal area are expected to experience minor flooding," the ORRC said. "Forecasts indicate levels in all locations along the main stem of the Ottawa River will remain below historic flood levels."
The ORRC will update conditions again at 5 p.m. today.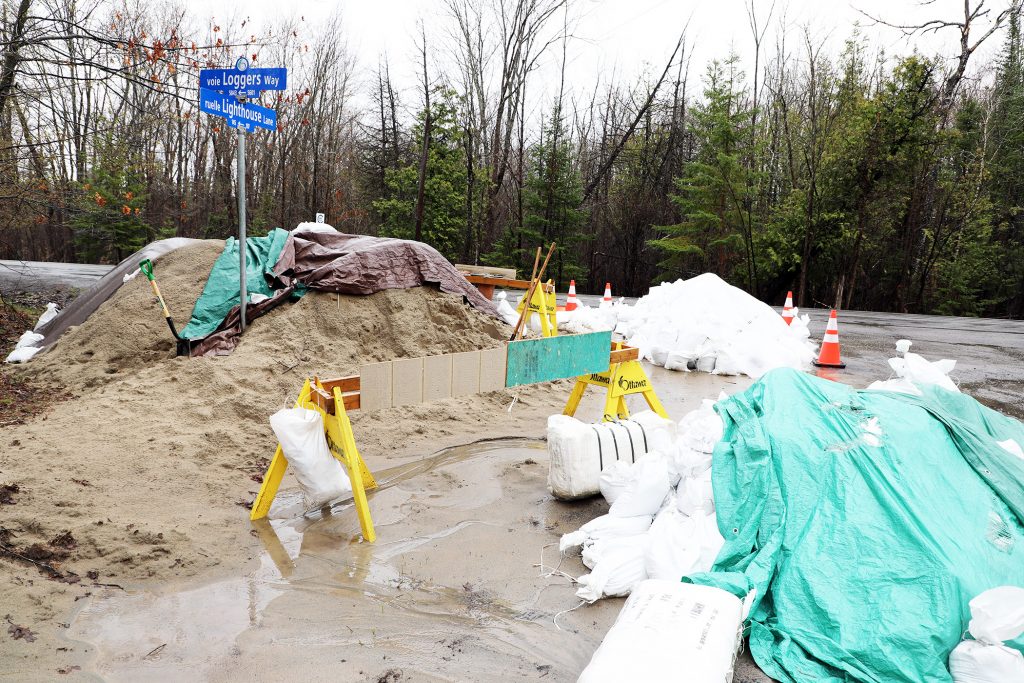 Coun. Clarke Kelly says this week's peak could be significantly higher than last week.
"Water levels are rising and will continue to rise until at least mid week," Kelly released in a statement yesterday (April 30). "Based on the current forecast, it could potentially rise 10 to 15 centimetres over the first peak one week ago."
West Carleton Disaster Relief (WCDR) last updated water levels in Constance Bay Saturday (April 29) morning.
In Constance Bay the current level is 59.9 metres above sea level. Over the next three days the forecast is for the level to reach 60.15 m. In 2017 the river peaked at 60.44 m. In 2019, it peaked at 60.75 m.
If you feel your property is at risk, you can contact WestCarletonRelief.ca to request sandbags. If you have time to come and fill sandbags at the Constance Bay community centre tomorrow, you can also sign up through WCDR.