Sudds: This week's caucus retreat
The MP's Report
Parliament is back in full swing! I'm excited to pick things up and continue advocating on your behalf.
We accomplished a lot last year
, and I'm eager to build on that progress while also addressing the issues that matter most to you.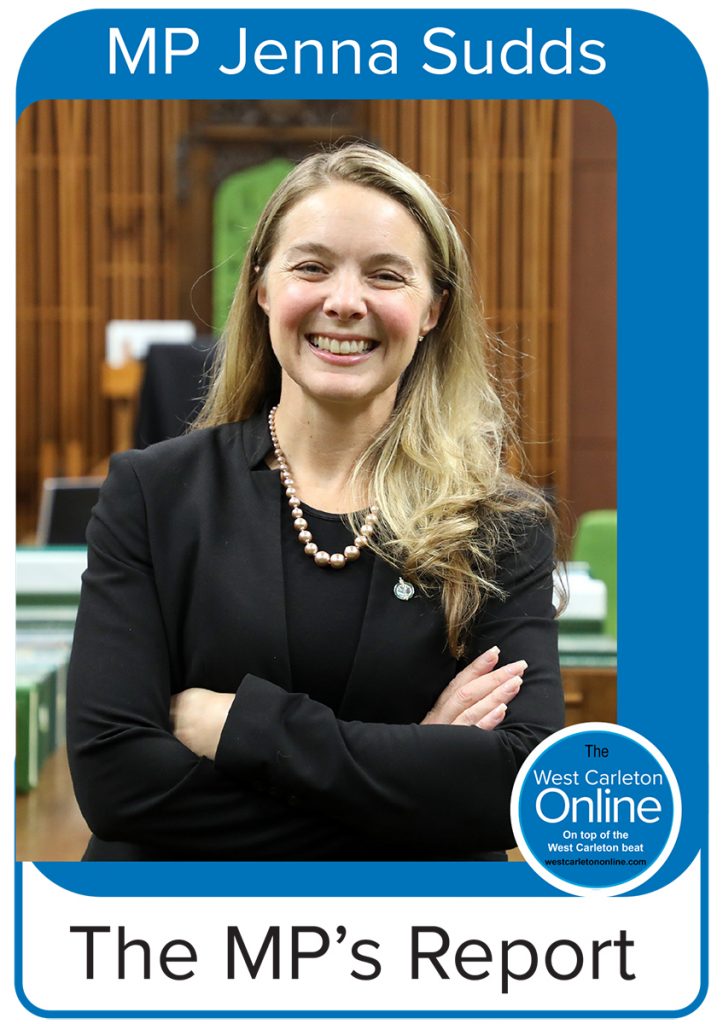 I'm headed to Parliament Hill today where over the next two days, my Liberal colleagues and I will be participating in a "caucus retreat."
Caucus retreats are a common and important practice on Parliament Hill. Each party gathers amongst themselves to discuss issues relevant to their party, strategize, and outline their priorities for the session ahead. The NDP hosted their caucus retreat last week, and the Conservatives held one in September.
It's not a "retreat" in the conventional, relaxing sense. It's a whirlwind of meetings, roundtables, and debates.
It's also a vital opportunity for Members of Parliament to strategically elevate their riding's priorities — ensuring the concerns of our constituents are front and center in our plans.
I'll be using my time at the caucus retreat to share the concerns I've been hearing often from constituents like yourself.
On my agenda for caucus retreat are some key issues:
Affordability.
Canadians are still hurting from the pandemic and the global economic conditions.
Last week, we received some promising news from StatsCan: their latest economic report indicated that Canada's inflation rate has slowed to 6.3%.
This deceleration is largely thanks to a large decrease in the global market price of gasoline. Gasoline prices have nearly returned to pre-Russian invasion levels. That's good news for my constituents.
But while lower gas prices are great news for commuters, we're still seeing rising food prices and other cost increases that are putting a strain on household budgets.
Supply chain disruptions caused by the pandemic, labour shortages at food processing plants, and poor growing conditions and droughts in key agricultural regions like the United States and Brazil have all contributed to the increase in the cost of raw agricultural products–which in turn have driven up the costs we're seeing at the grocery store.
I've heard from so many of you that reducing the cost of living is a top priority, and I couldn't agree more. I'm focused on creating solutions that bring economic relief, affordability, and good-paying jobs to our community.
Over the coming weeks and months, I'll be working with my colleagues and the Minister of Finance to develop Budget 2023 and create careful solutions to Canadians' financial struggles without accelerating or exacerbating inflation.
Ontario's healthcare system.
Access to quality healthcare in our community is an issue I hear daily from constituents. The pandemic exposed and widened cracks in our healthcare system that need mending—urgently.
While the federal government is willing to supply more funding to the provinces, we need to make sure that the money is being used effectively and that we're seeing results. We cannot fix our healthcare system by putting more money into a broken system.
That's why the federal health minister has set out five key metrics that the provinces need to demonstrate their plan to meet before more funding is released:
Improved access to family healthcare.

Reducing surgical and diagnostic backlogs.

Retaining, recruiting, and recognizing the credentials of healthcare workers, including those from international jurisdictions.

Investing in mental health.

Modernizing the healthcare system so that medical records can be easily shared electronically.
After our caucus retreat, Parliament resumes for three consecutive weeks.
During these three weeks, we'll be debating and voting on legislation, holding committee meetings to gather information and hear from experts, and meeting with stakeholders and representatives of various organizations.
In addition, I'll be making sure to keep you updated on what's happening on Parliament Hill. I'll be sending out regular newsletters and posting updates on my website so you can stay informed and be a part of the conversation.
What are, in your opinion, the most important issues facing our country right now?
What top priorities should our government be focusing on this year? Please complete my short survey online to share your thoughts.
Additionally, Budget 2023 is open for public consultation. By taking a short online survey, you can help design Canada's budget. Your feedback will be considered as the government finalizes the budget throughout the next three months. Visit LetsTalkBudget2023.ca to share your input.
Important Dates
Canada Child Benefit: February 20 and March 20

Canada Pension Plan: February 24 and March 29

Old Age Security: February 24 and March 29

Veteran Disability Pension: February 27

Climate Action Incentive: April 14

GST/HST Credit: April 5

View all available benefit dates at: JennaSuddsMP.ca/benefits
You can sign up for direct deposit to automatically receive benefits in your bank account. To do so, visit the Canada Revenue Agency website or call 1-800-959-8281.
Other Upcoming Dates
February: Black History Month

February 2: Groundhog Day

February 3 to 20: Winterlude

February 4: World Cancer Day

February 11: International Day of Women and Girls in Science

February 14: Valentine's Day

February 15: National Flag of Canada Day

February 17: Random Acts Of Kindness Day

February 20: World Day of Social Justice

February 20: Family Day

February 22: Pink Shirt Day
Let's Keep in Touch!
I am always happy to hear from you. My team and I also work hard to continue to update constituents on important government events and programs on my website.
In addition to these monthly newsletters, I also provide regular updates about my work in the House of Commons on my website.
Again, please don't hesitate to reach out by email Jenna.Sudds@parl.gc.ca or by phone (613) 592-3469. I'd welcome your input and look forward to continuing to work together.
To read all MP Jenna Sudds columns, click here.
The preceding column was written by Kanata-Carleton MP Jenna Sudds, a monthly column for West Carleton Online, made available to the entire community through an agreement with the publisher.