Sudds: The Middle East, grocery costs and fall hollidays
The MP's Report
My heart is with the Israeli and Palestinian communities, and all those impacted by the brutal conflict raging in the Middle East.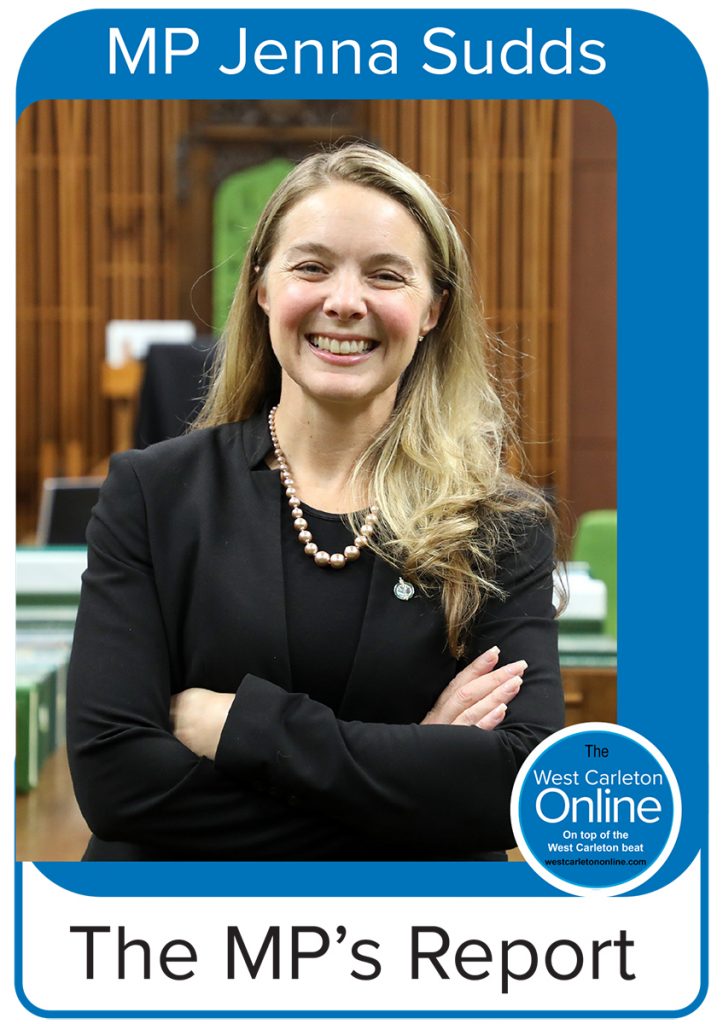 The loss of life and humanity is tragic. In these particularly difficult times, please remember – as Canadians – our diversity is our strength. Please reach out and support each other. Offer to help and listen where you can.
I will continue to share updates on my website.
Sing for Mental Health
Mental health is health, and it is so incredibly important to raise awareness and to learn how to recognize and deal with the stigma of mental illness and not let it stand in the way of getting treatment or helping others. Phil Keast, Founder of the Sing for Mental Health fundraiser, shared an important reminder during his recent event: Take care of yourself, check in with others, and be careful with your words. Using the right terminology is important and can make a difference. We all have a role to play in supporting each other with our personal and collective mental health.
Thank you, Phil, for your tireless efforts and dedication in making a difference in the lives of others, and congratulations on yet another successful Sing for Mental Health event!
Update on Reducing Grocery Costs
Our government is hard at work to make life more affordable for Canadians and has called on the industry to take immediate action to stabilize food prices. I'm happy to see that the five largest grocery chains have committed to plans to do so; however, the proof will be at the checkout. I look forward to seeing this materialize for Canadians and will share further updates as they become available.
Investment Readiness Program Announcement
Social purpose organizations like Matthew House are on the front lines of major social issues: housing, addiction recovery, poverty reduction, and more. Our Investment Readiness Program is positioning these organizations to access the capital they need to scale up and make an even bigger impact.
It was a pleasure to stop by Matthew House last week for a special "investing in social good" announcement.
Kanata-Carleton Youth Council
Are you a high school or university student? Join my Youth Council! Youth voices are vital, and their perspectives bring a new light to issues affecting our community, and our country. Get involved to learn about Canada's political process, develop leadership skills, and – most importantly – be involved in our community.
The Kanata—Carleton Youth Council meets on the last Friday of each month. The deadline for registration is November 9th. Apply online today at JennaSuddsMP.ca/youthcouncil.
Funding Opportunities
I am in awe of the youth today, and have so much confidence in them becoming impactful and inspiring leaders. Our future is in good hands. To ensure we continue to provide youth access to opportunities that will allow them to reach their full potential, this fall, Employment and Social Development Canada will be seeking funding proposals through three programs. Details are available on my website here.
Congratulations, Ann Marie Vanneste!
I'm thrilled to announce that Ann Marie Vanneste from All Saints Catholic High School was awarded the Prime Minister's Award for Teaching Excellence! Inclusion is woven into everything Mrs. Vanneste does. She goes above and beyond to ensure that every student, regardless of their background, feels valued and supported within her classroom.
Congratulations, Mrs. Vanneste, on this well deserved recognition!
Observe Remembrance Day in Kanata-Carleton
On November 11th each year, Canadians stand in collective Remembrance of all who have fallen in the military service of their country.
On Saturday, November 4th, the West Carleton Legion will hold its Remembrance Day ceremony. Doors open at 12 noon, the parade forms up at 1 pm and marches off at 1:30 pm for the Legion cenotaph ceremony. For details, visit the Legion website.
The Kanata Legion will hold its annual Remembrance Day ceremony on November 11th at 10:40 am at Village Green Memorial Park. Details are available here.
Kanata Santa Claus Parade
I'm happy to see the return of the Kanata Santa Claus Parade on Saturday, November 25! Register a float or sign up to volunteer at KanataSantaParade.com.
Support Local this Holiday Season
With just a few weeks to go until the Holidays, please consider helping the Kanata Food Cupboard provide gifts to local children and teens this Christmas. With their Virtual Angel Tree program you can shop from home and your gifts get delivered directly under their tree.
Important Dates
Canada Child Benefit: November 20 and December 13

Canada Pension Plan: November 28 and December 20

Old Age Security: November 28 and December 20

Veteran Disability Pension: November 29 and December 21

View all available benefit dates at: JennaSuddsMP.ca/benefits
You can sign up for direct deposit to automatically receive benefits in your bank account. To do so, visit the Canada Revenue Agency website or call 1-800-959-8281.
Other Upcoming Dates
November: Hindu Heritage Month

November: Diabetes Awareness Month

November: Indigenous Disability Awareness Month

November: Lebanese Heritage Month

November 1: All Saints Day

November 5-11: Veterans' Week

November 7: International Inuit Day

November 8: Indigenous Veterans Day

November 11: Remembrance Day

November 12: Diwali and Bandi Chhor Divas

November 13-19: Global Entrepreneur Week

November 13-19: Transgender Awareness Week

November 14: World Diabetes Day

November 16: International Day of Tolerance

November 20: National Child Day
Please Keep in Touch
In addition to these monthly newsletters, I also provide regular updates about my work in the House of Commons here on my website.
Again, please don't hesitate to reach out by email Jenna.Sudds@parl.gc.ca or by phone (613) 592-3469. I'd welcome your input and look forward to continuing to work together.
Have a Safe and Happy Halloween!