Sudds: Support local this holiday season
The MP's Report
Both the Kanata Food Cupboard and the West Carleton Food Access Centre are busy preparing for their Christmas Hamper Programs. For the Kanata Food Cupboard, the deadline to apply is Monday, Dec. 5. All information can be found online here. The deadline for basket requests from the West Carleton Food Access Centre is Dec. 19. To make a request or to support this program, email WCfoodaid@gmail.com or call 613-832-5685.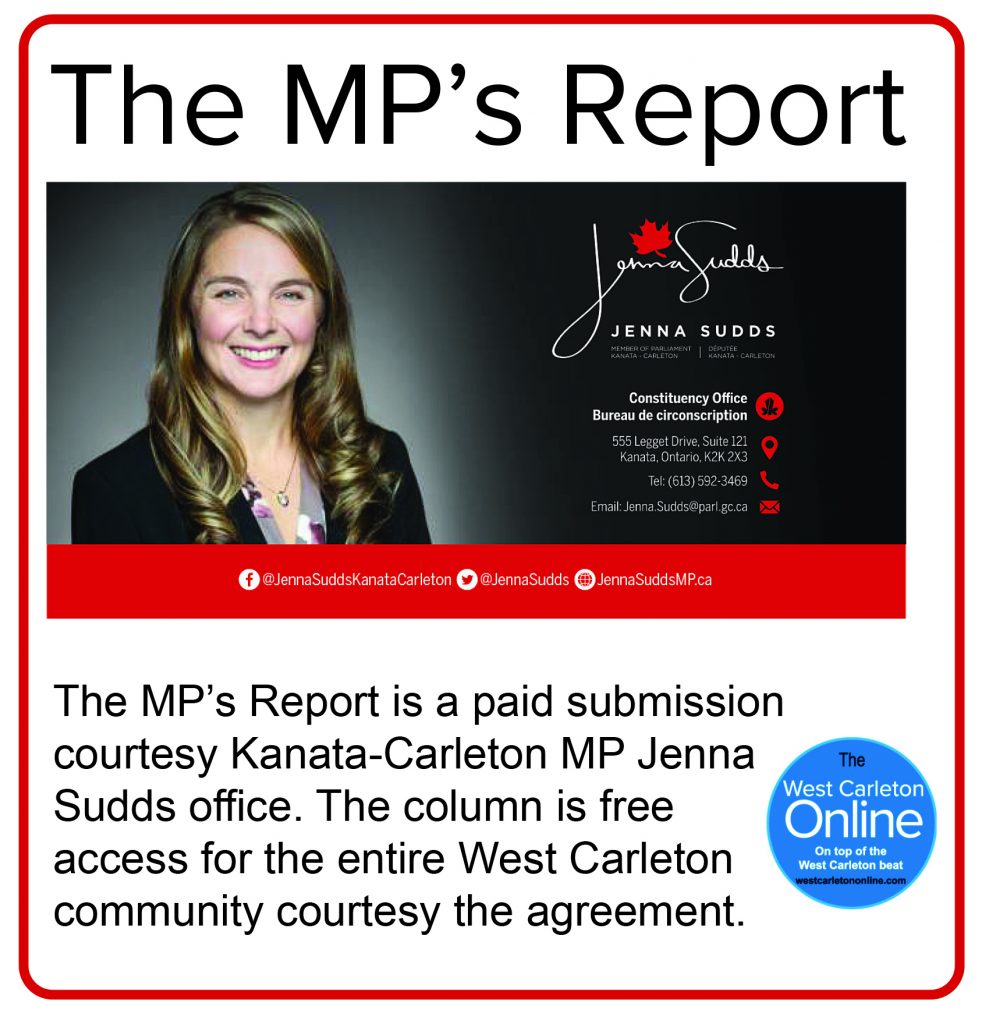 Also, please join me in supporting the annual OC Transpo/Loblaws Food Drive on Saturday, Dec. 3. Donate generously, come out to volunteer, and help spread the word!
Rental and Dental Bill Receives Royal Assent
The national dental and rental benefits Canadians have been waiting for have finally become law, and will help millions of families, including many right here in Kanata–Carleton.
Starting Dec. 1, eligible children under 12 can access the dental care they need through the interim Canada Dental Benefit. This benefit is available to families without access to private dental insurance and with an adjusted family net income under $90,000.
Starting Dec. 12, the CRA will begin receiving applications and processing payments for a one-time top-up to the Canada Housing Benefit. This will provide a tax-free payment of $500 to low-income renters who are struggling with the cost of housing. This top-up is available to applicants with an adjusted net income below $35,000 for families, or below $20,000 for single Canadians, who pay at least 30 per cent of their adjusted net income towards rent.
Stay tuned for more details on eligibility and where to apply.
House of Commons Extends Sittings
As we enter into December, the House of Commons will be working well into the evenings to fulfill our ambitious legislative agenda. Often called "midnight sittings", MPs will be working until midnight to debate and scrutinize the legislation before us. You can follow this work at OurCommons.ca. I'm looking forward to the late nights ahead and more opportunities to raise your concerns in the House of Commons.
Public Order Emergency Commission Concludes Public Hearings
As of Dec. 2, the Public Order Emergency Commission has concluded its public hearings, performing important public scrutiny and inviting key witnesses to testify on the invocation of the Emergencies Act last winter.
The Commission heard from over 70 witnesses, including the Prime Minister, Cabinet Ministers, and the head of the Canadian Security Intelligence Service who recommended the invocation of the Emergencies Act in order to address the ongoing blockades of downtown Ottawa and Canada-U.S. border crossings.
Follow the Commission's work here: https://publicorderemergencycommission.ca/.
Saving Money on Home Heating
Looking to switch your home heating from oil to electric? The federal government has introduced the Oil to Heat Pump Affordability Grant, which will provide up to $5,000 for low- and middle-income homeowners to make the switch. Eligible homeowners will be able to combine the new grant with existing federal and provincial programs that assist with home heating.
Did you know? On average, homeowners who switch from oil to cold-climate heat pumps to heat their homes would save between $1,500 and $4,700 per year on home energy bills.
Applications for the grant will be made available in early 2023. More details are available here.
Don't have an oil furnace, but still looking to make green home retrofits and increase your home's value — including insulating your home against the cold winter weather ahead? Apply for funding through the Canada Greener Homes Grant.
Situation in Iran
These past weeks, I had the honour to join demonstrations here in Ottawa and march alongside the Iranian-Canadian community to call for justice—justice for flight PS752, for Mahsa Amini, and for the Iranian people. Canada will not hesitate to use all diplomatic tools at its disposal to respond to the Iranian regime's aggressions, whether in Iran or abroad.
Earlier this month, I also spent an emotional and insightful evening with Iranian-Canadians in Kanata, hearing first-hand accounts of the situation in Iran and its impacts on the Iranian diaspora in Canada. Their insights, their bravery, and their determination to see a free Iran continue to inform our government's actions to date to hold the Iranian regime to account.
Ukraine Sovereignty Bonds
Canada has officially launched Ukraine Sovereignty Bonds, allowing Canadians to directly support Ukraine. The Bonds will help the Government of Ukraine continue its operations and allow the Ukrainian people to access services like pensions and fuel during the winter.
Become an Organ Donor on Your 2022 Federal Tax Return
Ontario has agreed to participate in the Canada Revenue Agency's organ donor service, which will allow Ontario tax filers to register to receive organ donation information from their provincial government. With less than one quarter of Canadians registered as organ and tissue donors, please consider signing up on your next tax return. Your choice could, one day, save up to eight lives.
Carp Farmers' Market Christmas Market
This weekend, Dec. 2 and 3, Carp Farmers' Market returns with a special Christmas Market. Stop by Friday (3 p.m. – 8 p.m.) or Saturday (8 a.m. – 2 p,m,) at the Carp Fairgrounds to shop and support local this holiday season!
Hub350 Celebrates First Anniversary
On Nov. 15, I had the pleasure to host a roundtable discussion at Hub350 in the Kanata North Technology Park with local tech industry leaders on our government's Fall Economic Statement, followed by a keynote speech at Hub350's inaugural Annual Partner Summit. It was a very inspiring morning and a great discussion on how to make our local Kanata North Technology Park a global leader in talent, ideas, and investment.
Consultations on a National School Food Policy
Too many children at school are trying to learn on empty stomachs, and too many families in Canada are not able to reliably access sufficient amounts of nutritious food. While school meal programs exist in all provinces and territories and in many Indigenous communities, these programs only reach around 21 per cent of school-age children. We're taking action to change that through our National School Food Policy. We need your input. Please fill out the online questionnaire to share your input by Dec. 16.
Important Benefit Dates
Canada Child Benefit: Dec. 13
Canada Pension Plan: Dec. 21
Old Age Security: Dec. 21
Canada Workers Benefit: Jan. 2023
Veteran Disability Pension: Dec. 22
Climate Action Incentive: Jan. 2023
GST/HST Credit: Jan. 2023
You can sign up for direct deposit to automatically receive benefits in your bank account. To do so, visit the Canada Revenue Agency website or call 1-800-959-8281.
Other Important Dates
Nov. 25 to Dec. 10: 16 Days of Activism Against Gender Violence
Dec. 1: World AIDS Day
Dec. 3: International Day of Persons with Disabilities
Dec. 6: National Day of Remembrance and Action on Violence Against Women
Dec. 10: Human Rights Day
Dec. 19: First Day of Hanukkah
Dec. 21: December Solstice
Dec. 21: Yalda
Dec. 24: Christmas Eve
Dec. 25: Christmas Day
Dec. 26: Last day of Hanukkah; Boxing Day
Dec. 26 – January 1: Kwanzaa
Dec. 31: New Year's Eve
Please Keep in Touch
I am always happy to hear from you. My team and I also work hard to continue to update constituents on important government events and programs on my website.
In addition to these monthly newsletters, I also provide regular updates about my work in the House of Commons on my website.
Again, please don't hesitate to reach out by email Jenna.Sudds@parl.gc.ca or by phone (613) 592-3469. I'd welcome your input and look forward to continuing to work together.