Sudds: Pride in her work
The MP's Report

Return to Class — Thank You!
With students returning to school soon, I'd like to take this opportunity to thank everyone who supported the Kanata Food Cupboard's Back-to-School Program, supporting local families with much needed school supplies. Registration for this year's program is now closed, but – as a reminder – you can support our local food cupboards throughout the year by hosting food drives or donating food or your time to the many fundraising initiatives that are being held. For details and to learn more, visit:
Online Survey Results
Thank you to everyone who has shared your priorities with me! My online survey received over 450 unique responses from constituents across Kanata–Carleton. The top issues were improving Canada's healthcare system (341 votes); reducing the cost of living (246 votes), improving long-term care and seniors care (207 votes); and growing the economy and creating good jobs (170 votes).
If you haven't yet, please share your thoughts with me by completing this very short online survey. I read every response personally, and your feedback is valuable and appreciated.
House of Commons Returns on Sept. 19
I'm looking forward to the scheduled return of the House of Commons on September 19th, building on the many accomplishments of this past year. I will once again provide regular updates about my work in the House of Commons on my website, and I encourage you to follow along and get involved.
For example:
Fertilizer Emissions Reduction Plan
My colleague Lloyd Longfield, Member of Parliament for Guelph and member of the House of Commons Standing Committee on Agriculture, wrote the following piece in the Toronto Sun on the federal government's proposed Fertilizer Emissions Reduction Plan.
Notably, the federal government's Fertilizer Emissions Reduction Plan does not include a "fertilizer ban" or require that farmers use less fertilizer. It requires that emissions be reduced. It is explicitly stated that "actions to achieve emissions reductions will focus on improving nitrogen management and optimizing fertilizer use, and not on a mandatory reduction in the use of fertilizers."
I encourage all constituents, especially our riding's farmers and producers, to share their feedback on the proposed emissions reduction plan with the Minister of Agriculture through the open public consultations.
Celebrating Pride in Canada's Capital
My National Capital Region colleagues and I proudly marched alongside thousands of Ottawa residents in the Capital Pride parade!
Pride Season serves as a time to remind ourselves of how far we've come, mark our milestones along the way (such as banning conversion therapy this year), and to commit ourselves to building a country where everyone feels safe being who they are and loving who they love.
Student Loan Repayment Relief
Great news for post-secondary students! Starting November 1st, you won't have to start repaying your federal student loans until you're earning at least $40,000 per year — up from $25,000 previously.
Additionally, if you're turning 18 in 2022, you could get up to $2,000 for your education through the Canada Learning Bond.
For future skilled labourers: if you're an apprentice in a Red Seal Trade, you could get up to $4,000 in interest-free loans for each training period through the Canada Apprentice Loan. If you're a registered apprentice who has completed their first or second level of training, you could get up to $1,000 in grants for each training level through the Apprenticeship Incentive Grant. If you're an apprentice or journeyperson completing their training, you could get up to $2,000 for your final level of training through the Apprenticeship Completion Grant.
Canada Summer Jobs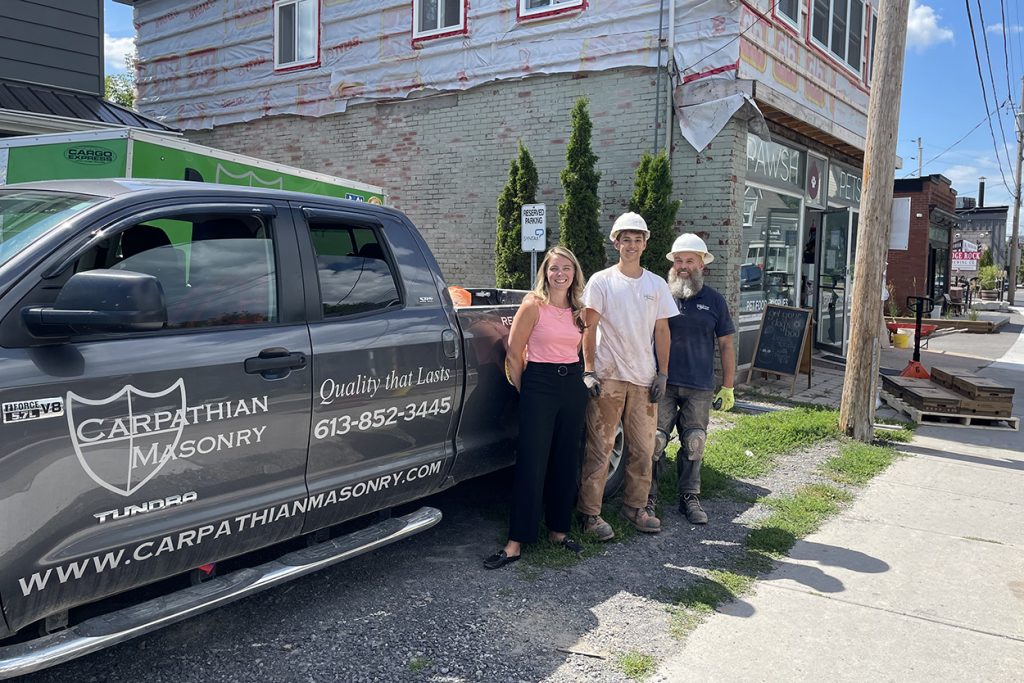 Throughout the summer I had the pleasure to check in with Canada Summer Jobs businesses in our riding, visiting Carp's Aspire Academy, Carpathian Masonry, Kanata's Hub350, and many others.
It's incredible to see that over 600 students were hired at local businesses across Kanata-Carleton this summer. The Canada Summer Jobs program creates valuable work experience for youth across our riding, setting them up for success in their future careers!
The Canada Summer Jobs program creates valuable work experience for youth across our riding, setting them up for success in their future careers!
Healthcare
In talking to residents at their doorsteps this past month, many of you have shared with me that the state of our healthcare system is on your mind—especially the recent temporary closures of emergency rooms across Ottawa. I share these concerns; our universal healthcare system should be equipped to serve Canadians whenever and wherever they need it.
While the Province of Ontario is responsible for the management of our province's healthcare system, the federal government is exploring innovative ways to stabilize our healthcare system on a national scale, including:
Transferring an additional $775.5 million to Ontario to respond to provincial healthcare backlogs;
Expediting the recognition of credentials of internationally trained doctors & healthcare professionals;
Prioritizing immigration applications from essential healthcare workers & nurses;
Pushing back against calls for privatization of essential health services and protecting our universal healthcare system; and
Focusing on results to ensure that federal healthcare funding is being used effectively by the provinces.
I encourage constituents to also share their feedback with our riding's Member of Provincial Parliament, MPP Merrilee Fullerton, who is best positioned to comment on the province's healthcare strategy. She can be reached at Merrilee.Fullerton@pc.ola.org.
Important Benefit Dates
Canada Child Benefit: Sept. 20 & Oct. 20
Canada Pension Plan: Sept. 27 & Oct. 27
Old Age Security: Sept. 27 & Oct. 27
Canada Workers Benefit: Oct. 5
Veteran Disability Pension: Sept. 28 & Oct. 28
Climate Action Incentive: Oct. 15
GST/HST Credit: Oct. 5
You can sign up for direct deposit to automatically receive benefits in your bank account. To do so, visit the Canada Revenue Agency website or call 1-800-959-8281.
Other Important Dates
Saturdays until Oct. 29: Kanata Farmers' Market
Saturdays until Oct. 29: Carp Farmers' Market
Sept. 5: Labour Day
Sept. 10: Carp Fitness Park (re)Launch
Sept. 15: International Day of Democracy
Sept. 21: International Day of Peace
Sept. 25: Franco-Ontarian Day
Sept. 20-26: Gender Equality Week
Sept. 30: National Day for Truth and Reconciliation
Oct. 1: National Seniors Day
Let's Keep in Touch
I continue to update constituents on important government events and programs on my website. Again, please don't hesitate to reach out by email Jenna.Sudds@parl.gc.ca or by phone (613) 592-3469. I'd welcome your input and look forward to working together.