Sterling tornado fundraiser Nov. 17
By Jake Davies - West Carleton Online
CONSTANCE BAY – Good neighbours are hard to find. Luckily for Dunrobin, just down the road is an entire village of great neighbours.
West Carleton Online has lost count of how many tornado relief fundraisers the community of Constance Bay has thrown for those affected by the Sept. 21 tornado. There's been comedy, music, food and any excuse possible for people to come together to help those whose lives were turned upside down by the twister.
Just last week, The Point Dining Lounge raised $4,000 for tornado relief. And the community is right back at it again this weekend.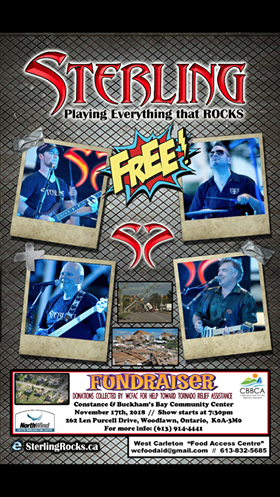 On Saturday, Nov. 17, Sterling will take to the Constance and Buckham's Bay Community Centre stage for a free concert raising funds for tornado relief assistance by donation.
The show starts at 7:30 p.m. and Sterling promises to play 'everything that rocks.'
"We're not labourers," lead singer Mike Griffin told West Carleton Online. "I don't think we have a chainsaw between the bunch of us, but we wanted to help out. That's part of being human."
The band has no ties to West Carleton other than being heartbroken about the devastation. They are familiar with community though. Griffin lives on the other side of Ottawa in Navan, a rural area very similar to West Carleton. Other members live in Orleans and Chesterville.
"I have three kids myself," Griffin said. "I can't imagine dealing with something like that without any help. I couldn't imagine being in that situation. Having everything one day and nothing the next. My heart goes out to them."
Sterling, which has opened for the likes of Canadian rock legends April Wine, knows how to rock a party.
"We play music for the older generation, music from the '80s and '90s right up to modern hits and put our own twist on it and make people happy," Griffin said. "Lights, smoke, the whole thing. We give that big concert feel in a small venue. If you've never seen us, c'mon out – it's a free show. Have a good time and get your mind off the anxiety."
The fundraiser is organized by Constance Bay resident Julie Maheral and sponsored by local businesses Happy Times Restaurant, the Constance Bay Pharmacy and the Constance and Buckham's Bay Community Association.
For more information, call 613-914-4441.