St. Mike's Remembrance Day rocks
By Jake Davies - West Carleton Online
FITZROY HARBOUR – It was a Remembrance Day service featuring politicians, a colour guard, remembrance and rocks.
St. Michael's Fitzroy Harbour Catholic School took their annual Remembrance Day service outside on Nov. 11 afternoon, and made some small changes to protect a small number of guests and students from COVID-19, and may have started a new tradition for the school as well.
The ceremony was held in Memorial Park, a fenced off section within Baird Park, created by the community in 2005.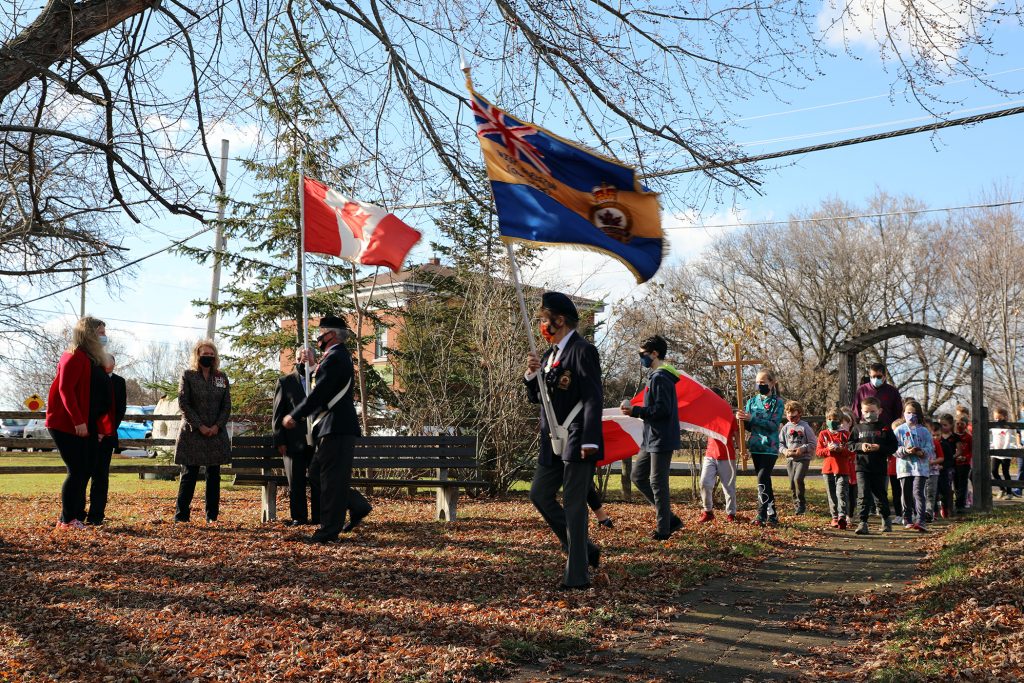 To keep the service COVID-safe, presentations were divided in to the four school cohorts. The service was held at 1:15 p.m. and the first cohort was led in to the park by a Colour Guard from the West Carleton Royal Canadian Legion, Branch 616, including comrades Arleen Morrow and Rob Gallant.
Each cohort shared a presentation, and each student had painted a rock in symbolic imagery and placed it at the trunk of the large tree within the park following each presentation.
The St. Mike's Kindergarten class sung O' Canada, the second cohort performed the Lord's Prayer, the third cohort performed the poem In Flanders Fields and the final cohort presented a closing prayer.
Coun. Eli El-Chantiry, MP Karen McCrimmon and St. Michael's Catholic Church Father John Orban attended the service as special guests.
St. Michael's Principal Chantel Couture-Campbell said the service was born out of necessity.
"With COVID-19 we had to be creative, we couldn't have our normal gym assembly, because of mixing cohorts," Couture-Campbell told West Carleton Online shortly after the ceremony. "We noticed this park was called a memorial park so we though this is a great place to do this. So we found a way to have each cohort present their contribution, and lay a special rock to commemorate the day."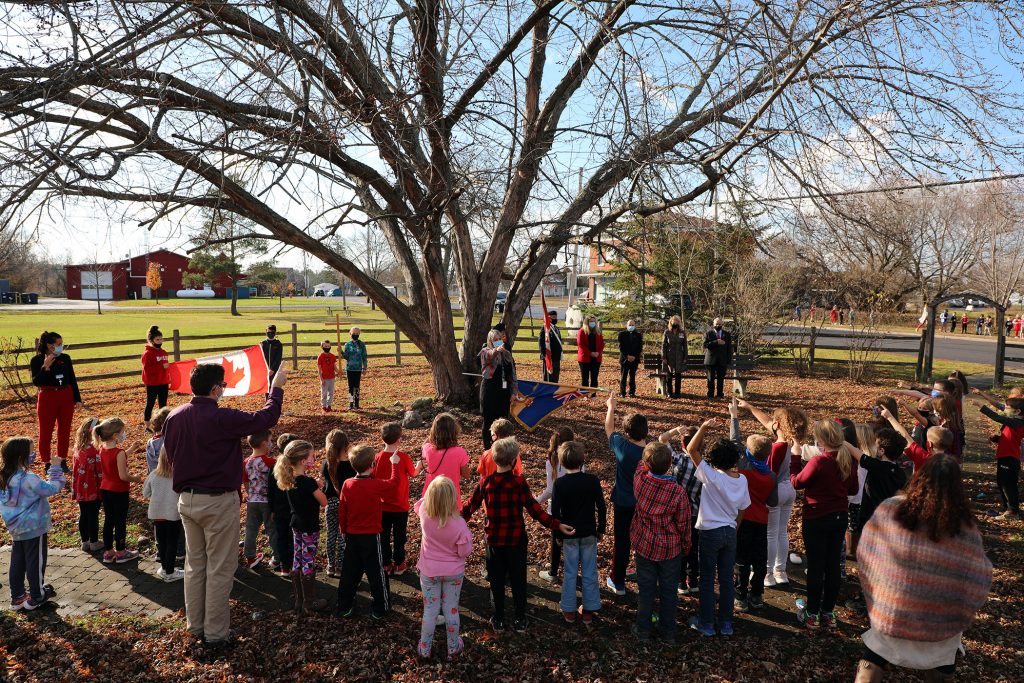 This also allows the school to share part of the service with the Fitzroy Harbour community.
"We hope the community comes around and has a look," Couture-Campbell said. "I see a couple people right now having a look."
And even the weather cooperated, providing the warmest Nov. 11 in several years.
"It's hit and miss on Nov. 11, so we we're very grateful to see the sun come out," Couture-Campbell said.
A brand-new tradition for the ceremony was having students paint rocks to be left at the foot of the tree.
"Each child received a fairly large river stone, and they painted a poppy or crosses or something symbolic of Remembrance Day," Couture-Campbell said. "So, there are lots of poppies. Just seeing them all together is really quite beautiful."
Guests in attendance agreed.
"What a wonderful ceremony," McCrimmon, who is a retired member of the Canadian Military, told the principal.
"Yes, we had to be versatile, but we might just be starting a new tradition as well," Couture-Campbell said.