Smith family tours DSYTC site
Special to WC Online
CARP – The dream is starting to take shape and Dave Smith's family dropped by his life-long vision, a state-of-the-art youth treatment centre now under construction in the Carp Road Corridor, and widow Darlene Smith is blown away by what she sees.
The 30-bed, 25,000 square-foot (2,322 sq.-metres) Dave Smith Youth Treatment Centre (DSYTC) has come a long way since the groundbreaking ceremony last June. The roof is on, and the walls are up, and it looks fantastic.
The DSYTC at its 1895 Bradley Side Rd. location, has a main hall entrance that will feature two classrooms, a kitchen, offices for staff and many other amenities. There are lots of windows, and the facility is beautifully designed and built to last. The sightlines allow counsellors to see down the halls of both wings from the reception area.
There are two identical wings, each with 15 beds. Each room has its own washroom and is fully accessible. The centre will have radiant heating, and while most rooms are double-beds there will be a couple of single bed rooms for special cases including, perhaps a COVID-19 infection.
The walls will have wood up to six-feet high (two metres), with drywall to the top. This will help keep the centre looking its best for years to come. Past experience of fixing holes in drywall have taught the DSYTC team that.
Rooms are roughly 200 sq.-ft, up from the 100 to 110 sq.-ft rooms the current facility has.
There will be a greenhouse and one of the DSYTC therapists is currently taking a course on horticulture therapy. Later they hope to add a basketball court and other outdoor amenities.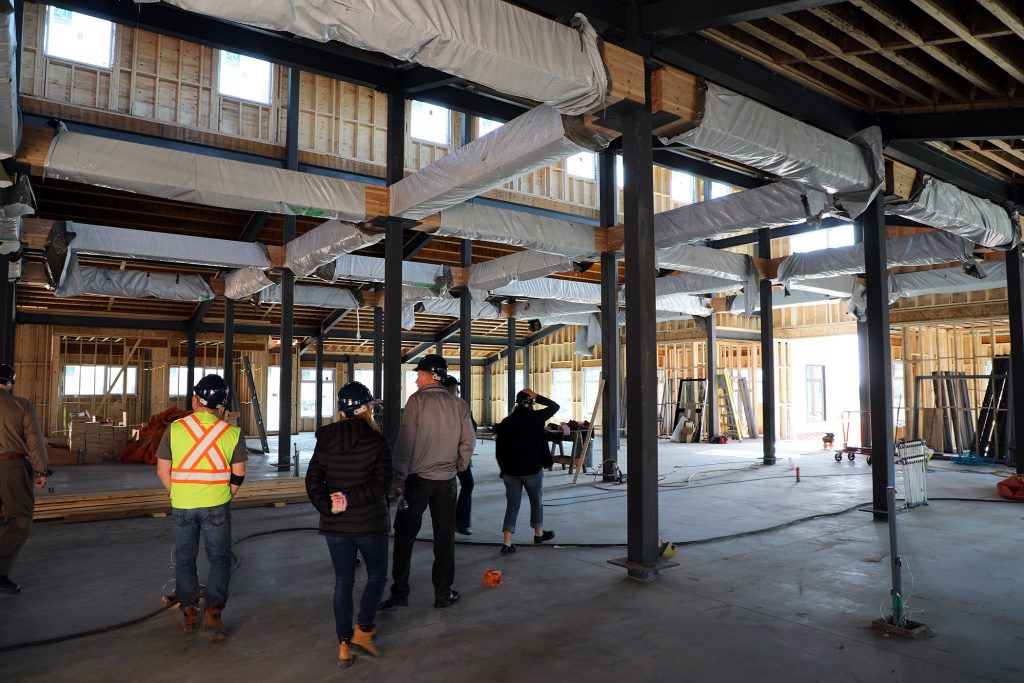 "This was always Dave's dream," Dave's widow and partner in philanthropy Darlene Smith told West Carleton Online during the tour. "The miracle is happening."
Darlene joined Dave's family Sharron Smith, Cheryl McLaren, John Guinn, Allan McLaren and DSYTC senior director of philanthropy Cindy Manor on a tour of the roughly $20 million facility.
"I call it the field of dreams," Darlene said. "We can keep this place filled for years, unfortunately."
Darlene dropped by the construction site for the first time since the ground-breaking last Easter weekend.
"It was such a moment," she said. "It was 30 years ago, and I didn't know where we were going. The day we cut that ribbon on the new centre is going to be a wicked day. I just could not believe from talking to Dave all that time ago, to seeing it happen. I don't know what I thought at the time, but when I saw this, I thought yes, this is it. I could feel Dave's energy. We always believed every kid that is going through this is our kid."
Darlene says, while Dave led the way, this took a team to get here.
"The team of people involved in this are angels without wings," Darlene said. "They are true believers and they're getting it done. You need a village."
Darlene married Dave when she was 26 and he was 56. They met at an AIDS benefit. Dave was born and raised in Ottawa to Russian-Jewish immigrants, Smith established himself in the business community by starting Nate's Deli, which spawned a successful catering business and later, several other popular restaurants.
He raised more than $140 million for local, national and international charities over the years, while founding both his eponymous drug treatment centre in 1993 and the Ottawa Technical Learning Centre.
He has received both the Order of Ontario and the Order of Canada. Dave passed away at 87 in September 2020.
"Dave was quite a force," Darlene said through some tears. "He was his own man. When he wanted something done, he did it. He never said no to anyone. He instilled in people a want to give and to help. I never met a person like Dave. That connection he had with people was incredible."
Darlene says she has a lot of Dave memorabilia she is going to donate to the centre once its opened. She says she might be able to help out in the kitchen as well.
"We can show them how to make a smoked meat sandwich, no doubt about that," Darlene said.
Once complete the new DSYTC will provide youth aged 13-21 and their families in Ontario with integrated, live-in, evidence-based addiction and mental health treatment, delivered by competent professionals within a caring and compassionate environment.
The DSYTC is $2.9 million shy of its fundraising goal ahead of an expected 2023 opening. If you are interested in contributing, click here.