Rivermen release schedule, sign talent
By Jake Davies - West Carleton Online
WEST CARLETON – The West Carleton Rivermen have (mostly) built their roster, know their schedule and are ready to take a run at the Eastern Ontario Senior A Hockey League (EOSHL) championship in its inaugural season.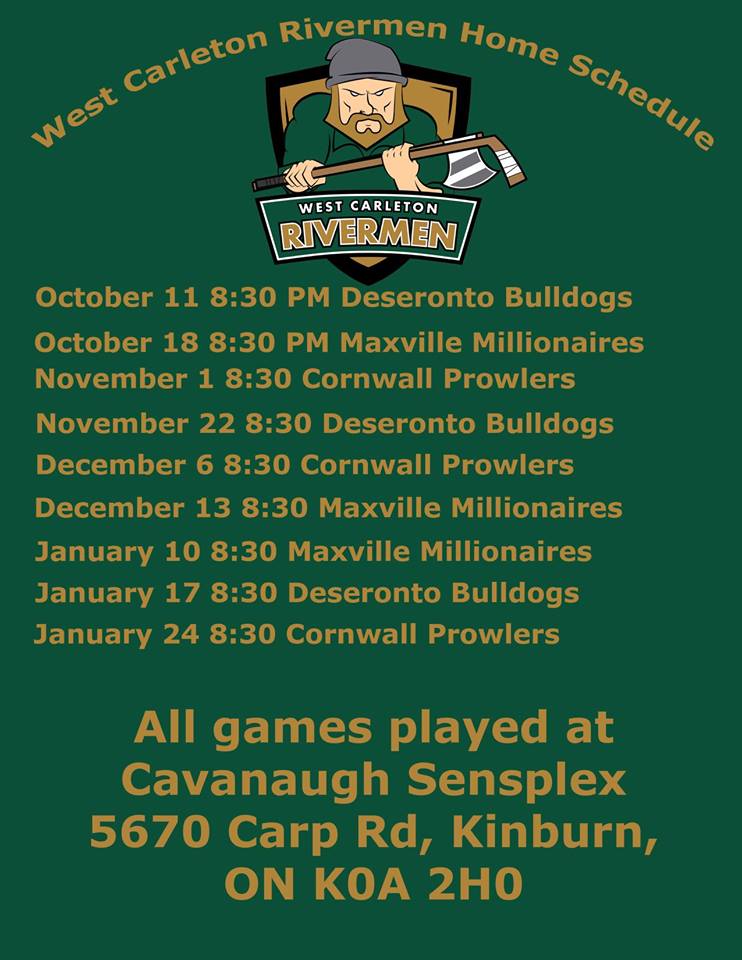 The Rivermen, owned and launched by Galetta's Adrian Moyes who also plays on the team, will play it's first home game on Oct. 11 at 8:30 p.m. against the Deseronto Bulldogs at the Rivermen's home rink, the Cavanaugh Sensplex in Kinburn. The EOSHL season starts Sept. 28.
The team has nine home games with the last regular season game on Jan. 24. All games are Friday nights starting at 8:30 p.m.
The Rivermen named Mike Byrne head coach earlier this year and held tryouts at the end of August. Since tryouts the team has been signing players to make up the core of the inaugural squad. The team has put together a squad with a lot of experience in a lot of different leagues. Here is a look at some of the more recent signings.
West Carleton native Josh Snider joins Moyes as hometown boys on the team. Snider played last season in the Ligue de Hockey Senior A de l'Outaouais (LHSAO) where he had 43 PIMs in 10 games. He can play both forward and defence.
Forward JP Augustine played four years with the Athens Aeros junior hockey club and will be counted on to play an offensive role for the Rivermen.
Another forward counted on to provide offense with be Blake Forslund. Forslund played four years of CIS hockey with Laurentian, and spent last season in the LHSAO, where he had 14 points in 11 games.
Forward Ryan Lough played four seasons in the NCAA at Saint Louis University and has played parts of the last two seasons in the East Coast Hockey League.
Mike Evelyn played the last five seasons in the CIS for Dalhousie and will be a force up front for the Rivermen.
Forward Alex Hulford played the last four seasons with Davenport University and tallied 60 points in 34 games in his final season. He was also named American Collegiate Hockey Association Player of the Year.
On the back end, Ryan Duhaime will bring more than 100 games of OHL experience to the Rivermen blue line. A key member of the defence will also be Ben Beasley who played four seasons at SUNY Canton and last season with Trollhattens HC in Sweden.
Goalie Dave Stathos has had a long hockey career, playing four years at Princeton and in both Sweden and Finland.
For more information on the Rivermen and how to secure tickets, visit their Facebook page here.