Rivermen looking up in EOSHL west after weekend split
By Jake Davies - West Carleton Online
ARNPRIOR – The Arnprior Rivermen won one and lost one in an Eastern Ontario Super Hockey League (EOSHL) doubleheader weekend and now find themselves looking up in their division.
The Rivermen (1-2-0) sit in fourth place in the six-team EOSHL West Division, but only two points separates first place from last place in the early goings of the season. The top four teams in each division makes the playoffs.
The Rivermen won their first road game of the season on Oct. 7, 7-4 against the Smiths Falls Rideaus (2-2-0).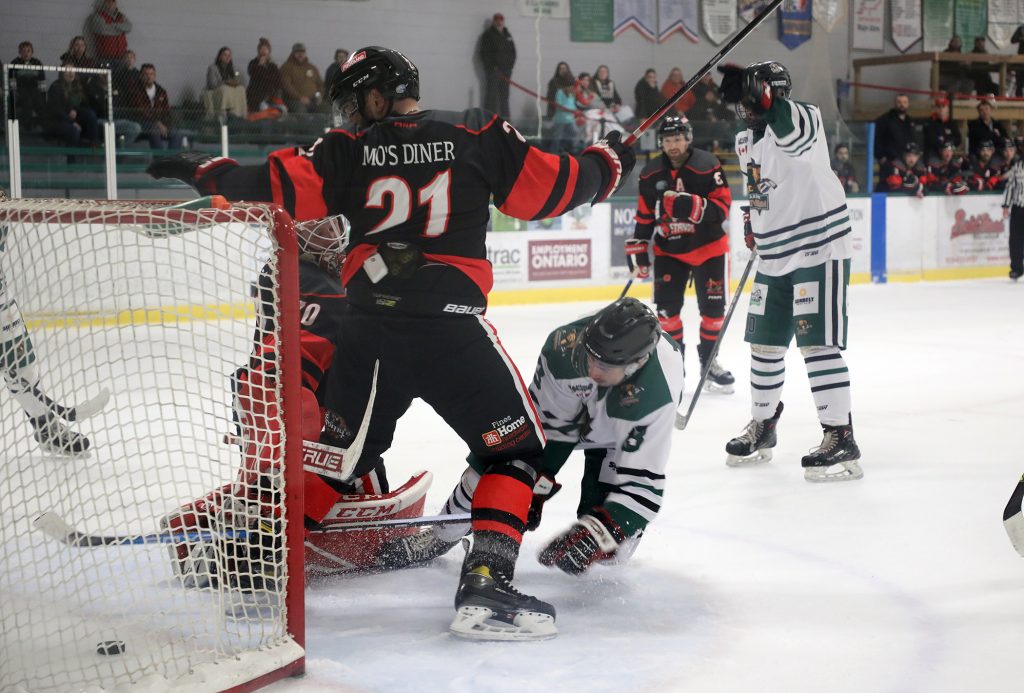 Forward Ryan Peck was named the first start at the Smith Falls Memorial Community Centre in front of 175 paying fans. The Wakefield, QC, native scored three goals and added an assist for the Rivermen. The 23-year-old played junior hockey with the Outaouais Académie Junior, Blind River Beavers and Navan Grads of the CCHL.
Another Rivermen newcomer Luca Nocita was named third start with a goal and two assists. Nocita is a 23-year-old Kanata native who played five seasons for the Kanata Lasers of the CCHL.
"Friday was one of the better team games we've played in team history," Rivermen coach Mike Byrne told West Carleton Online. "We got excellent goaltending from Patrick Killeen which in turn, allowed us to take more chances offensively. Altogether, we did very well on special teams, and our focus on details was about as good as I could ask for. Ryan Peck has a been an awesome addition to our team. Him and Luca Nocita are already showing great chemistry, and I'm confident it will continue to get better. Ryan is a good player at both ends of the ice and someone I can count on in all situations."
Saturday (Oct. 8) back in Arnprior was probably a game the team and coach would have already wiped from their memory banks if West Carleton Online didn't ask Byrne about it yesterday (Oct. 13). The South Stormont Mustangs (3-1-0) of the EOSHL East Division came to the Bert Hall Arena and scored 14 goals on the Rivermen who were only able to score three during the game.
"I'm not going to make excuses for Saturday," Byrne said. "We had a decent first five to 10 minutes, but once the bounces started going their way, we never really rebounded. We left the rink in Smiths Falls after 10 p.m. Friday, and we were back on the ice for 4 p.m. Saturday, so I certainly wouldn't say that helped. That said, believe it or not, there were some bright spots. Our powerplay continued to move the puck well, and we had some new additions in the lineup who showed great flashes. All of that to say, whether we lost 4-3, or 14-3, a loss is still a loss and we'll rebound."
The Rivermen were also short staffed with only 15 skaters and one goalie.
This Saturday (Oct. 15) at 4:30 p.m. the Rivermen are back at the Nick Smith Centre (77 James St.) to play the EOSHL West Division leading Gananoque Islanders (2-0-0). It was the Islanders that knocked the Rivermen out of the 2022 playoffs last March as well.
"Gananoque is an awesome team and they certainly proved that last season and so far this season," Byrne said. "That said, we are nearly a brand new team, so I am not sure the rivalry really exists for most players. Ideally, I'd like to see us focus on our defensive play and get as many pucks to the net as possible."
The Rivermen can move in to first place in the EOSHL West with a win. Tickets to the game are $10 for adults with youth 18 and under free if accompanied by a paying adult. This season the Rivermen now have a licensed area within the arena where local craft beer and spirits are available.