Rivermen host record crowd at finale
By Jake Davies - West Carleton Online
ARNPRIOR – The Arnprior Rivermen (10-9-1) hosted a record crowd Sunday (Feb. 5) for their Eastern Ontario Super Hockey League (EOSHL) regular season finale, and hope to see similar numbers for their first playoff game scheduled for the Bert Hall Arena in Arnprior Saturday, Feb. 18.
An announced crowd of 306 took in the Rivermen's final regular season game, sponsored by the Town of Arnprior. It was triple the size of the average crowd. Attendance is something team owner-player, Galetta's Adrian Moyes, general manager and coach Mike Byrne and Moyes literal family of volunteers has worked on attracting all season long, and frankly, both seasons the former West Carleton Rivermen have played out of Arnprior's Nick Smith Centre since moving there last season.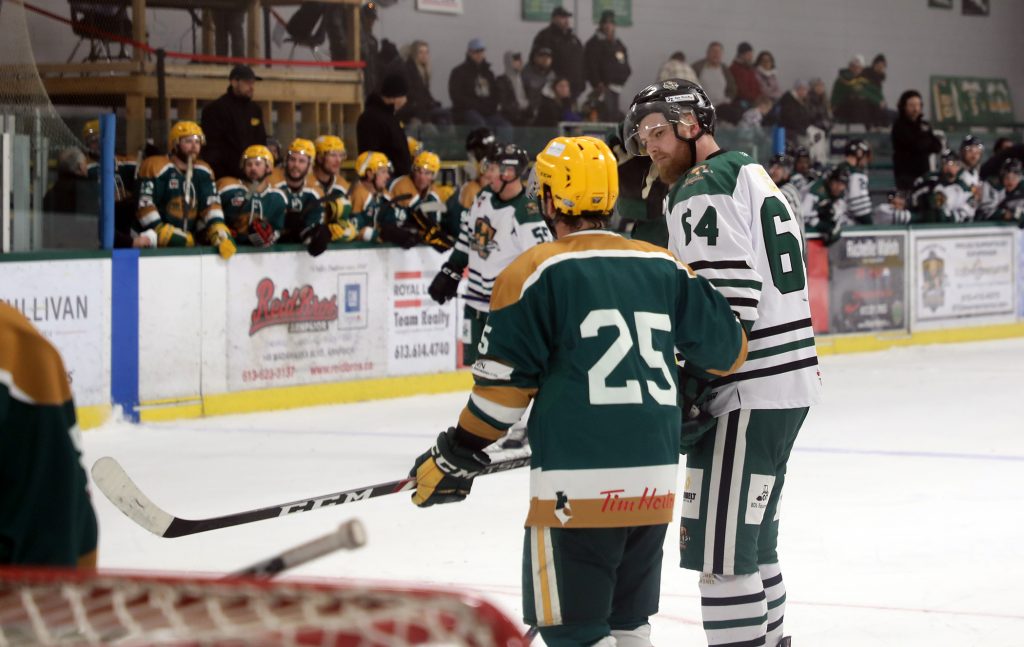 The high level hockey played in the 12-team eastern Ontario, western Quebec Senior A league features many players with semi-professional, Junior A, Junior B, university or NCAA experience. Moyes played professionally in Germany in the Oberliga for a few years before returning to West Carleton and playing senior A hockey in the area.
The home games feature chuck-a-puck contests, 50-50s, and occasional giveaways. The team was able to add a licensed section in the stands this year so fans could enjoy locally brewed beer from Arnprior's Cold Bear Brewery.
The hockey is fast paced and physical, but certainly not a 'goon league.' The Rivermen have only two fighting majors this season, and they came in the same game.
So far this season, the Rivermen have drawn an average of under 100 fans per game. In other parts of the country, western Canada and Quebec specifically, senior A hockey is very popular, with some teams regularly attracting more than 1,000 fans. Even in the EOSHL, some of the teams are attracting 250 to 300 fans regularly to their home games.
Sunday's game, against the Tweed Oil Kings (12-6-1) was a battle for second place in the EOSHL West Division. The Rivermen fell 5-3 after giving up three early first period goals. The Rivermen got goals from John Enright, Brett Ashton and Luke Peck – three of the last four goals of the game in a comeback effort that fell just short.
Despite the loss, Byrne said the boys enjoyed playing in front of a large, engaged crowd.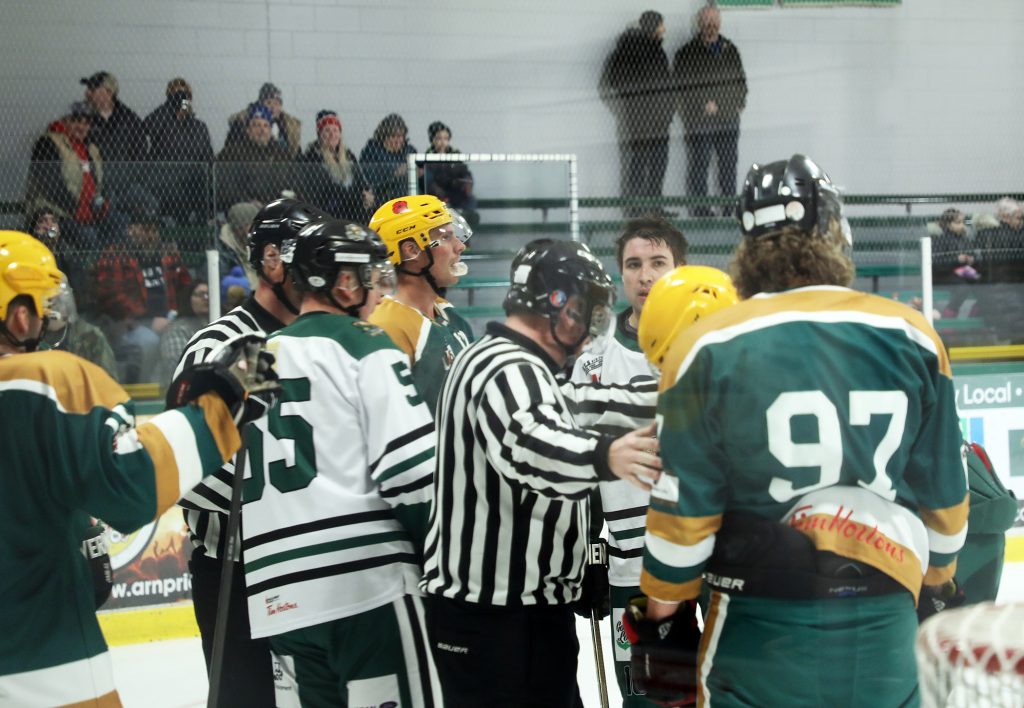 "Incredible atmosphere, and something we'd love to play in front of on a regular basis," Byrne told West Carleton Online yesterday (Feb. 6).
While the playoff date is set, and the Rivermen will be hosting, they are not sure who that is yet. In the six-team EOSHL West Division, the top two teams get a bye in the first round (Gananoque Islanders and Tweed Oil Kings). The next two teams host a playoff game with the bottom two teams in a must-win situation. If the home teams win, the series is over. If the away team wins they will get a chance to win the series at home in a second game.
The Rivermen are the only team to have finished their season in the league. The other five teams in the west division each have one game to play, and in the east division, three teams still have two games to play.
"We'll be hosting the first round, against either the Frontenac Phantoms (3-15-0) or Deseronto Bulldogs (9-10-0)," Byrne said. "Basically, we play at home on Feb. 18. If we win, we move on. If we lose, we play on the road on Feb. 19. There will be a lot of scoreboard watching this weekend. If Smiths Falls (9-8-1) wins, we finish fourth and play Deseronto. If Smiths Falls loses, they finish fifth and play Deseronto. Should be interesting."
While Byrne is focused on the future and the playoffs, a quick look back leaves him a little disappointed with the Rivermen's regular season.
"The regular season left me wanting more," Byrne said. "I believe our team is better than our record shows, but at some point, we have to start winning more games. We're a young team, with lots of potential, and I still think our best is yet to come."
Byrne hopes that best arrives Feb. 18.
In the EOSHL East Division the North Dundas Rockets have first place locked up, currently with a 17-2-0 record. The South Stormont Mustangs are in second (14-2-2), Bytown Royals (12-5-1) third, Cornwall Prowlers (5-10-3) fourth, Glengarry Pipers (3-13-1) fifth and the South Grenville Rangers (2-14-2) in sixth.