PPC surge felt in Carp Sept. 15
By Jake Davies - West Carleton Online
CARP – The People's Party of Canada (PPC) Kanata-Carleton candidate Scott Miller was feeling the love last night (Sept. 16) as roughly 60 supporters turned up to listen to the candidate speak at Carp's beautiful Aquatopia Conservatory.
Perhaps it was the grassroots evidence of an apparent nation-wide surge the PPC's are enjoying the last week of the campaign, but last night's event had all the accoutrements of one of the bigger, established political party's events.
The event was held in a swank location, the Aquatopia Water Garden Conservatory, recently named one of the top 10 wedding locations in Canada. The auditorium was filled with an enthusiastic crowd and there was a line-up of speakers to fire up the crowd even more. There was even live music.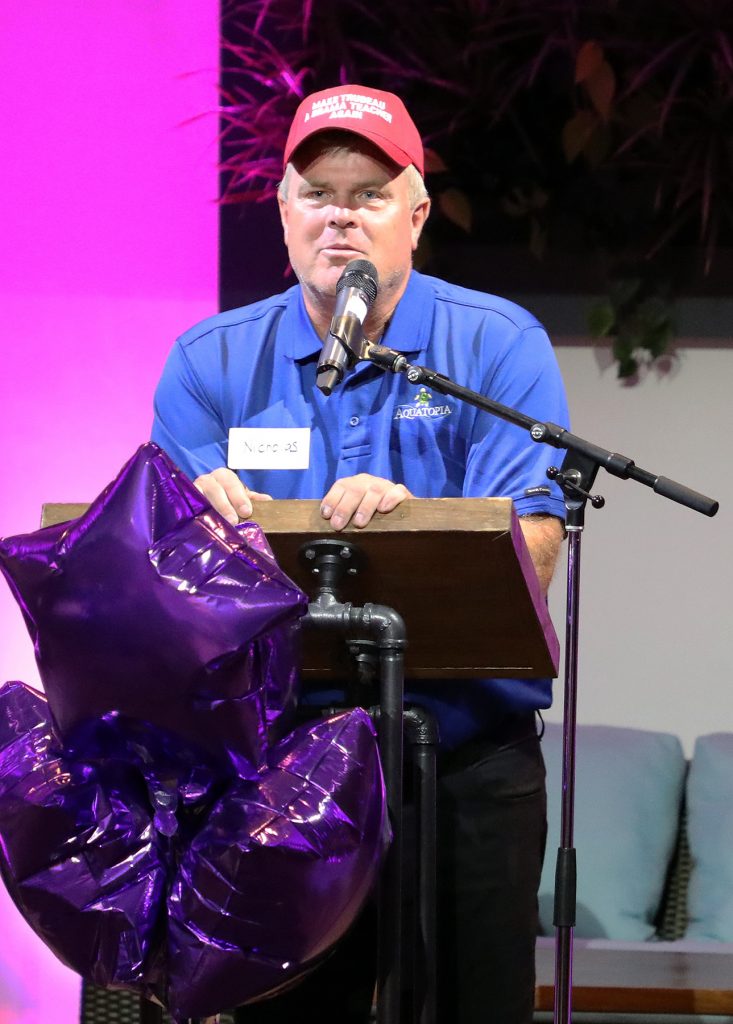 Nicholas Bott, who co-owns Aquatopia with his wife Catherine Neville, started the project to build the multi-business facility almost seven years ago.
What started out as a $1 million project quickly grew to a $4 million expense due to "regulatory expenses."
Once it was finished, the husband and wife had a new issue.
"Now what do we do?" Bott said. "We're in debt. I'm a pond builder. We had never been in the wedding business, the hospitality industry. We just did it by gut. We never had a bias as to who we would host here. We had this vision and intuition and we trusted it. With the PPC we knew they had that sense of intuition."
It goes without saying, the hospitality industry has been one of the most harmed by the continuing lockdowns used as a response to the COVID-19 pandemic.
Forty per cent of Canadians don't vote," Bott told the crowd. "Like him or hate him, Donald Trump became president of the United States because he appealed to a disenfranchised part of his country that felt completely abandoned by the politicians that were supposed to be serving them for decades and decades."
Bott says while things are different in Canada, there are a number of similarities, especially amongst small business owners.
"Now, for a whole bunch of different reasons to what's happening here now, and it's a very different political situation here in Canada, although the principles are the same," Bott said. "Those are the people who are going to vote, and the number one reason they won't vote for the PPC, is not because they disagree with their policies. It's because they don't know the PPC exists. That's the number one big challenge Aquatopia faced when we opened the business six and a half years ago. You would not believe the number of people, to this day, who say 'wow, what a lovely place, I didn't even know you guys were here.' And that's what's going on right now. If I can encourage people to do one thing leaving here tonight, just let people know the PPC exists. That this is an option. Trust your sense of intuition and just let people know they exist. I'm actually kind of tickled this many people showed up."
Miller's social media and events manager Jill Greenwood introduced the man of the evening.
"The PPC is not popular with many people," Greenwood said. "I know some of you here are feeling isolated and ostracized and I just want you to know you are amongst friends this evening and I can't tell you how my heart has been filled by volunteering for this campaign."
Miller was greeted with applause.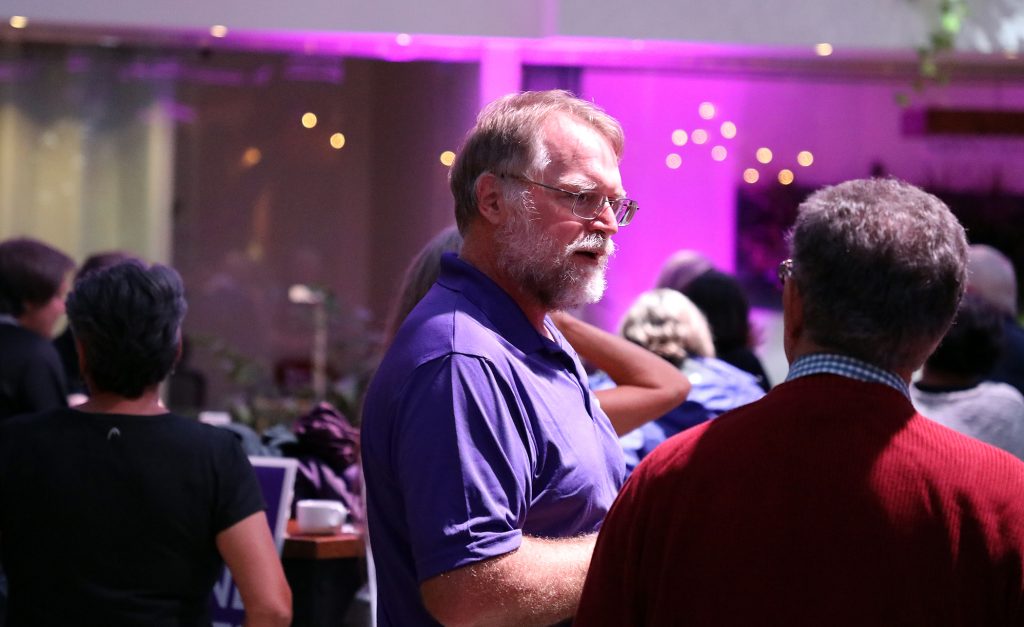 "I can't believe how outside my comfort zone this is," he told the crowd. "I'm a software engineer. The lockdown is not affecting me. But it's not me I'm here for. The lockdowns have been murder on businesses, on kids, and I mean literally murder, on cancer patients. Healthcare has suffered. As soon as they announced the first lockdown, they sentenced thousands of people to death. Not immediately, but it's going to happen. With the despair people are feeling. There's no voices out there saying 'this is nuts, we're doing more harm than we are helping.'"
Miller says he will say no to lockdowns, no to vaccination passports.
"There is no doubt, we are being coerced," he said. "I'm quite puzzled. I'm not vaccinated. I looked at the data we had available, six months ago, and I said, no, not for me. I've had most of my shots, all of my life, but this one, especially the messenger RNA one, that is interesting. So far, we haven't had a zombie apocalypse. Now the full court press is happening on the kids."
Miller has been a volunteer Scouts leader for several years, but now that's changing.
"I learned today (Sept. 15) Scouts are going to require vaccinations for all kids and all volunteers," he said. "That's a big one, that's going to hurt. We're out. We stepped up to help these kids all winter long. We're not going to do it anymore. Even if I was vaccinated, I would participate in something like that. It's a constant barrage of fear from the media and the politicians."
Miller says that barrage of fear, and Canadians no longer kowtowing to it, is behind the modest surge in popularity the PPCs are currently enjoying in the last week of the campaign.
"I've done the best I can," he told the crowd. "I have a great team of volunteers. Are we getting through? I don't know. I hope so. They called us 'the deplorables' today and I think they think that's a bad thing. Thank you for being here."
Miller then spent more than 40 minutes answering questions from an engaged crowd.
Miller spoke to West Carleton Online today (Sept. 16) to talk about the largest campaign event his team has ever organized in his now, second election campaign.
"I was very pleased with the turnout," Miller said. "I had met some of them before. But many were new faces."
Miller said, throughout the campaign, he has spoken to a lot of riding residents with eastern European backgrounds, and they are worried about the constant lockdowns.
"They've seen this before," Miller said. "That's why they left their home countries. They've been warning me."
But the event was not about generating fear, it was creating hope for the local PPC candidate.
"It put some wind in my sails," Miller said. "I am connecting with people, and it seems to be working."
Miller says the PPC is growing within the riding, with more volunteers and more money this time around, and he, as well as many in the audience last night, hope the PPC, no matter what happens on Monday (Sept. 20), continue to grow.
"Whatever happens, we'll be the talk of the town Monday and Tuesday," Miller said. "As a spoiler or as an up and comer."