Ottawa River stabilization buys time
By Jake Davies - West Carleton Online
(Editor's note: As we did during the 2017 flood, 2018 tornado, 2019 flood and COVID-19 pandemic, we are making our coverage of potential extreme flooding in 2023 free access to our entire community providing flooding updates, on-site coverage, important information and resources to West Carleton and beyond, so those outside the area can better understand what is happing in our rural community)
DUNROBIN SHORES – The riverside community east of Dunrobin, affectionately known as Dunrobin Shores, spent the weekend shoveling sand, thankful forecasted rains did not show up to add to an already very high Ottawa River.
Levels of the Ottawa River at Constance Bay took a very small dip over the weekend, providing volunteers and homeowners some extra time to build sandbag walls, trying to keep the water out of their homes.
A called for 15 to 25 millimetres of rain expected over the weekend did not materialize, but a strong downpour on the sandbaggers of Dunrobin Shores Saturday (April 22) afternoon was certainly very triggering.
Sunday (April 23) at 9 p.m., the water level was measured at 59.99 metres above sea level. Down one centimetre from April 21.
The three-day forecast is for another drop of about 9 cm. For context the peak in 2017 was 60.44 m and in 2019 it was 60.75 m.
But the current level is enough to lap at many homes throughout West Carleton, and experts warn the river still has a potential second peak to go, with the spring freshet at the northern end of the Ottawa River yet to reach West Carleton.
So, sandbagging continues at the start of the second week since the flood warning was issued.
Over the weekend, there was sandbagging, and there were several activities supporting the sandbaggers.
The volunteers of St. Gabriel's Catholic Church in Constance Bay kicked off their bottle drive season on Saturday (April 22). But the volunteers decided to redirect the money raised for the church to West Carleton Disaster Relief (WCDR) to support the flood relief effort.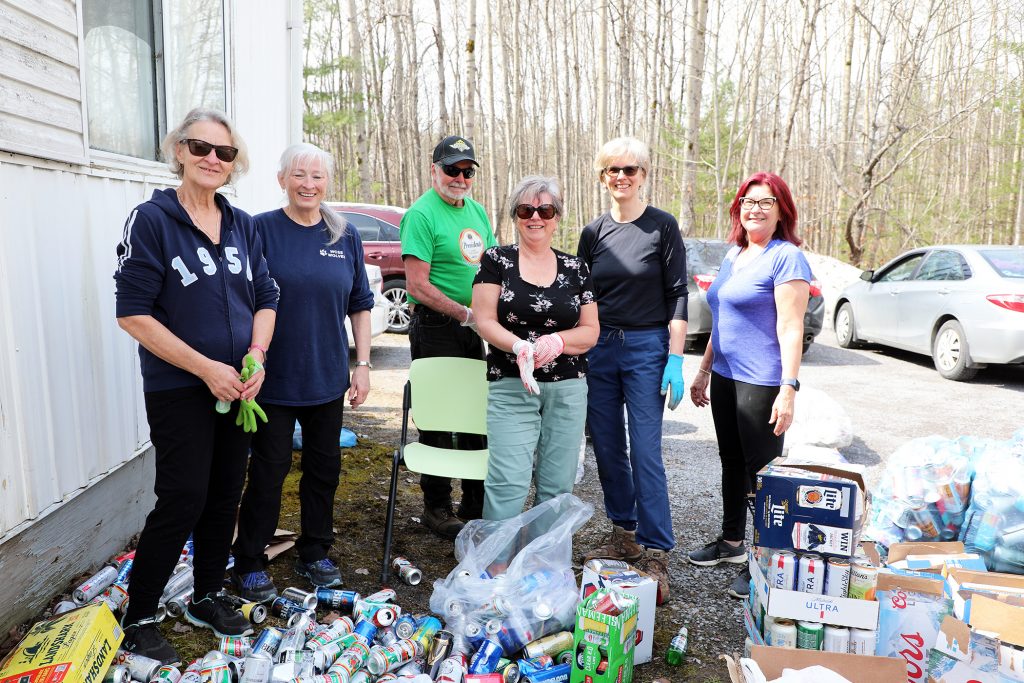 "The response has been very good," St. Gabriel's volunteer Martine Messier told West Carleton Online Saturday while volunteers sorted through piles of cans and bottles. "We had a pile waiting for us. I think we're going to be able to bring a good amount of money to the WCDR."
Obviously, it was too early in the day to have a count of the money raised, the event wasn't half over when West Carleton Online was present, but St. Gabriel's volunteers have run the monthly spring and summer bottle drive for a few years now, and it even took over some of the church's pre-COVID fundraisers, due to the support of the community. Because it was the first drive of the season, many residents who donate every year, were stockpiling their empties over the winter months in preparation for the event.
And in true Canadian fashion, one donator even apologized for the state of the cans she was donating.
"Sorry, they're all a little wet," West Carleton Online overheard. "We had to walk through the flood to get them from the shed."
Messier, a Constance Bay resident herself, said it was an easy decision to redirect the funds to WCDR.
"We had planned to have our first bottle drive on April 22," Messier said. "We were thinking about the flood and thought it might be a bit selfish to fundraise for the church during this time. So, we delayed it by a week and decided to donate the money to WCDR. The people and the community centre have been very generous to us over the years. We're seeing some new faces this morning and we've been told people appreciate the service."
At Dunrobin Shores, in the early afternoon, about 15 people are working at the Greenland and Armitage sand-filling station. There's a small trailer, donated by Bell, serving as command centre for the area. Inside it, flood plain maps are pinned to the wall, a computer and some communication equipment and charging stations are set up. Volunteer firefighter Paul Asmis, who phoned Coun. Clarke Kelly April 18 to volunteer his services for flood relief once again, was there coordinating the response.
City of Ottawa trucks drive down Greenland Road at fairly regular intervals, bringing loads of pre-made sandbags to the site.
Asmis directs West Carleton Online to the lowest-lying areas of the community.
There, a handful of volunteers from both Christian Aid Ministries Canada (CAM) and the West Carleton community, are helping build a sandbag wall with their feet in the river.
While the river had stabilized at that point "it's definitely not going down," a volunteer from West Carleton said. "It's nice to be ahead of it for once."
The team of about 10 are rebuilding a wall that was improperly built the first time around. That's when a strong rain started out of nowhere, very much looking like the start of the roughly 25 mm expected over the weekend. The volunteers didn't even look up.
Fortunately, the rain stopped a few minutes later.
The CAM brought four volunteer members and a ton of expertise from their rapid response services team to help Saturday (and several other days so far).
"They've been amazing," Asmis told West Carleton Online. "Helping out time and time again."
They were in West Carleton in 2017 for the first major flooding event in the area. Back in 2018 for tornado recovery, back in 2019 for more extreme flooding, and now back again in 2023 helping get ahead of it this time around.
"Unfortunately, they're on speed dial," Asmis said.
Tim Horst is leading the team Saturday. He's not one who likes to spend time talking to the media but does it to help raise awareness of the situation. More volunteers are needed, and if things deteriorate here, he says the CAM has some more help to give as well.
"There are more on reserve if we need them," Horst told West Carleton Online.
CAM, headquartered in Moorefield, ON, has four units across Canada helping people when they need help most.
The four units can respond to disasters in roughly a 12-hour radius around each unit's home base. Horst says things are looking pretty good in Dunrobin all things considered.
"Paul and Doug (Drain) have things well in hand," he said. "We're being proactive. When the wave comes, we'll be ready. This community is fortunate to have these fellas here."
With that, Horst is back to work, helping protect a community he neither lives in, nor was born in.
CAM of Waterloo, operating as Christian Aid Ministries Canada was founded in 1984 as a non-profit, tax organization. Its primary purpose is to provide an exempt trustworthy, efficient channel for Amish and Conservative Mennonite churches and individuals to minister to physical and spiritual needs around the world. Other groups and individuals are also welcome to participate.
CAM depends on the generosity of volunteers who donate thousands of hours of their time each year at the warehouse and on Crisis Response Program projects. Aside from management, supervisory personnel, and bookkeeping operations, CAM of Waterloo operates mostly on help from volunteers to sort clothing, insert newsletters for mailings, rebuild in natural disasters and help with various other projects.
WCDR continues to recruit local volunteers with sandbagging efforts and other related jobs, if you would like to assist, if you need flood assistance, or you would like to donate to flood relief, visit the WCDR website here.
To see all West Carleton Online's 2023 flood coverage, click here.