Ottawa River to stabilize this weekend
By Jake Davies - West Carleton Online
(Editor's note: As we did during the 2017 flood, 2018 tornado, 2019 flood and COVID-19 pandemic, we are making our coverage of potential extreme flooding in 2023 free access to our entire community providing flooding updates, on-site coverage, important information and resources to West Carleton and beyond, so those outside the area can better understand what is happing in our rural community)
WEST CARLETON – After weeks of high water, rainy days and endless sandbagging, the sun came out this morning (May 5) and the Ottawa River is expected to stabilize this weekend after peaking at some point today.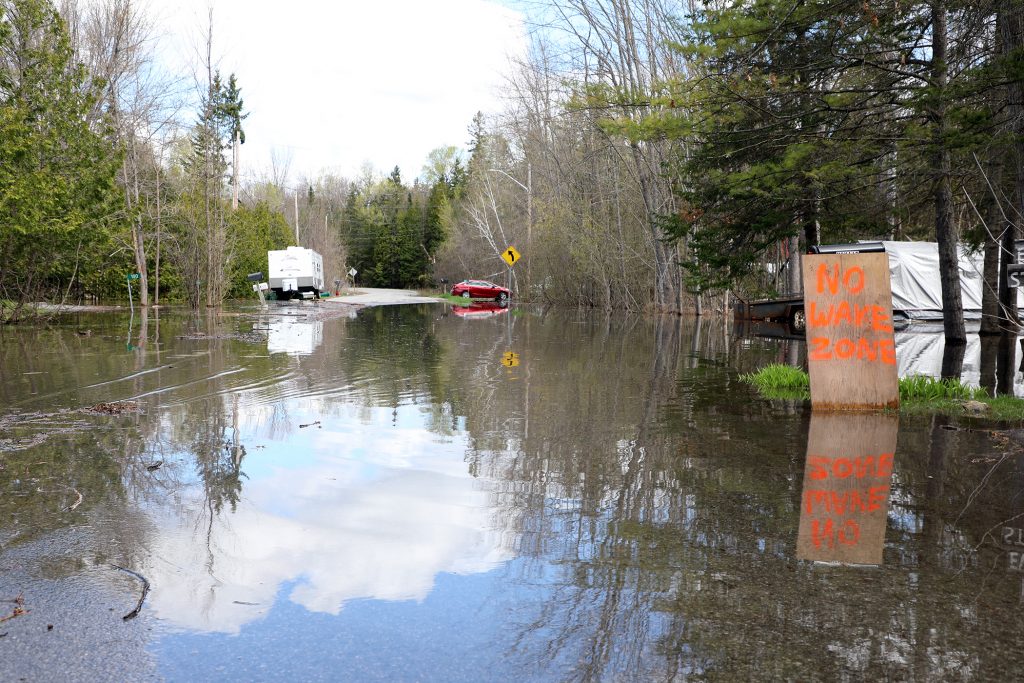 The city's Public Safety Service director Beth Gooding shared some good news with the mayor and council in here evening update on flood conditions last night (May 4).
"The recent precipitation has been concerning in that we've seen water levels along the main stem of the Ottawa River rise in all locations," Gooding wrote in a memo to council last night around 6:20 p.m. "We know residents living in flood-prone areas have had a stressful week. The latest forecast from the Ottawa River Regulating Committee (ORRC), however, indicates water levels and flows are expected to stabilize into the weekend and should start to decline slowly next week with the return of sunny and drier weather."
Based on the current situation, the city has maintained its response posture this week:
Public Works Department staff filled sandbags for on-going distribution in neighbourhoods impacted by flooding
The Emergency Operations Centre (EOC) has deployed additional portable toilets and is making water available to impacted areas in West Carleton where septic systems and private wells have been affected by flooding
Neighbourhood flood water level assessments continue to be performed by city staff in West Carleton, Britannia, and Cumberland. In a handful of cases, Ottawa Fire Services is making visits to specific homes that have been identified to the city (either by residents or partner organizations) as requiring an additional level of check-in
The EOC continues to monitor and address impacts to city-owned roads, pathways, and parks. The list of impacted city sites is updated regularly at ca/springflooding.
The EOC's Community Supports Task Force is liaising with a range of internal and external partners to anticipate resident needs, including related to mental health, such that the right supports are available.
"Whenever there is any flooding, it is vitally important to prioritize the health and safety of residents, as well as responders and volunteers in the area," Gooding said. "The Electrical Safety Authority is working closely with local utility providers to assess where it may be necessary to disconnect hydro due to flooding. Enbridge Gas has also attended flood-prone areas to assess where properties may require natural gas to be shut off due to elevated water levels."
Gooding says she is respectful of the impact these moves will have on residents.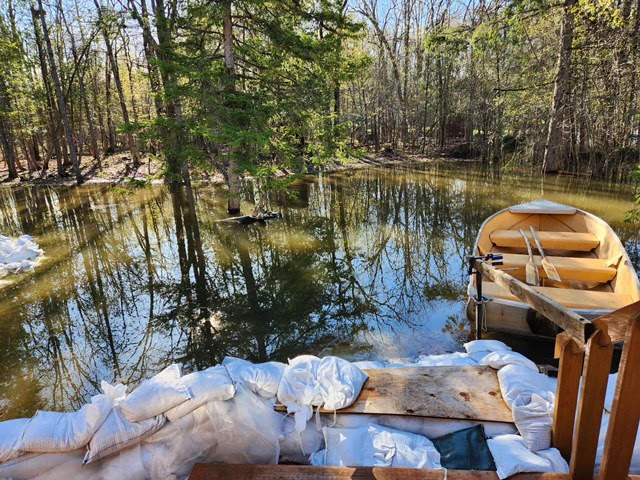 "While the impact of these required safety measures can be significant to affected residents, we are fortunately not seeing a large number of shut-offs being required at this time," she said. "To date, there are three homes in West Carleton requiring both gas and hydro disruptions, four other homes in that area requiring a gas disruption only, and two additional homes requiring a hydro disruption only."
For additional context, these properties represent approximately seven per cent of the total properties city-wide that have put in place flood mitigation measures (e.g., sandbags). The EOC is liaising directly with the impacted residents and is updating the city website to provide guidance related to utility management."
Despite the expected good weather coming this weekend, Gooding says city staff will remain on high alert.
"The City's EOC will continue to maintain this posture over the weekend," she said. "As always, we will keep members of council informed. We appreciate the support you have provided by filling sandbags, keeping your residents up-to-date, and reporting issues to the EOC."
Meanwhile, in the Vydon Acres/Morris Island area as of last night (May 4), water levels remain very high and have reached homes in the community.
"Boy, are we under water," Morris Island resident and flood prep leader Ginny Fobert told West Carleton Online yesterday evening. "As of 7 p.m. we were sitting at 75.8 m. With no crystal ball to know if it will go up, down and when. The gauge for Chats Falls is approximately 20 km upriver, and not always accurate to Lavergne Bay where the water gets stuck."
Fobert attends morning meetings with West Carleton Disaster Relief (WCDR), Coun. Clarke Kelly and other community leaders for updates on flood mitigation efforts and priority spots as the community works against the high water.
"Those 10 to 15 neighbours that did all the work, took time off work to bag and have now returned to the office and some are still recovering," Fobert said of her community. "We have 16 homes bagged now. Our saving grace is our community was proactive and got ahead of it before the waters rushed in."
But there are other issues residents are facing related to the water.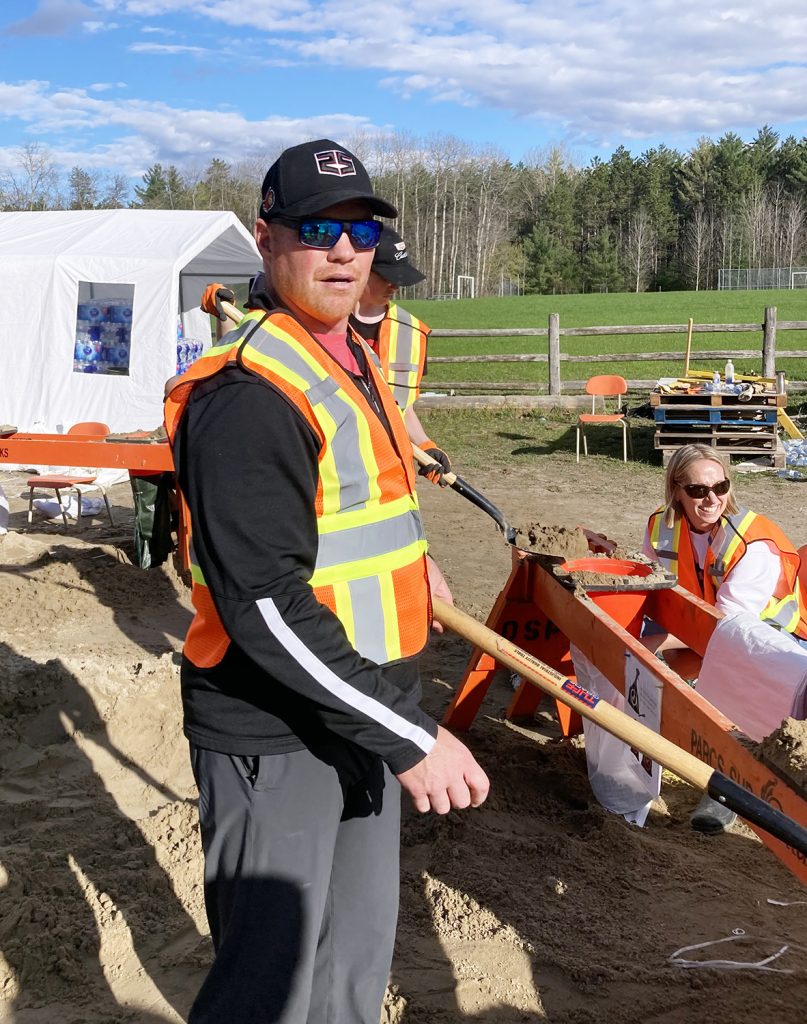 "Septics aren't working so porta-potties have been requested," Fobert said. "Homeowners take a rowboat from their back door to their car just like in the Bay or on Armitage. Our bag pile is diminishing down to almost nothing, so filled bags are requested. Today we received three bundles of empty bags but there is no one here to fill them. I was able to round up four pumps and one has already been sent on loan. At the moment everyone is stable and concentrating on reinforcing their walls and pumping out their basements. I am rounding up some troops to bag for the weekend if we need it. It certainly is a big mess again. This really can't continue. It's too stressful for homeowners."
Fobert says, despite the expected river stabilization this weekend (May 6, 7), homeowners will be spending the weekend working.
"We will be full force on the weekend in anticipation of what is to come in the next few days," Fobert said. "I am thankful our councillor's office and WCDR have been involved this year. Even a tent and snacks and lunch, porta potties and filled bags are so appreciated."
In Willola Beach, the water is also noticeably higher. West Carleton Online last visited the riverside community near Fitzroy Harbour on May 1. Since then, water has flooded about 50 feet (15 m) of Moorhead Drive. The water has now surrounded several homes on the river side of Moorhead.
The Ottawa River Regulation Planning Board (ORRPB) stated they expected the river to peak today (May 5).
Willola Beach resident and Fitzroy Harbour volunteer firefighter Mike Vallianatos says his own water level meter hasn't moved much today.
"I've been up since 1 a.m. and the water hasn't moved," Vallianatos told West Carleton Online today (May 5). "But it rose about a foot (30 cm) yesterday (May 4)."
Vallianatos bought his house in April 2019. The sale didn't close until after that year's historic flood.
Today, with a few pals who dropped by to help, he's trying to reinforce his sandbag wall beside his detached garage. He's concerned the water could erode the gravel base and make the whole structure unstable. The Ottawa River is just about 30 cm shy of reaching his back deck. The top of the water is near the top of his sandbag wall. The wall he built behind his garage is now completely under water.
While working to protect his home, Vallianatos is also ready to respond to any calls the volunteer fire department might receive during these stressful times.
According to the ORRPC, the Ottawa River level at Constance Bay as of noon today (May 5) is 59.36 m above sea level, a drop of almost 60 cm over yesterday's (May 4) level and 70 cm below the first peak of 60 m on April 21. The forecast over the next three days suggest a level of 60.3 m is still possible.
Tomorrow (May 6) the fourth and final St. Michael's Catholic Church euchre tournament gets underway at the Fitzroy Harbour Community Centre (100 Clifford Campbell St.) starting at noon with lunch and registration. Father John Orban contacted West Carleton Online today (May 5) to share the news of a change of plan. The event is normally a fundraiser for the church, but in light of the flooding, the euchre organizers will re-direct the proceeds to West Carleton Disaster Relief in support of of flood relief.
"We thought about cancelling it at first," Orban said. "But many of our euchre participants are generally a little too old to sandbag anyway, so we decided this was a way we could still help out."
For more information on the tournament, click here.
If you are able to volunteer this week and help West Carleton riverside residents make it safely to the plateau expected this weekend, the best way to do so is through WCDR's website here. By registering, WCDR will ensure volunteers are well supported including food and water. Students who volunteer will be able to put that time towards their required volunteer hours needed for graduation.
To see all West Carleton Online's coverage of the 2023 freshet, click here.