NT NRML, Legion host Ukraine fundraiser April 2
By Jake Davies - West Carleton Online
CONSTANCE BAY – Local rockers NT NRML and Branch 616 are combining forces to host a fundraiser for Ukraine, currently besieged by Russian forces in a battle for life and death.
On Thursday, Feb. 24 Russia began its invasion of Ukraine. Since then, the country has been under siege of a combination of aerial bombardment, artillery and missile fire and all-out attack from the Russian army as Vladimir Putin attempts to take over the country and install his own government.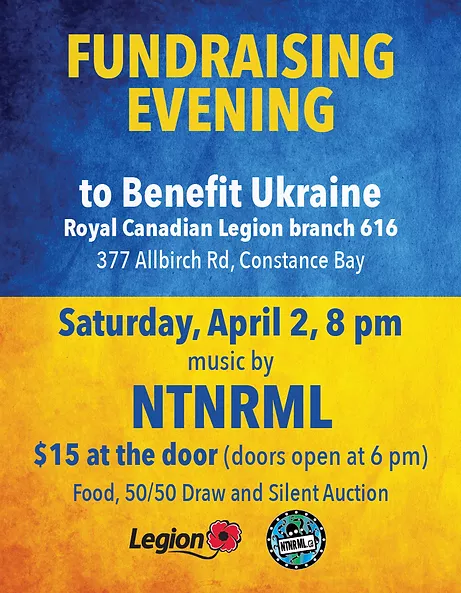 More than 10 million Ukrainians have attempted to flee the country while a vastly outnumbered army puts up a valiant fight.
Billions around the world watch in shock and heartbreak and support the humanitarian effort in any way they can. It's fitting the band NT NRML and the West Carleton Royal Canadian Legion volunteer their time and service in support of the beleaguered country.
On Saturday, April 2, starting at 8 p.m., NT NRML will perform at Branch 616 with both donating 100 per cent of the proceeds to support the Ukrainian humanitarian effort.
NT NRML's lead guitarist Robert Bush spent 30 years in the Canadian Navy. He was the captain of two submarines and a surface ship during his time.
"Or skimmer, as submariners call them," Bush told West Carleton Online today (March 23).
The longtime Canadian Armed Forces member who also provides back-up vocals for NT NRML has the experience to understand what civilians in a war-torn country might be going through, and it breaks his heart.
"We thought that by playing a benefit we could, along with the community, do something for the people of Ukraine," Bush said. "It really seems a small thing to do to support those who are making incredible sacrifices in standing up to the aggression."
Branch 616 volunteer and Food Committee chair Lynda Boland is planning on providing an Ukrainian-themed menu for the evening on top of the usual fare including perogies, cabbage rolls, Ukrainian potato salad.
She's excited to be part of the event.
"Well, it just sort of came to us," she told West Carleton Online today (March 23). "NT NRML came to us last week and asked if they could host the event. It was their idea and we're going with it."
The band will work for free, and Branch 616 is providing their venue for free. They are also donating the bar profits for the evening to the fundraiser.
The cost is $15 at the door, which will open a t 6 p.m. and NT NRML will start at 8 p.m. Along with the amazing menu there will be a 50/50 draw and silent auction.
The Silent Auction committee led by Harriet Farrell have already gathered some golf passes, massages, gift baskets and continues to work on gathering items.
"NT NRML have played here several times," Boland said. "They're a great group of guys. It will be a good night. People are looking to get out of the house."
"All proceeds will go to humanitarian relief for the people of Ukraine," Bush said. "The specific charity is being identified, as we want the maximum amount going to where it is needed. We hope lots of people will be able to join us at the Legion, and we thank the Legion for their enthusiastic support. It should be a good night, and for a very worthy cause."