May 5 COVID-19 update: Key indicators dropping, Outdoor recreation still a no-go, Pfizer good for 12 and up, Watson immunized
Special to WC Online
OTTAWA – Ottawa Public Health (OPH) reports another two residents are dead after contracting COVID-19 and 141 new cases are being confirmed in the city, but the number of local hospitalizations due to the virus is lower than it has been in nearly three weeks.
OPH reported today (May 5) the novel coronavirus has killed two more people in their 90s, bringing the city's pandemic death toll to 517. To date, COVID-19 has led to the following deaths by age group: one person in their 30s; four in their 40s; 15 in their 50s; 57 in their 60s; 93 in their 70s; 185 in their 80s; and 162 in their 90s.
The number of residents in hospital with COVID-19 is down to 95, with 27 patients in intensive care. The last time OPH reported hospitalizations under 100 was back on April 15. However, according to the health unit, acute care bed capacity in the city is up to 92 per cent, intensive care beds are 67 per cent full, and ICU ventilator beds are at 45 per cent capacity.
OPH says 21 local healthcare institutions are currently dealing with COVID-19 outbreaks, many of which include group homes, shelters and hospitals. Outbreaks of the virus are also being linked to nine childcare centres and two schools. The health unit continues to monitor six community outbreaks.
Ottawa's weekly COVID-19 incidence rate is down to 102.9 per 100,000 residents. That key indicator of community spread has been steadily dropping since April 17, when it hit 222 per 100,000.
The local positivity rate is also dropping, as residents being tested for COVID-19 are now seeing positive results 6.7 per cent of the time.
The City of Ottawa hasn't received any new vaccine shipments since getting 23,400 Pfizer-BioNTech doses on Sunday (May 2). To date, it has received 362,780 COVID-19 vaccine doses and has administered 94 per cent of those shots.
OPH says it is tracking 1,722 active cases of COVID-19 in the community.
There have been 24,892 confirmed cases of the novel coronavirus in Ottawa (22,653 resolved) since spring of 2020.
Ontario is reporting 2,941 new cases of COVID-19, Wednesday, including 12 in the Eastern Ontario Health Unit's region, 12 in the Leeds, Grenville and Lanark district and five in Renfrew County and district.
Outdoor recreation facilities to remain closed for now
ONTARIO – Ontario's closure of outdoor recreational facilities will remain in place until COVID-19 cases decline significantly, the government said yesterday (May 4).
Health Minister Christine Elliott said the province currently has no timeline for the reopening of facilities such as tennis courts and golf courses.
"We need to limit our mobility as much as possible to reduce transmission and we are going to be assessing this," she said. "But for right now we will need to continue with those measures in place to reduce mobility and reduce transmission."
Elliott said although there were 2,791 new cases reported in Ontario on Tuesday (May 4), the lowest in weeks, the case total could rise again.
She also said the number of COVID-19 hospitalizations and patients in intensive-care units would have to go down and a backlog of surgeries would have to be worked through before the ban on outdoor sports and other restrictions can be lifted.
"There isn't an exact rate at this point, but our medical experts are telling us that we need to see a continued reduction before we can start thinking about opening things up again," she said.
The province brought in the ban on outdoor recreational facilities in April, when it extended a stay-at-home order and imposed further restrictions amid soaring cases.
Its science advisers have criticized the restriction of outdoor activities, saying they will not control COVID-19 and disproportionately harm children and those who don't have access to their own green space.
Sport Minister Lisa MacLeod said she had been meeting with representatives of the golf community but didn't expect courses to be allowed to open soon.
"I do not see changes happening imminently but will continue to work with our stakeholders and our public health officials to ensure a return to play, as soon as it's safe to do so," she released in a statement.
Mike Kelly, the executive director of the Golf Association of Ontario, said that his organization has had productive conversations with the province, but he believes courses are safe and should be allowed to open.
"We also understand that mobility remains a concern of health officials and it should be encouraging that the clear data supports that golfers are not travelling across the province to play a round of golf," he said.
"They are looking to play their local golf course in their home community for the physical and mental health break that the sport provides."
Members of the tennis community have also been pushing for a change to the rules.
James Boyce, president and CEO of the Ontario Tennis Association, said while he supports the government's measures, he's eager for people to return to tennis once it's safe to do so.
"We have everything in place to make the tennis experience safe," Boyce, who had a meeting with government officials yesterday, released in a statement.
Boyce noted, however, that the prolonged closure of outdoor recreational facilities could have an impact on people's mental health.
"We're indoors, we're not socializing, we're not hugging each other," Boyce said. "I think once we get out of May, if everything goes as planned, I think we should be in pretty good shape. Tennis people are just going to have to get through May."
The NDP's sports critic said he wanted to see outdoor recreational facilities opened as soon as possible.
Paul Miller argued that outdoor activity is important for mental health and that many small businesses have been negatively impacted by the ban.
"All the experts were recommending outdoor recreational activities should be open," he said. "It's nonsense to me that volleyball courts, golf courses, tennis courts, basketball, etc., were on lockdown."
Canada approves Pfizer vaccine for kids as young as 12
CANADA – Health Canada says the Pfizer-BioNTech vaccine can now be given to kids as young as 12.
The vaccine was previously authorized for anyone at least 16 years of age or older.
A trial of more than 2,200 youth in that age group in the United States recorded no cases of COVID-19 among vaccinated kids.
Health Canada's chief medical adviser Dr. Supriya Sharma says the evidence is there the vaccine is safe and effective in that age group.
It is the first vaccine approved for children in Canada, and Sharma says it is a significant step forward in Canada's fight against COVID-19.
The trial used the same size doses, and the same two-doses requirement, as the vaccine for adults.
Ottawa's mayor has received his first dose of the COVID-19 vaccine.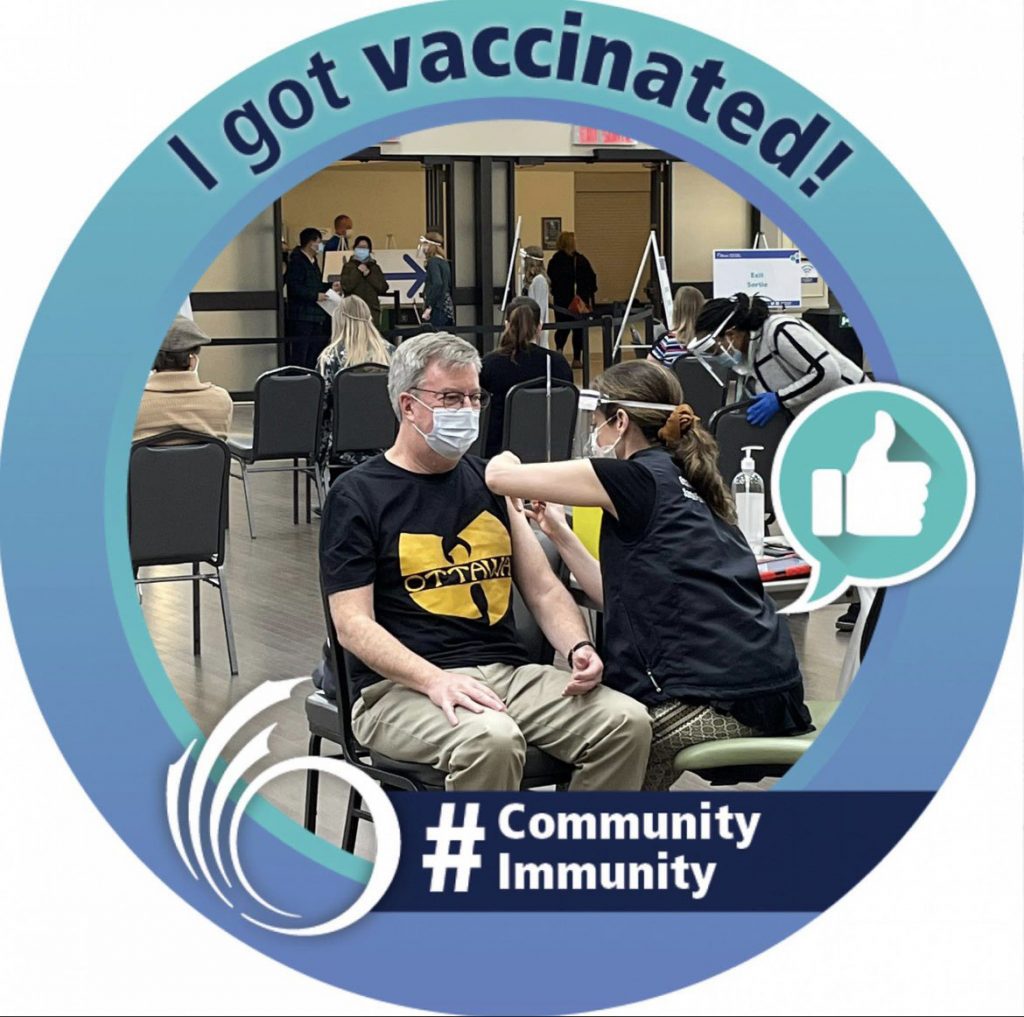 OTTAWA – Sporting a Wu-Tang Ottawa T-shirt, Jim Watson rolled in to the Nepean Sportsplex, rolled up his sleeve and got his first vaccination this morning (May 5)..
He told reporters he received the Pfizer-BioNtech vaccine.
Watson continues to encourage all Ottawa residents to get vaccinated.
"I just got my first dose of vaccine at the Nepean Sportsplex Community Clinic," Watson released on social media this morning. "Thank you to the wonderful staff who are running the clinics, in particular Nurse Caitlin who gave me my shot. With every vaccine delivered brings us one step closer to community immunity."