Lifting homes above the floods
By Jake Davies - West Carleton Online
ARNPRIOR – An Arnprior-based business is helping property owners lift their homes above the flood.
Triodetic Multipoint Foundations has been using their patented system to build large, open-spaced buildings since the 1960s such as airport hangars and giant dust domes for the mining industry – buildings without pillars – and has now moved their innovative patent in to creating foundations for homes that need a stable footing, or perhaps a bit of a lift in times of flooding.
Triodetic's business development manager Perter Chabursky and marketing coordinator David Levy gave West Carleton Online a tour of their Arnprior plant at 10 Didak Rd. on March 6,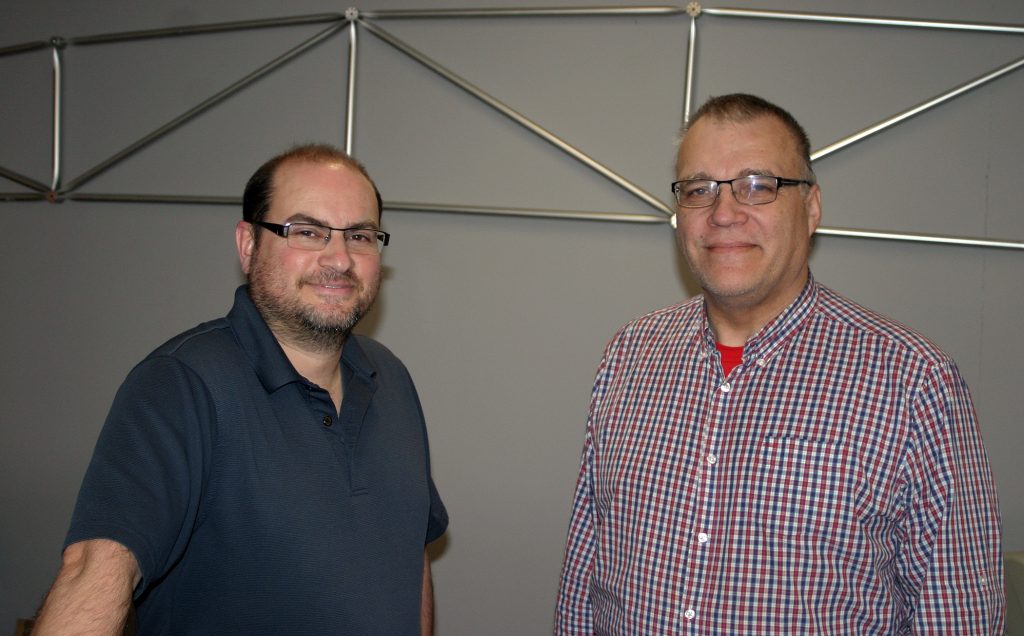 Being located in Arnprior, Triodetic's saw first-hand the devastating affect the recent extreme flooding has had on communities in West Carleton, McNab-Braeside and even Arnprior was hit fairly hard in parts last year.
"The flooding thing is new for us," Chabursky said. "Out of necessity."
Multipoint Foundations was developed in response to continued demand for a foundation strong enough to withstand the rigors of flooding, permafrost and other variable soils. The company developed an innovative building foundation that is economical, fast and easy to construct, suitable for any ground condition and any building plan. The foundation frames are structurally proven and an affordable alternative that has been successfully used for more than 35 years. Housing and construction authorities in areas such as Alaska, Russia and northern Canada have all relied on Multipoint Foundations to provide solid solutions for areas that experience shifting and changing terrain.
Triodetic's foundations are galvanized steel and aluminum, three-dimensional, reinforced space-frame that provides uniform support to the building above, regardless of soil conditions below. This effectively extends building life and so maximizes the value of materials used, reduces maintenance and insurance costs, and is economical in terms of both initial and life cycle costs.
The Triodetic foundation consists of an engineered steel or aluminum rigid platform which sits on the top of the soil itself and keeps the building level and straight regardless of soil heaving and settling due to frost or sinking. Unlike piles or screw jacks, which always move and shift over time causing structural damage, the Triodetic foundations never allow damage to the integrity of the building and never require maintenance Chabursky said.
"Starting with a triangle, we learned you could do any shape," Levy said. "It's strong, light and durable. It's rust-free. It's good for a lifetime."
The company's foundation system started coming to life in the 1980s "to deal with the perma-frost in the northern communities."
"It's the principal of a snowshoe," Levy said. "Whenever the ground is irregular, it will sit on it and adapt. The foundation only needs one foot out of three to touch the ground to remain stable. It's so rigid, whatever sits on the foundation is not going to shift or crack."
And the foundation is built in Arnprior. Levy says a small project can be completed in six to eight weeks.
"We manufacture everything, so we have our own quality control," Levy said. "The only thing we don't do is the galvanizing."
While relatively new to floodplain work, Levy says the system works well.
"You raise your house so you remove a lot of the issues of what the water can do," Levy said. "Because it's all metal and open, the water can come in and out and there's no pressure from the current. Even if it washes under a plate, the other plates will compensate, and the house won't shift."
And the lift can be pretty high.
"The maximum we've lifted a house off the ground is nine feet," Levy said. "There's not much of a difference in cost between three to five feet. For flooding, we always propose four to five feet."
Chabursky says the company is starting to get some interest in their foundations from the Dunrobin area. Soon after the 2019 spring flooding the company built a foundation for a hard-hit resident in Horton Township last December.
"It took us about a week to do the house in Horton Township," Levy said. "We lifted the house, installed the foundation and put the house back down (see photos below)."
Charbursky said that client was sick of the stress.
"He said enough is enough," Charbursky said. "Our system won't stop the flooding, it will stop the damage from the flooding. It's long-term insurance. The beauty is it can be adjusted after it's installed. It can be adjusted both ways if there is a washout. The house will remain level even if there is a shift. There's no moisture build-up under the house. It's climate-adaptive technology."
For more information on Triodetic Multipoint Foundations, visit their website.